>
Toyota & Lexus GST Price Reduction Summary
>
Summary Mazda Selling Price with GST-West M'sia
>
KIA New Price Lists Inclusive GST
>
Perodua's Updated Price List Post GST
>
Isuzu D-MAX Pricing as of 1 April 2015
UPDATE: BMW Malaysia has announced at the BMW World Malaysia show on April 16 that it is revising the prices of all its BMW and MINI vehicles lower by up to 1.9% following the GST implementation. BMW Motorrad prices are also lower by up to 18%.
KUALA LUMPUR: Toyota and Lexus cars will see price reductions of up to RM4,000 or 2%, with the implementation of GST (goods and services tax) on April 1.
In a statement, UMW Toyota Motor president Datuk Ismet Suki said, "UMW Toyota Motor will pass 100% of the cost savings to the customers upon buying Toyota and Lexus models during the new tax structure's implementation."
Ismet added that the company would be transparent in its business transaction and it would strictly adhere to the Price Control and Anti-Profiteering Act 2014.
National automaker Proton also announced price reductions of up to RM1,475 or 3.25% per unit on selected variants.
The new on-the-road prices are for all Proton cars.
Proton CEO Datuk Abdul Harith Abdullah said, "For example, now consumers can buy a Saga from as low as RM33,242.40 or a Preve 1.6L Turbo at RM61,023.46. All these prices have taken into account the 6% GST and are the on-the-road prices."
Perodua reduced its vehicle prices by 0.1%-1.6% depending on models, following the implementation of the goods and services tax (GST).
Perodua said in a statement that it would maintain its spare part prices, while absorbing the impact of GST.
"We had repositioned the price of some of our models and added value ranging from 3% to 12% since 2013. In addition all our models have a 5-year warranty for the peace of mind of our customers," president and CEO Datuk Aminar Rashid Salleh said.
TC Euro Cars Sdn Bhd, the local distributor of Renault cars, also announced price reductions for the French marque.
For example, the locally assembled two-litre Fluence sedan which was priced at RM115,000 on-the-road without insurance, at its launch nearly a year ago, sees a minor price drop to RM113,888.
READ:
Honda brings good tidings
Mitsubishi
,
Nissan
and
Volkswagen
positions
Mercedes-Benz car prices will also be reduced, following the implementation of the GST.
In a statement, Mercedes-Benz Malaysia Sdn Bhd CEO and president Roland Folger said, "We have good news for the market. For example, the Mercedes-Benz E300 is now priced at RM338,888."
Meanwhile, a spokesman from BMW Group Malaysia said there are no changes in prices for the German marque.
"Should there be any price changes, this will be announced at the BMW World Malaysia showcase at Bukit Kiara Indoor Arena in mid-April," said the spokesman.
Volvo said some models  were now cheaper while others remained unchanged. (see below).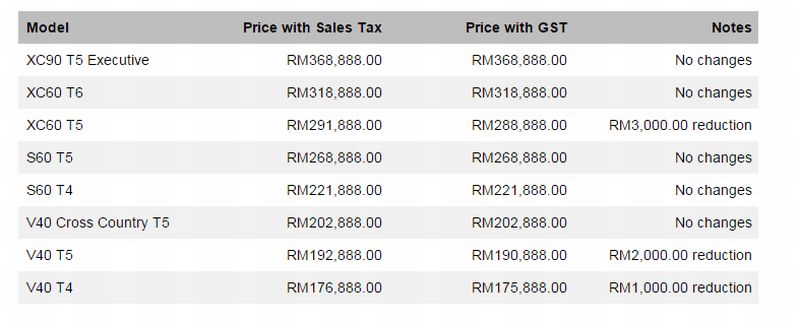 Mazda echoed Volvo's strategy, where some cars were cheaper while others were unchanged.
Except for the Picanto, all the other models sold by Naza Kia have seen a dip in prices, with the biggest change in the Sorento, which is now RM2,088 cheaper. Naza Kia also sells the Rio, Cerato, Optima K5 and Sportage.
Other car makers such as Nissan and Volkswagen were not available for comment at press time. But we will update the site as and when more information becomes available.
BMW is the only marque so far that has said its prices remain unchanged.