PETALING JAYA: Continental Tyre Malaysia has launched two new tyres under its Generation 6 range of products and the company has unveiled two new affordable contenders - the comfort-oriented ComfortContact CC6 (replacing the ComfortContact CC5) and an all-rounder UltraContact UC6.
Both tyres are being produced at the company's manufacturing facility in Alor Star and has been custom-designed to meet the needs of Malaysian motorists.
"The launch of the Generation 6 products marks an important milestone in the history of Continental Tyres and provides to be another testament of our relentless pursuit for customer satisfaction and commitment to local customers," said Continental Tyre Malaysia managing director Cameron Wilson.
To see how both tyres fared, we took a journey south to Stadium Hang Jebat in Malacca in a
Nissan Teana
- fitted with the comfort-oriented CC6 tyres, to where three short courses lay waiting to help us further evaluate the CC6's reduced noise levels as well as the UC6's grip and dry/wet stopping performance.
But first, a little about the tyres in mention, starting with the German tyre-maker's CC6, which is available for 13 to 16-inch wheels and has been infused with properties to help it achieve approximately 20% more real-life durability over the older CC5.
The CC6 gains further improvements with its new 'Whisper' tyre compound that not only helps to lower rolling resistance, but also elevate durability, handling, comfort, dry/wet braking and fuel efficiency to higher levels.
Additional features for the CC6 include noise-cancelling chambers (Harmonic Comfort Chambers based on the Helmholtz resonator principle) that are placed on the tyre's inner tread pattern.
Between the CC6's treads are uniquely-shaped '0' dB Eaters that help to split and diffuse low-frequency road noise and the company has ensured that it does not interfere with the tyre's abilities to drain water while driving in wet conditions.
Sizes for the CC6 for 13-inch wheels only come in one size - 175/70, while 14-inch wheels get 165/55, 165/60, 175/65, 175/70, 185/60 and 185/65.
As for 15-inch wheels, the sizes available are 175/65, 185/55, 185/60, 185/65, 195/50, 195/55, 195/60, 195/65, 205/60, 205/65 and 215/65, while 16-inch wheels get 185/55, 205/55, 215/60 and 215/65 tyre sizes.
On our journey south, the 2.0-litre Teana wore 215/60 series tyres for its 16-inch wheels and our while we travelled at legal speeds to our destination and the lack of rolling-roar from the tyres were quite apparent with the cabin predominantly experiencing the intrusion of noise from the rushing wind over the car's body panels and external wing mirrors.
Having a seat at the rear, the experience was even more pronounced, especially when the car rolled over different road surfaces and those thick bands of yellow paint that's designed to tell driver's to take heed of an impending bend. For those who often desire a good session of spirited driving, this won't be the go-to tyre, which has a tendency of becoming squeamish after just a few hard corners.
But how much more silent is it over the older CC5 tyres? Utilising a decibel meter fitted within the cabin of a 1.6-litre
Volkswagen Vento
, the CC5 tyres measured in around the 75dB level, whereas the new CC6 tyres came in around the 74dB level.
READ MORE:
Volkswagen Vento TSI Highline - a rewarding driver's car
Although the result may have been slight, it is noticeable - both from within the cabin and while watching the Vento coast by. The older CC5 tyres did emanate slightly more sound than its current CC6 replacement.
As for the all-rounded UC6, it uses a 'Diamond' blend compound to improve overall grip levels while in dry or wet conditions, but isn't as capable in providing the same amount of durability, fuel-efficiency or reduced rolling noise levels as its CC6 tyre counterpart.
The UC6 isn't as effective in reducing its noise levels with its Noise Breaker 2.0, which is much like the CC6's '0 dB eaters' found between the main grooves, and also lacks the Harmonic Comfort Chambers.
Other features include Aqua Channels that help evacuate water more effectively with its unique tube-like channels located at the centre of the tread pattern.
To enhance the UC6's dry and wet grip levels is the Diamond Edge technology, which refers to the chamfered angle of the tread patter to help reduce tread flex - thus helping to maximise the tyre's contact patch when experiencing hard braking, accelerating and cornering forces.
The UC6's tyre sizes start from 15-inch wheels and are available in 175/50 and 1985/55 series, while 16-inch wheels get 185/55, 195/50, 195/55, 205/50, 205/55, 205/60, 205/65, 215/55, 215/60, 225/50, 225/55, 225/60 and 235/60.
As for 17-inch wheels, tyre sizes available are 205/50, 215/45, 215/50, 215/55, 225/45, 225/50, 225/55 and 235/55., whereas 18-inch wheels come in 215/55, 225/45, 225/50, 235/50, 235/55 and 245/50 sizes.
To put the tyre through its paces, a pair of range-topping turbocharged 1.4-litre
Volkswagen Jetta Highline
sedans were employed, wearing a set of 225/45 UC6s for its 17-inch Queensland alloy wheels.
We gauged that the tyres did put up well against the abuse of a dirty slalom course as the tyres kicked up and spat a few pebbles here and there, they did remain communicative throughout the session as drivers turned up the heat.
The next experience to conclude the day was the dry and wet braking test in a Teana to showcase the consistency of the UC6's performance in both instances, which only differed by roughly a metre or so after braking from 60kph to standstill.
This is attributable to its chamfered edges (Diamond Edge technology) to help keep the tread pattern from reducing its contact patch under such brutish circumstances.
After spending the night in Malacca, it would be a straight route back to Continental Tyre Malaysia's Petaling Jaya headquarters in the morning with a more powerful 2.5-litre Nissan Teana wearing 215/55 UC6 tyres on its 17-inch wheels.
Once at legal cruising speeds, we quickly found ourselves wishing for CC6's lack of rolling tyre noise, but later settled for the UC6's communicative disposition with a direct feedback that would make anyone happy enough that they were able to make use of its consistency in the grip department.
These two German tyres, as feature-packed as they are, seem to offer the most 'bang' for anyone's 'buck' and have surprisingly not been placed in a premium segment of the tyre market, but have instead chosen to remain within the ranks of affordability (depending on tyre size of course).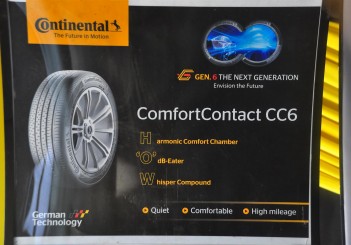 Last but not least, Wilson also added that the company is now standing confidently by a five-year unlimited mileage warranty for their tyres starting from a consumer's date of purchase.
Continental ComfortContact CC6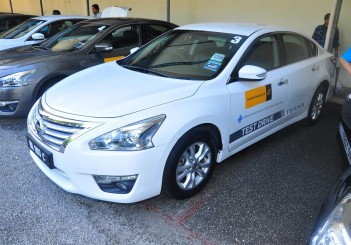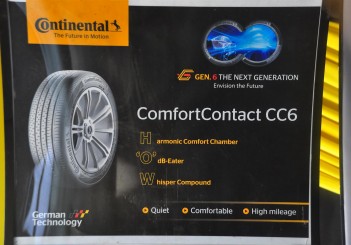 Continental UltraContact UC6