WATCH VIDEO!
DETROIT: Ford unveiled on Monday the all-new GT, an ultra-high-performance supercar that serves as a technology showcase for top EcoBoost performance, aerodynamics and lightweight carbon fiber construction.
The GT is one of more than 12 new Ford Performance vehicles coming by 2020. It joins Focus RS, F-150 Raptor, Shelby GT350 and Shelby GT350R in the growing Ford Performance lineup.
Beginning production late next year, the GT hits the road in select global markets to celebrate the 50th anniversary of Ford GT race cars placing 1-2-3 at the 1966 24 Hours of Le Mans.
"As we at Ford drive innovation into every part of our business, it's worth remembering that our first innovation as a company was not in a laboratory, but on the racetrack," said Mark Fields, Ford president and chief executive officer, referring to Henry Ford's win of a 1901 car race that inspired financial backers to invest in his company.
"We are passionate about innovation through performance and creating vehicles that make people's hearts pound."
The all-new GT supercar features rear-wheel drive, a mid-mounted engine, and a sleek, aerodynamic, two-door coupe body shell. It is propelled by the most powerful EcoBoost production engine ever – a next-generation twin-turbocharged EcoBoost V6 producing more than 600 horsepower.
The GT makes extensive use of lightweight materials, including carbon fiber and aluminum – enabling outstanding acceleration and handling with improved efficiency.
The GT comes with advanced active aerodynamics, such as an active rear spoiler, and a host of material and technology innovations to help better serve the driver, such as SYNC 3 – the latest version of Ford's advanced connectivity system.
"The GT is the ultimate execution of an enthusiast supercar," said Raj Nair, Ford group vice president, Global Product Development.
"GT includes innovations and technologies that can be applied broadly across Ford's future product portfolio – another proof point that Ford continues raising the performance bar while ultimately improving vehicles for all of our customers."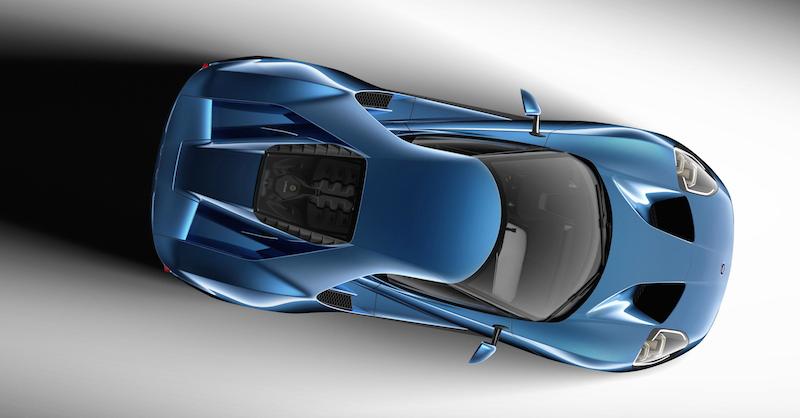 Anchored by a carbon fiber passenger cell, the GT features aluminum front and rear subframes encapsulated in structural carbon fiber body panels.
Carbon fiber is one of the world's strongest materials for its mass – enabling an ultra-stiff foundation for chassis components, while creating a lighter overall package for increased dynamic performance and efficiency.
Ford EcoBoost technology is available in every new Ford car, utility and light-duty pickup in North America beginning this year.
EcoBoost engines power a growing number of Ford performance models, including the new Mustang, just-announced F-150 Raptor, as well as Fiesta ST and Focus ST.
Based on the same race-proven engine architecture serving Ford's IMSA Daytona Prototype endurance racing efforts, the next-generation twin-turbocharged 3.5-litre EcoBoost V6 in the GT features a wide powerband with impressive time-to-torque characteristics.
Ford's twin-turbo EcoBoost V6 raced to three wins in its first season of the IMSA TUDOR United SportsCar Championship in 2014, including a win in the 12 Hours of Sebring, along with seven podiums over more than 15,000 endurance racing miles.
The GT features an all-new, port/direct dual fuel-injection setup to improve engine response, plus a low-friction roller-finger-follower valvetrain.
The twin-turbocharged EcoBoost V6 will be paired with a seven-speed dual-clutch transaxle for near-instantaneous gear changes and high driver control.