Conghui presenting Geometry A.
Geely believes in keeping to its word, notably when it said in 2015 that more than 90% of the vehicles it would sell by 2020 would be 'electric' cars, either in purely electric powered or in hybrid or plug-in hybrid versions.
Having enjoyed success with the Emgrand electric vehicles and other "new energy" hybrid range, it is looking to build on that base with a new entity.
This is a new brand called Geometry, which saw its "global" launch in Singapore recently, is solely dedicated to promoting electric cars and its first product called Geometry A was part of the launch.
Singapore was picked for the event as the country is acknowledged as a garden city and whose government is ready to invest in environmentally friendly mobile solutions such as electric cars.
The "global" perspective to the Geometry introduction appears to be a case of the event being carried outside of China as the only two other countries involved, whose media representatives were invited, were Malaysia and Singapore.
Although the initial target market was China, Geely Auto Group president and CEO An Conghui said Geometry was already looking beyond its domestic market.
At the launch, he said Geometry had already received more than 9,300 orders in China and similarly, Geometry also signed a distribution deal with four countries – Singapore, France, Norway and Argentina – and orders had blossomed to 18,000 cars.
However, delivery of the Geometry A to these four countries would vary, especially for Singapore as a right-hand drive variant has to be produced.
According to Zhejiang Geely Holding Group vice-president of public relations Victor Yang, this is where Proton could lend a hand in developing a right-hand drive electric car for the region and beyond.
As to the question of whether the Geometry A would be sold in Malaysia, he said it was up to Proton to study the market and the ways with which it could promote electric cars in this country.
However, he added that it would be a lot better if the Malaysian government could lay the groundwork for the entry of electric cars by setting up an extensive electric car charging network and providing subsidies either in the manufacture or purchase of such vehicles.
Geometry is promoting electric cars at a premium level with the focus on general mobility through an EV with a high level of features.
Although it is not directly taking on Tesla, which promotes its electric range on a sporty level, Yang said Geometry was aimed at buyers who wanted a premium electric car with good performance and mileage per charge.
The long-range Geometry A is said to provide a mileage of 500km on a single charge or the equivalent of five laps around Beijing on the 5th Ring Road or 10 laps around Singapore on the Pan Island Expressway; the short range variant covers 410km.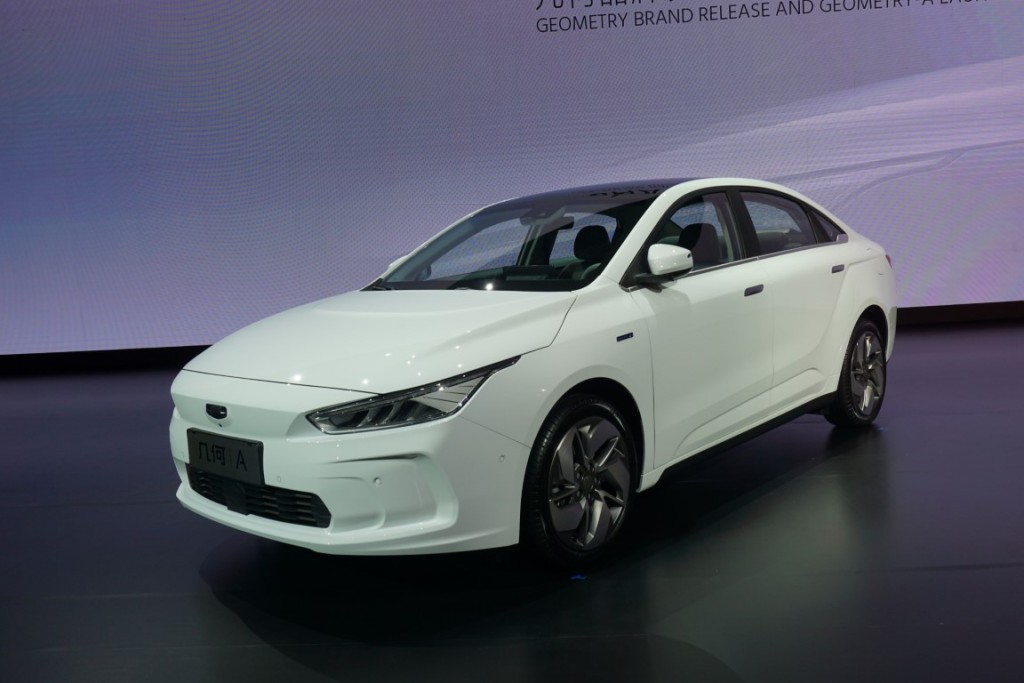 An said the car could be charged in 30 minutes and based on the mileage it could provide, it would suffice for two weeks' use under normal motoring, thus dispelling range anxiety.
He added that this made the Geometry A super economical as it required only 7 cents for a kilometre with its combined energy consumption of 13.5kWh per 100km.
Although an electric vehicle comprises about 3,000 or so parts, unlike a car with an engine that requires more than 12,000 parts, the huge battery platform evens the score on vehicle weight.
With the rapid progress in battery development, this weighty factor is expected to go in the favour of EVs as the battery becomes lighter while offering better performance.
Geely is not a newbie to making electric vehicles as it sold almost 68,500 vehicles in this category in 2018, comprising BEV (Battery Electric), MHEV (Mild Electric) and PHEV (Plug-in Hybrid) vehicles.
Over the last three years, it collaborated with CaoCao, an environmentally friendly ride hailing service, which uses Geely's Emgrand EV450 electric cars (we enjoyed the experience of being taken to the airport in one during our recent Hangzhou visit).
This CaoCao electric ride-hailing service is currently being run in 30 cities across China with more than 32,000 'new energy' cars.
With the Geometry brand now introduced, Geely's 'new energy' vehicles would come under this fresh brand although they would retain their existing names; only new models would carry the Geometry name in alphabetical order.
Geely says Geometry is developed by the auto group's new energy R&D (research and development) and manufacturing systems that include five global R&D centres, five global design centres and more than 3,000 R&D design personnel.
It involved an investment of above 30 billion RMB in new energy R&D and industrial layout, with more than 300 core technology patents developed.
With this impressive background, Geometry expects to launch more than 10 pure electric vehicles by 2025 based on a modular platform strategy.
As it were, Geometry A has quite a lot to offer; by the way, its name 'A' is likened to being the first letter of the name Archimedes, the father of mathematical physics, and the first letter of the English alphabet.
This model "A" is said to personify the true spirit of Geometry in being multi-dimensional, focused and pure.
The first theme sees a 2.6-metre panoramic roof and 'class-leading' aerodynamic design with hidden door handles, leading to a low aerodynamic co-efficient of 0.237.
With the key fob in hand, Geometry A senses the driver approaching and the door handle flips out for it to be opened; likewise, it flips back to its flushed positon when the driver walks away.
Geometry A is said to set a new benchmark for safety in pure electric sedans with its 'L2 Plus' intelligent drive system, complete with 3mm wave radars, six cameras and 12 ultrasonic radars.
Safety highlights include Rear Collision Warning, Door Opening Warning (of cyclists or motorcyclists coming alongside), a world-leading W-HUD Digital Projection Heads-up Display that is China's first and being the first Chinese pure electric model with RML Driver Smart Pre-Tensioning Seatbelt.
Geely says environmentally-friendly materials that meet the most stringent EU standards are used in the interior and its 'world leading' roof weight compression capacity exceeds Euro NCAP and US IIHS standards.
In China, the Geometry A sells from RMB150,000 (RM90,000) to RMB190,000 (RM115,000), depending on specifications, after subsidies are deducted.