BANGKOK: "No cameras, no phones and no video!" That was the explicit instruction from Honda as we began a tour of its Thai assembly plant in Prachinburi on Sept 4.
The visit was held a day before a Malaysian media preview drive of the refreshed Civic. The new Civic will launch in Malaysia later this year and Honda Malaysia has already
opened bookings
since Sept 10.
Making cars is a complex process involving thousands of parts coming together in an assembly line manned by humans and robots working in concert to build the final product.
Occasionally, car makers like to highlight that some factories are better than others in terms of tooling, workflow or eco-friendliness. Such is the case with the Honda plant in Prachinburi, 140km north-east of here.
We were shown some of the key production stages such as stamping, welding and frame assembly as well as how workers work with robots safely in a zoned environment.
The plant, opened in 2016, occupies 214,000 sq m of floor space and employs 1,400 workers. It is 40% automated with robots doing the heavy lifting, painting and welding works.
It's the newer of two plants Honda operates in Thailand, with the more established one located in Ayutthaya, north of here.
The Prachinburi plant is, however, three times bigger than the one in Ayutthaya. It is where the Civic sedan and hatchback are exclusively built as well as subcompact models like the City and Jazz. The Ayutthaya plant, which opened in 1996, handles the bulk of production models such as Mobilio, HR-V, CR-V, Accord, Amaze and Brio.
Honda cars assembled in Thailand are not only for local sales but also export. A Honda spokesman said the Thai-built Civic is exported to Vietnam, the Philippines, Indonesia, Australia, New Zealand, and some African countries such as Kenya. However, the Civic and most other models for Malaysia, are locally assembled at Honda's Pegoh plant in Malacca.
READ MORE: 
First drive of refreshed Honda Civic
Total Thai production capacity is 420,000 units a year, with Prachinburi contributing 120,000. The newer plant has yet to hit peak capacity, with initial production set at 60,000.
The combined capacity of both plants makes Thailand the fourth biggest production base for Honda after Japan, China and the United States.
The Ayutthaya plant was badly hit by floods in October 2011 and had to close for nearly six months. To cope with future growth and avoid flood damage, the Prachinburi plant was conceived and is located on higher ground.
Honda's Prachinburi plant is one of the most technically advanced and uses the world's first moving cell assembly line called Assembly Revolution Cell (ARC) Line.
It's a hybrid of a conventional line and assembly cells in which workers multi-task at their cell instead of doing just a single task, making them more versatile and productive.
Honda says this workflow is 10% more efficient than a traditional line. Under the ARC system, workers work in teams of four on a disc-shaped platform to follow a car down the assembly line, accompanied by the correct parts that are pre-sent to each assembly location. After each car is fitted with the required parts in the ARC line, each team hops off and walks back to the starting point of the platform to repeat the same set of tasks on the next car.
Another innovation at the plant is recycling water for multiple uses. A hydro-powered conveyor belt re-uses water from the welding line to transport welded bodies and parts instead of a conventional electric-powered conveyer, which saves energy.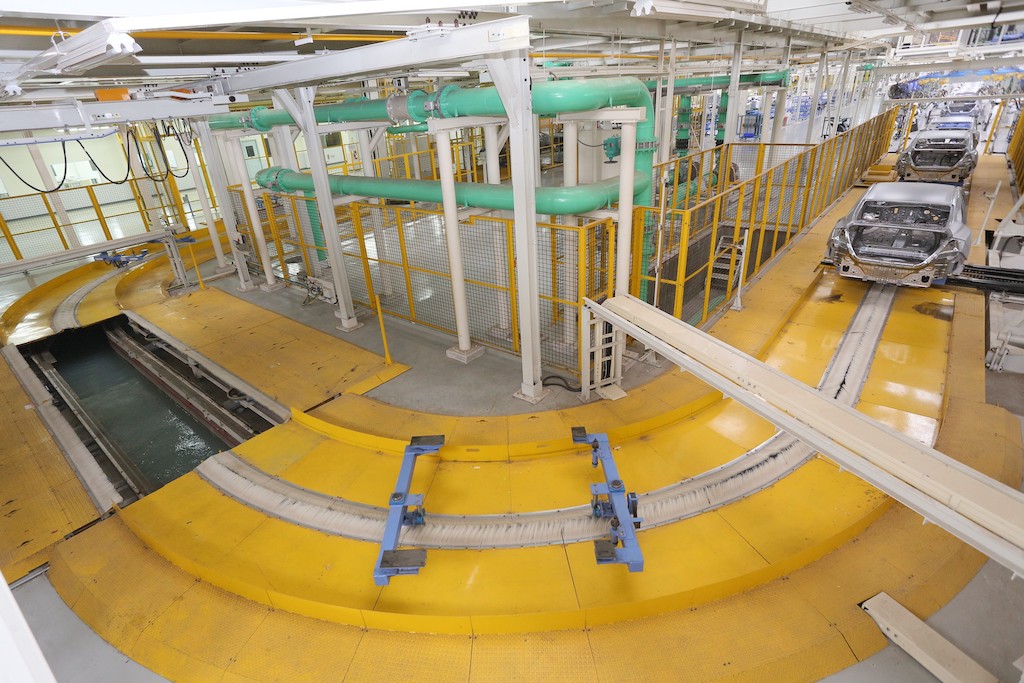 In addition, volatile organic compounds and CO2 emissions are reduced through a 3-coat/2-bake painting process instead of the commonly-used 4-coat/3-bake method. Honda also says it uses water-based paints to reduce environmental impact.
Other highlights include the use of compact and lightweight welding jigs and designing the plant with a skylight roof to maximise natural lighting and minimise electricity use.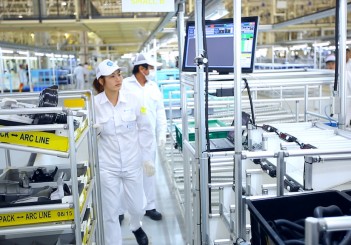 Note
:
All factory floor images supplied by Honda Thailand.