KUALA LUMPUR: Carrying on its tradition of tough vehicles and diesel efficiency, Isuzu unveiled a street rugged D-Max pick-up truck, an off-road going mu-X and a new 1.9-litre Ddi BluePower turbodiesel at its booth at Kuala Lumpur International Motor Show 2018.
The "urban warrior" D-Max is re-inforced with steel bumpers, street-styled alloy wheels and a roll bar for the tough apperance.
Its red body colour with army electric blue geometrics heightens the appeal while the interior gets a "blue metal armour" design which resembles a suit of a soldier.
The mu-X, meanwhile, has returned from the recent Borneo Safari, is fully off-road capable with winch, roof tray, mud tyres and steel bumpers.
Its body has been raised by three inches for better ground clearance as well as improved angle of approach and departure on difficult terrain.
Meanwhile, the new RZ4E-TC 1.9-litre Ddi BluePower turbo Diesel engine, delivers 150hp and has a flat torque of 350Nm from 1,800rpm to 2,600rpm. Its emission level is at a low of 161g/km.
Taking four years to develop, the BluePower has clothoid curve combustion chambers and diamond-like coating materials to reduce internal friction.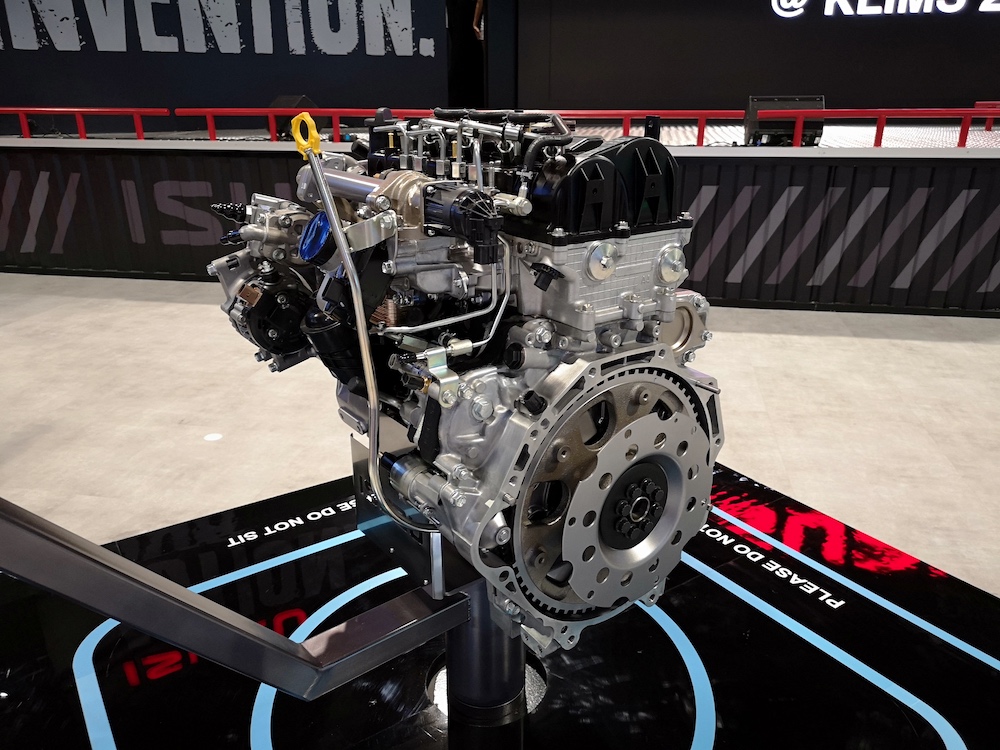 Its new common rail injectors produce 200Mpa of pressure to improve fuel atomization for a more complete burn.
The new Variable Geometry Turbocharger now features an exhaust gas recirculation system yo reduce Nox emissions.
While being 60kg or 20% lighter than the larger 2.5-litre Ddi VGS, BluePower is 10% more powerful and has 9.4% more torque, resulting in 8.2% faster acceleration and 19% improvement in fuel economy.
The engine has been installed in D-Max and mu-X models in Thailand although there is no indication of its introduction in Malaysia.
Isuzu Malaysia has also launched two genuine accessories packages - Titanium and Robust for urban D-Max pick-up truck enthusiasts.
The Titanium package is offered with chrome head lamp garnish, rear lamp guard, door handle cover with garnish, tail gate cover and garnish, rocker plates and door visors.
The Robust package comes with matt head lamp garnish, rear lamp guard, door handle cover and garnish, tail gate cover and garnish, door visors wnd hood protector.
Retailing at RM1,180 for both packages, owners can further accessorise their vehicles with front bumper guard at RM1,390 and over fender at RM1,090.