SINGAPORE: The Lamborghini Aventador LP 750-4 Superveloce (SV) made its debut in Singapore – merely two months after the Geneva Motor Show, with 750hp on-tap and 690Nm, it's 50kg lighter and takes 2.8sec to reach 100kph from standstill.
This particular "bull" is the third and most powerful Aventador, which has been deemed worthy to wear the SV logo over the standard Aventador and Roadster.
With a wheelbase of 2,700mm, it stands measuring 4835mm-long, 2030mm-wide (without mirrors) and just 1,136mm-tall.
The SV packs the same L539 engine found in the standard Aventador, but the mid-mounted naturally aspirated 6.5-litre 60-degree V12 behind the cockpit for two has been "beefed up".
A 90-litre tank supplies fuel for the engine to produce 750hp at 8,400rpm (50hp-more) and 690Nm of torque at 5,500rpm (1Nm-more) before reaching a maximum engine speed of 8,500rpm.
The engine is mated to a single-clutch seven-speed independent shifting rod (ISR) semi-automatic transmission that sends power to all four wheels via a fourth-generation electronically controlled Haldex coupling system that distributes torque between the front and rear wheels.
The 1,525kg (dry weight) supercar is able to reach a top speed of more than 350kph and reaches 100kph from standstill in just 2.8sec (Aventador in 2.9sec and the Roadster in 3.0sec).
The aerodynamics of the supercar has been extensively revised to achieve an additional 170% more downforce, while efficiency has been improved by 150%, thanks to two additional two front wings, a new adjustable rear wing and larger rear diffusers – all made of carbon fibre.
More carbon fibre parts include the rear engine bonnet, fixed side air-intakes (adjustable in the standard Aventador) as well as the interior door panels, rockers and a pair of sports bucket seats - even the carpets and noise insulation were not spared to reach a 50kg weight reduction.
Additionally, more weight was saved by its new exhaust system – not only is the naked four-pipe exhaust lighter but also provides for better engine response by lowering back-pressure.
The SV's lightweight wheels have been up-sized by an inch for both front and rear to 20 and 21-inch respectively, while wearing Pirelli P Zero Corsa tyres that measure 255/30 at the front and significantly wider 355/25 series tyres for the rear.
With a weight-distribution of 43% (front) and 57% (rear), Lamborghini still maintains use of the adaptive Magneto-Rheological push-rod suspension system to enhance the SV's handling performance as well as the standard Aventador's brakes.
The front end's air intakes have been enlarged to supply more airflow to cool the six-pot (front) and four-pot (rear) callipers that bite down on the 400mm (front) and 380mm (rear) carbon-ceramic discs – requiring 30m to stop from 100kph.
Depending on the driver's preference, the SV possesses three drive settings of Strada (road), Sport or Corsa (track), which changes the engine, transmission, differential, dampers and steering characteristics of the supercar.
The SV is further equipped with six airbags and an electronic stability programme (ESP), which works with the antilock braking system (ABS) that varies in intensity depending on the drive mode selected.
The driver now peers down at a new instrument cluster with a TFT screen that's predominantly in yellow and now gets a light blue shift-indicator and a g-force indicator in the lower part of the cluster – similar to racing cars.
The Singapore launch saw the Lamborghini Aventador LP 750-4 Superveloce come draped in a specially developed Rosso Bia (red) for the exterior, while the interior was clad in black Alcantara.
Five more colours will be made available in the near future in addition to the virtually unlimited options under the Lamborghini Ad Personam personalisation programme.
With a limited run of 600 units worldwide for the SV, Lamborghini Kuala Lumpur says that five are headed for Malaysia, of which four have been booked, and should arrive sometime in October with an estimated price of RM3.5mil (including duties).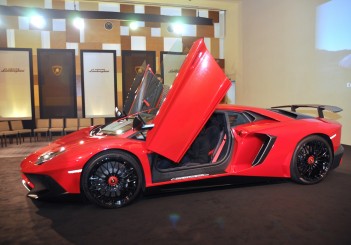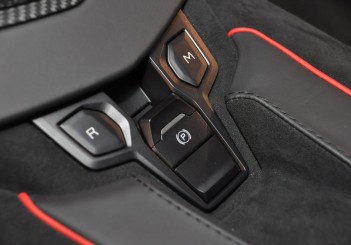 Lamborghini Aventador LP 700-4
Lamborghini Aventador LP 700-4 Roadster