GENEVA: Lamborghini has unveiled the Huracán Perfomante at the Geneva Motor Show.
The suggested retail price (taxes excluded) in Europe is EUR 195,040 (RM918,159).
On 5 October 2016, the Huracán Performante set a new production car lap record of 6:52.01 min on the Nürburgring Nordschleife in Germany.
"The Huracán Performante is the convergence of technological developments to produce a car delivering perfect performance," says Automobili Lamborghini chairman and CEO Stefano Domenicali. "It illustrates the pinnacle of Lamborghini V10 production car performance to date, on both track and road, and is perfectly exemplified by its name: Lamborghini Huracán Performante."
The enhanced naturally aspirated Huracán engine is the most powerful V10 produced to date by Lamborghini.
Outputting 640hp (470 kW) at 8,000rpm and producing 600Nm of torque at 6,500rpm, it produces an optimized torque curve, with more than 70% of torque already available at 1,000 rpm.
Reflecting this, Lamborghini's seven-speed dual clutch transmission has been also optimised.
The Performante's dry weight is just 1,382kg, giving a weight to power ratio of 2.16kg.
Weight distribution front and rear is 43/57 percent.
Accelerating from 0-100 km/h in 2.9 seconds, the Huracán Performante is propelled from 0 to 200 km/h in 8.9 seconds, and brakes from 100-0 km/h in 31 m.
The suspension has been vertically stiffened by 10% over the Huracán coupé, via both springs and bars, and roll stiffness improved by 15%.
The double wishbone system, front and rear, features passive dampers with optional magneto rheological suspension.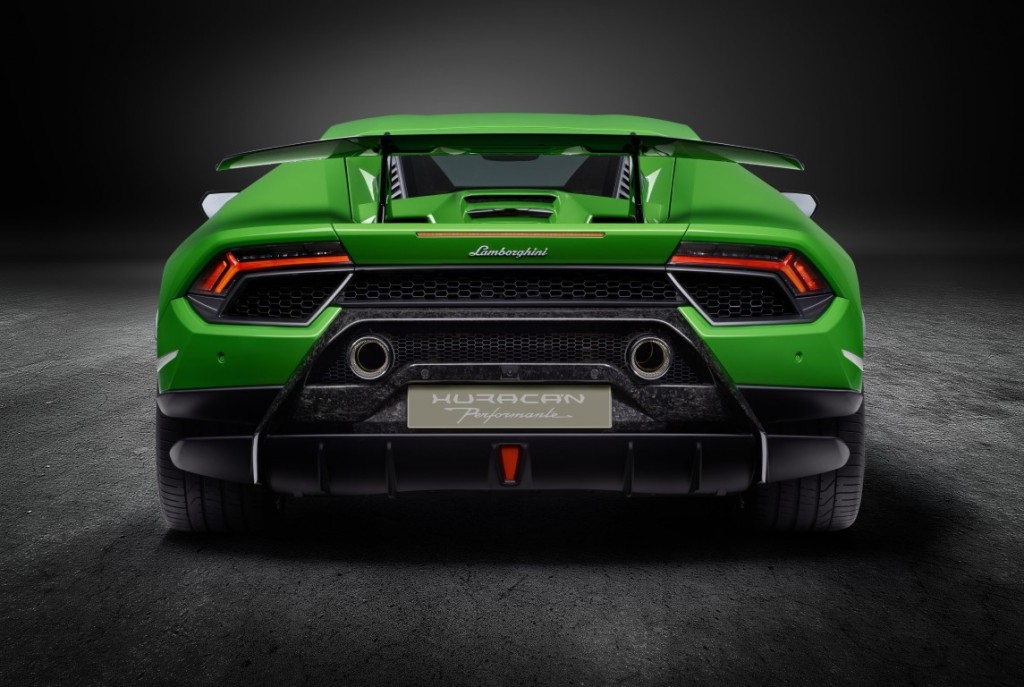 Electromechanical power steering is offered as standard with optional variable ratio Lamborghini Dynamic Steering (LDS).
Both the Huracán Performante's electronic power steering and LDS have been significantly recalibrated to provide highly responsive steering in all three driver modes: Strada, Sport and Corsa.
The Huracán Performante uses Lamborghini's permanent four-wheel drive Haldex fifth generation system, fully electronically controlled, with rear mechanical self-locking differential.
The Huracán Performante sits on specifically designed bronze 20-inch Narvi forged rims.