KUALA LUMPUR: The Malaysia Automotive Institute (MAI) is confident that its annual Malaysia Autoshow will attract more visitors at this year's edition.
The fourth edition of the annual Malaysia Autoshow will be held from 26th to 29th April, 2018.
For the second year running, the venue will be at the Malaysia Agro Exposition Park Serdang (MAEPS).
MAI chief executive officer Datuk Madani Sahari said that the decision to move the event to MAEPS last year brought a wider array of attractions and new experiences to visitors, as the 2017 edition recorded more than 250,000 visitors.
"The expanded venue facilitated longer test drives routes and allowed many exciting outdoor activities to be carried out by the participating brands. These first-hand experiences for customers certainly contributed to the record-breaking sales," he said.
More than 100 cars comprising some of the latest models in the market and Volvo classic cars will be on display.
The major highlights of Malaysia Autoshow 2018 include:
- A glimpse into the future of mobility at the Intelligent Mobility Experience (IMEX)
- A Kia Picanto for one lucky winner of the Lucky Draw Contest (Eligible to participants with a paid ticket to the Malaysia Autoshow 2018 – Terms & Conditions apply)
- The first appearance in Malaysia by the resuscitated legendary German marque Borgward, brought to you by GO Exim Sdn Bhd;
- The opportunity to own a set of personalised legal tender stamps from POS Malaysia. Just snap a photograph of you and your favourite car with a smartphone and pay RM20 for your very own set of collectible stamps that will be printed on the spot;
- Best-ever financing packages by Maybank valid only for cars purchased at the event; and Holiday packages within ASEAN (Flight and accommodation) for 8 lucky customers who book and purchase a car at the Malaysia Autoshow 2018 (Terms & Conditions apply);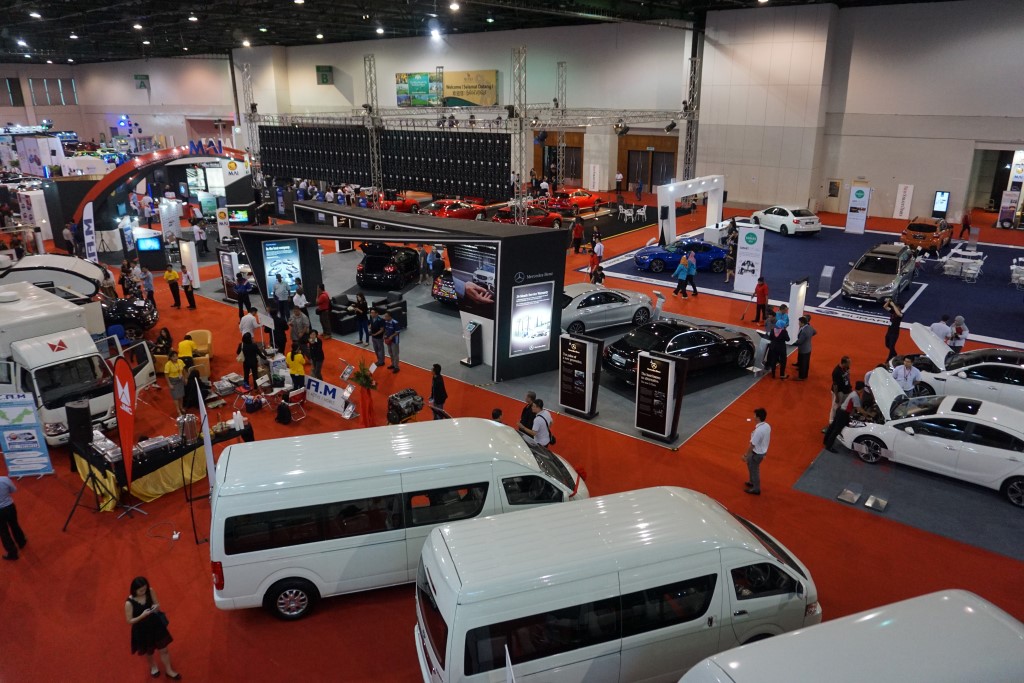 At the outdoor area, exciting activities include:
- Autonomous Emergency Braking (AEB) demonstration in a Perodua;
- Free car inspection;
- Go-kart racing;
- Mitsubishi Obstacle Course;
- Music on Wheels showcase of in-car entertainment systems upgrades;
- Off-road driving experience by 4x4 clubs;
- Toyota 4x4 Experience;
- Lane departure assist and adaptive cruise control demonstration featuring Honda Sensing technology;
- Test drives of latest models;
- Specialty themed Culture and Cuisine Pavilion; and Food trucks.
Maybank is the official financing partner for the Malaysia Autoshow 2018, and will be offering online submissions for hire purchase applications as well as discounts for entry ticket purchases using its QRPay option.
Maybank's head of community financial services Malaysia, Datuk Hamirullah Boorhan said, "As one of Malaysia's largest automobile financier with a market share of more than 25%, Maybank is supportive of the growth of the Malaysian auto industry and will be having attractive and flexible financing packages on offer at this autoshow."
"In addition, through this collaboration with auto dealers, customers can enjoy greater convenience as their financing applications can be submitted online through our Maybank Auto Dealer Portal, providing a swifter and more seamless experience," he said.
The entrance fee for Malaysia Autoshow 2018 is RM10 per entry.
Children below 12 years of age will be given free access, while students will gain free admission on Thursday (26th March 2018).
Visitors can also enjoy discounted ticket prices by purchasing online at www.autoshow.com.my.