BANGKOK: Car makers these days are placing more emphasis on emotive design in a fast-paced world where designs that do not evolve will be outdated.
CarSifu recently attended the inaugural Mazda Asean Design Forum in Bangkok where the Japanese carmaker's next-generation Kodo: Soul of Motion design that was put on display in the guise of the Vision Coupe and RX-Vision Concept.
The Hiroshima-based car maker says that these concepts are the company's new design direction and will be looking to 'breathe new life' into its new generation of vehicles - Japanese style.
As simple as it might sound, the company has made certain to dial in the element of elegance and in order to prevent creating a possibly horrid mess, they've stripped away "all nonessential elements" to "embody a less-is-more aesthetic" and that's what the Vision Coupe is all about.
The coupe features a cabin that's been pulled further back towards the rear to create an exceptionally long hood - much like classic coupe proportions dictated by the 'golden ratio'.
This helps to create a silhouette that suggests high performance with a sense of strong forward momentum and that in turn converts glances into stares for this four-door, four-seater coupe.
First, the eyes will begin to notice the play of light and shadow across its supple sheet metal that in a way, brings it to 'life'.
Such an effect was literally created by the hands of the Japanese carmaker's craftsmen over the course of two years.
As for the interior, the goal was to ensure that occupants lacked the sense of confinement and not only felt 'one' with the car, but also had a sense of speed and a connection to the external environment.
Additionally, the car has been equipped with a see-through screen that feeds the driver with necessary information when required without hampering vision.
More interestingly, the driver has been situated centrally to sense the vehicle's central axis at all times for an enhanced feeling of 'jinba-ittai' (horse and rider as one), while being flanked by controls for a more intuitive feel from the cockpit's symmetrical layout.
The Mazda RX-Vision concept, seen coated in what Mazda says is a special red which made its world premier in Tokyo, is a rotary sports car concept that introduced the next-generation SkyActiv-R rotary engine as well as Mazda's vision of the ultimate front-engine rear-wheel (FR) driven sports car styling.
The styling provides for an overall low and wide body that's combined with a low hood, short overhangs and a taut cabin - the bare essentials, provide the immediate emergence of its sporty nature.
Moving around, the body's hand-sculpted curves provides an interesting play of light and shadows that morphs from the slightest change in viewing angle.
And the special coat of red paint it wears helps it further do just that.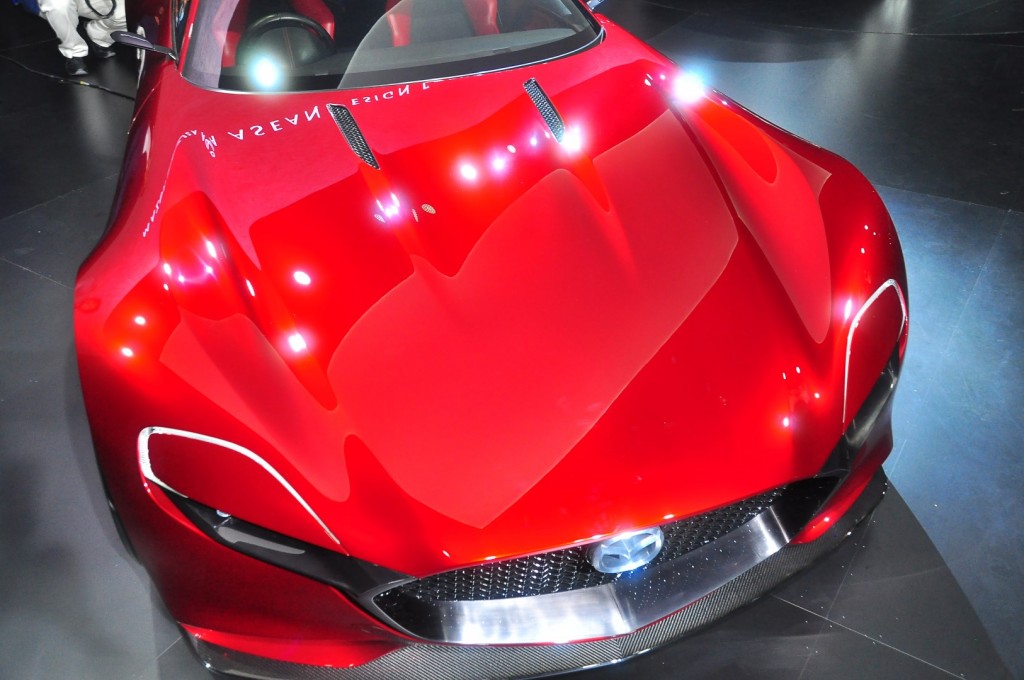 The interior has been fitted with sophisticated handcrafted materials in order to enhance the tactile feel to it.
There's also intricate instruments to bring about a machine-like appeal that's been combined with a simple instrument panel and genuine leather trim for a more upmarket feel.
Under the hood Mazda will be installing its next-generation rotary engine and even though production of the RX-8 ceased in 2012, work on the rotary engine did not.
Lastly, the new engine will be christened with the SkyActiv-R moniker for its breakthrough in addressing three main issues that generally plagued the engine - fuel economy, emissions and reliability.