PETALING JAYA: Mercedes-Benz Malaysia has launched a less forceful G 350 d in comparison to the tuned-up AMG variant of the G63.
Priced on-the-road without insurance at RM999,888, the G 350 d uses a new 3.0-litre (2,925cc) OM 656 inline-six turbodiesel engine with NanoSlide cylinder wall coating to reduce frictional losses.
The engine provides 286hp from 3,400 to 4,600rpm and 600Nm of torque from 1,200 to  3,200rpm.
With a nine-speed (9G-Tronic) automatic transmission, the G 350 d gets from 0 to 100kph in 7.4 seconds and can cruise at a top speed of 199kph for this off-road icon.
Engineers of this G-Class managed to shorten the 9G-Troni's shift times via software to make it feel a little more livelier on the road.
The all-wheel-drive system splits torque between the front (40%) and rear (60%) axles,,          which particularly suits road-goers.
To boost its comfort levels, the G 350 d has been provided with actively controlled engine mounts.
These soak up and dampen engine noise and vibrations before it reaches the ladder-type frame at slow speeds.
At higher engine speeds, the two engine mounts are automatically made stiffer.
The exterior of the G 350 d is equipped with a combination of the AMG Night Package and the Stainless Steel Package.
Under the AMG Night Package, this G 350 d rolls on 20-inch AMG multi-spoke lightweight alloys while having smoked indicators, reverse lights and headlights.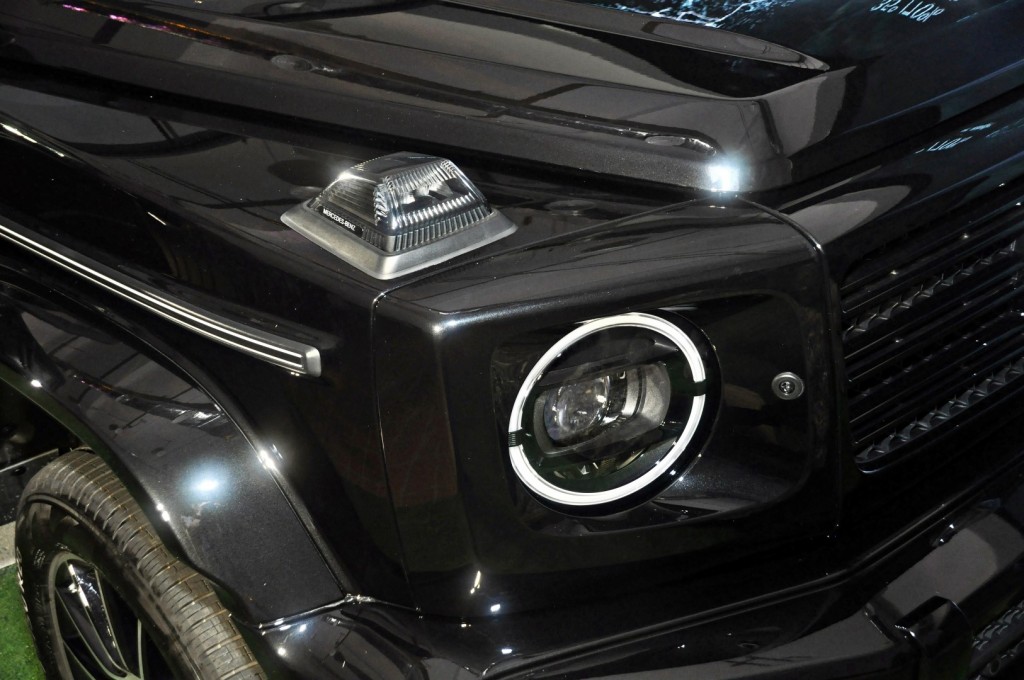 Adding to the list is an exterior protective strip with black pinstripe trim inserts, radiator grill louvres and spare wheel ring as well as bumper trim elements painted in Obsidian Black.
The Staiunless Steel Package will see the G 350 d fitted with running boards to make entering and exiting this G-Class a lot more convenient.
The spare wheel cover with a 3D three-pointed star, door sills, rear load sills guard, and the exterior protective strip have been painted in Obsidian Black.
Inside, the cabin features a leather-covered instrument panel with exclusive colour options.
As standard, the cabin will be furnished with black Dinamica microfibre roof lining and a frameless rear view mirror under the Exclusive interior package.
A Driving Assistance Package has been included to provide Active Distance Assist Distronic (up to 200kph) and Blind Spot Assist (30 to 250kph).
The G 350 d was launched alongside the
Mercedes-Benz GLB
luxury compact seven-seater SUV with three model variants.