FRANKFURT: The world premiere of the plug-in hybrid Mercedes-Benz GLE 350 de 4MATIC impressed with an all-electric range of up to 106km thanks to its 31.2kWh lithium-ion battery and 100kW/400Nm electric motor which debuted alongside the smaller GLC 300 e 4MATIC.
Under battery power, the new GLE is able to travel up to 160kph while its 1,950cc four-cylinder turbo-diesel remain dormant - ready to assist with its 194hp at 3,800rpm and 400Nm of torque from 1,600 to 2,800rpm.
With both electric motor and combustion engine combined, its system output resides at 320hp and 700Nm to allow for a 0 to 100 kph sprint time of 6.8 seconds and a top speed of 210kph and an unrestricted towing capacity of up to 3.5 tonnes.
Trailer Manoeuvring Assist has been incorporated into the equipment list as standard to allow for ease of control for inexperienced drivers.
With a rather impressive drag coefficient of just 0.29 (the lower the better), the new GLE features a special rear-end design with a modified rear axle to 'create' some space for the large battery.
This, in turn, has allowed for the usual 'step' found in luggage compartments of plugin hybrids to now be omitted - yet allow for a boot capacity that can be expanded to 1,915 litres.
To charge this sport utility vehicle (SUV), a combined charging socket for alternating current (AC) and direct current (DC) charging has been installed on the left side of the vehicle to mirror the right side with the fuel flap.
At corresponding DC charging stations, the battery can be charged in approximately 20 minutes (10-80% State of Charge) or in approximately 30 minutes (10-100 State of Charge).
Power can be recouped at all four wheels with a maximum recuperation torque of 1,800Nm and in this mode, most driving situations can be controlled merely by accelerator action.
Touted to be supremely quiet and smooth-running, the GLE has a 2,995mm wheelbase that benefits rear-seated passengers with a generous amount of legroom, especially with the optional adjustable second-row seat.
As a hybrid, the GLE features a fully-variable all-wheel drive (torque on demand) system to give it agility before bolstering its safety levels with the inclusion of Active Stop-and-Go Assist.
The GLC 300 e 4MATIC, on the other hand, touts functionality and agility that wrapped up in a modern design that is also spacious to make it a very versatile mid-sized premium SUV.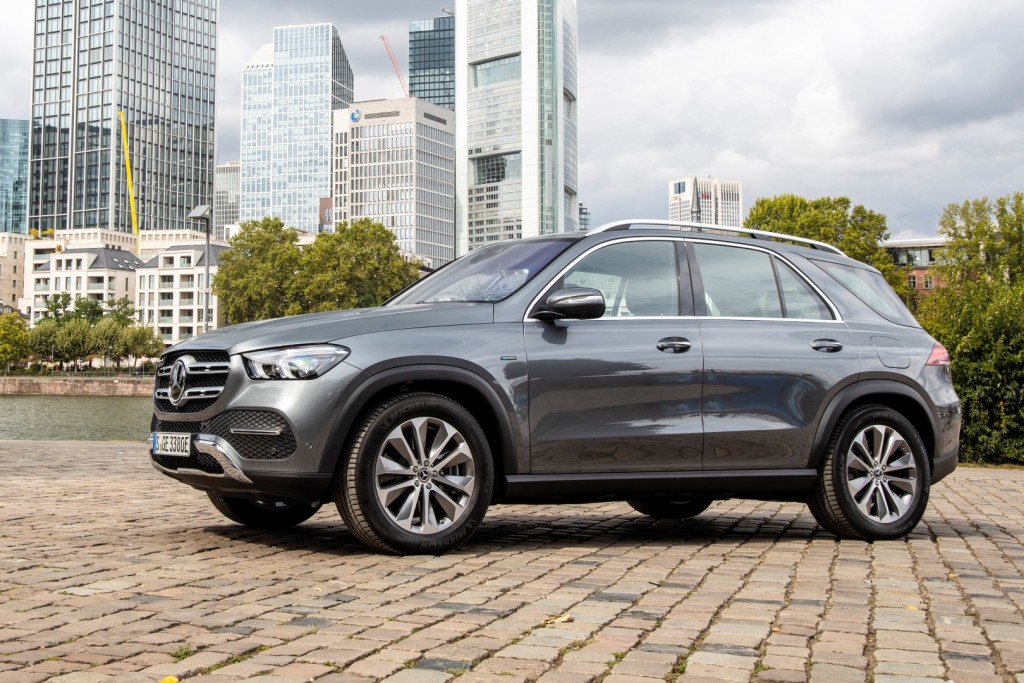 For external differentiation from its predecessor, it now features more muscular surface contours while a chrome trim extends continuously from the front to the rear while a more pronounced front grille now resides.
As standard, the GLC now sports a redesigned rear LED light cluster as well as front LED headlights which are now smaller and flatter than before to further pronounce the torch-like outline of the daytime running lights.
As an optional extra, the headlights can be upgraded to include the German luxury carmaker's MULTIBEAM LED headlamps.
Much like the larger GLE, the GLC also features a flat luggage compartment that can be expanded from 395 to 1,445 litres.
Changes within the GLC include the intuitive MBUX (Mercedes-Benz User Experience) infotainment system and state-of-the-art driving assistance systems and can tow up to 2,000kg (braked).