OXFORD: MINI has introduced its first fully electric Cooper SE.
Also, it is the first electrically-powered model of the British brand offers pure MINI feeling with emissions-free driving.
The power delivery of its 184hp motor, the brand-specific front-wheel drive, and the innovative driving dynamics system with wheel slip limiting close to the actuator, give the Cooper SE a distinctive agility, known as the go-kart feeling.
Its model-specific lithium-ion battery enables a range of 235km to 270km. The high-voltage battery is located deep in the vehicle floor, ensuring it does not intrude into the luggage compartment volume.
READ MORE: 
Electric MINI production to begin at British plant in late 2019
The motor of the Cooper SE mobilises a maximum output of 184hp and maximum torque of 270Nm is already available from standstill, as is characteristic of electric motors. Power transmission to the front wheels is by means of a transmission with single-stage configuration and integrated differential.
The Cooper SE accelerates from 0 to 60kph in just 3.9 seconds. Over the first 60 metres it effortlessly keeps pace with conventionally powered sports cars. The purely electrically powered MINI accelerates from zero to 100kph in 7.3 seconds; its top speed is limited to 150kph.
There are four modes to choose from in the Cooper SE. Sport mode differs from the standard MID setting, with a more direct characteristic steering curve and a particularly spontaneous response of the drive system.
The comfort-oriented steering characteristics of the MID setting are also active in GREEN mode, as well as in the new GREEN+ mode specially configured for the new MINI Cooper SE.
The drive system in these two latter modes is geared towards maximum efficiency. In GREEN+ mode, additionally selected comfort functions such as heating, air conditioning and seat heating are limited or deactivated in order to increase the range of the vehicle.
The standard charging cable is available for connection to a household socket. A MINI ELECTRIC Wallbox is optionally available for home charging as well as a three-phase cable for use at public charging stations.
Both options allow the high-voltage battery of the Cooper SE to be charged with a maximum capacity of 11kW - to 80% in two and a half hours, and 100% in three and a half hours.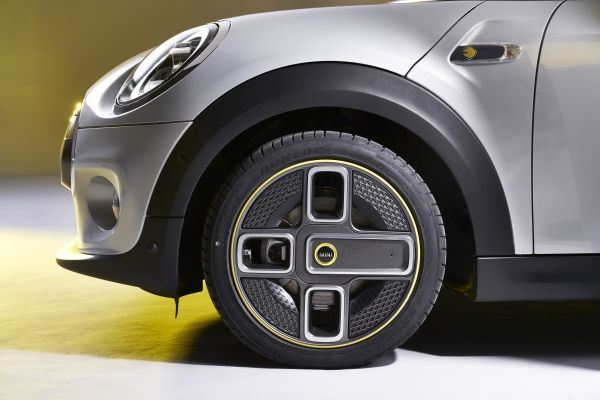 A DC fast-charging station allows the vehicle's energy reserves to be refreshed even more quickly. The charging unit of the Cooper SE is designed for a maximum charging capacity of 50kW, allowing an 80% charge to be achieved in just 35 minutes.
Standard equipment features include LED headlamps, 2-zone automatic air conditioning, heating with heat pump technology, auxiliary heating, electric parking brake and Connected Navigation.