LONDON: The McLaren Senna was due to make its official public appearance at the upcoming 88th Geneva International Motor Show on March 6, but it was just too good not to be shared.
With only 500 units promised for the world at £750,000 each, they've all been spoken for.
The McLaren Senna has undergone considerable changes, where the revised carbon fibre body work, rear wing and active front and rear aerodynamic systems can provide up to 800kg of downforce while at 250kph.
The company also boasts that its new car is now the lightest vehicle the company has ever built at 1,198kg (dry weight) since the iconic F1 was created.
The road-legal track car uses a familiar mid-mounted 4.0-litre M840TR twin-turbo V8 to generate 800PS at 7,250rpm and 800Nm of torque from 5,500 to 6,700rpm.
The engine also features a flat-plane crankshaft, race-inspired dry sump lubrication and lightweight connecting rods and pistons help to reduce mass in the powertrain, while the ultra-low inertia twin-scroll turbochargers and electronically-controlled wastegates give an immediate sense of retardation to enhance engine responsiveness.
Lightweight camshafts and pistons unique to the McLaren Senna and externally repositioned dump valves are among other Senna-specific components.
Additionally, ion sensing with individual sensors per cylinder enables higher pressures and temperatures than on other McLaren engines.
A dual-clutch seven-speed gearbox manages power delivery to the rear wheels. The default transmission mode is fully automatic, but a McLaren Senna driver can select full manual control of gear shifts via the Active Dynamics Panel located within the centrally-mounted screen and change gears using the steering-mounted carbon fibre paddle-shifters that have been optimised for use with or without racing gloves.
A lightweight Inconel-titanium exhaust system uses either a twin-exit or triple-exit active system depending on market requirements.
The sound from the exhaust is said to encourage the driver to rev the engine high with the volume increasing by 10dB for every additional 2,000rpm right to the engine's rev limit.
In terms of performance, the McLaren Senna shoots from 0 to 100kph in 2.8 seconds, four-seconds later at 6.8 seconds its at 200kph before reaching a top speed of 340kph.
To take on grip duties are a set of bespoke Pirelli P Zero Trofeo R tyres measure 245/35 for the front 19-inch wheels and 315/30 for the rear 20-inch wheels and have been developed specifically for dry race tracks and everyday road use.
The asymmetrical tread pattern provides for maximum lateral grip and the special construction maintains cornering stiffness, while specific development work was undertaken on the compound to shorten braking distances, improve longitudinal performance, create a consistent reaction between the front and rear axles and heighten on-centre steering response.
Peeking through the spokes are the CCM-R carbon ceramic brake disc (each taking seven months to create) that have cooling vanes machined into the disc, rather than moulded.
The Formula 1-inspired front calipers are of a super-stiff monobloc design to maintain pedal feel and feature six ventilated pistons to reduce temperatures
.
Ride and handling is taken care of by the adjustable ProActive Chassis Control suspension system technology from the MP4 12C that's been revised and altered to become RaceActive Chassis Control II (RCC II).
The new suspension system features double wishbones front and rear, with adaptive dampers interconnected hydraulically, both left to right and front to back.
Data from sensors – including four wheel accelerometers, two pressure sensors per damper and multiple body sensors – is analysed and reacted to in a mere 2 milliseconds to ensure perfect damping response.
The continuously variable system advances the control strategy introduced on the McLaren 720S to incorporate Race mode, which introduces significantly stiffer suspension, a lower ride height and a lower centre of gravity.
The top speed of the McLaren Senna is not limited in Race mode, but above 250kph, both the aero-blades and rear wing are actively trimmed to preserve peak downforce levels, which would otherwise continue to increase with speed and impart excessive load on the suspension and tyres.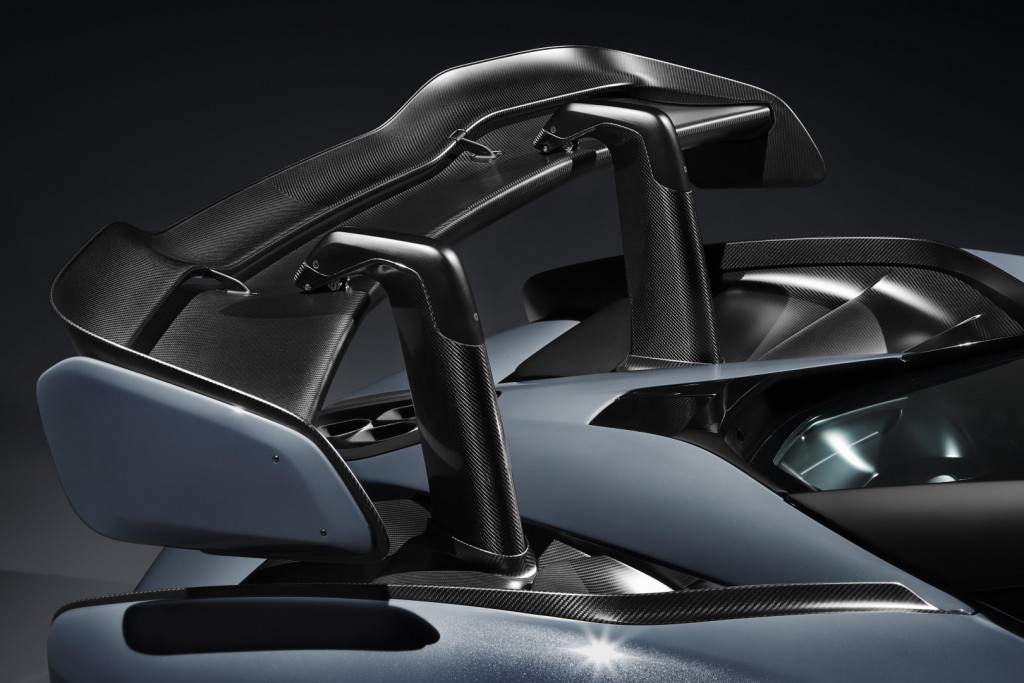 A driver can adjust handling parameters using the Active Dynamics Panel to access Comfort, Sport and Track modes - Race mode is selected via a button in the roof-mounted panel.
"The McLaren Senna is a car like no other: the personification of McLaren's motorsport DNA, legalised for road use but designed and developed from the outset to excel on a circuit. Every element of this new Ultimate Series McLaren has an uncompromised performance focus, honed to ensure the purest possible connection between driver and machine and deliver the ultimate track driving experience in the way that only a McLaren can," said McLaren Automotive chief executive officer Mike Flewitt.
The creation of the McLaren Senna is an ode to the 30th anniversary of the late Ayrton Senna joining the McLaren-Honda Formula One team in 1988 who later went on to win his first World Championship that same year.
"You commit yourself to such a level where there is no compromise. You give everything you have; everything, absolutely everything." 
Ayrton Senna (1960-1994), three-times Formula 1 World Champion in a McLaren.
Unfortunately, he lost his life while leading the 1994 San Marino Grand Prix while driving for Williams and to this day, the Formula One community still regards him as one of the greatest race car drivers of all time.