PARIS: Nissan has toughened up its Navara pickup truck with an upgraded suspension and increased payload but it's also gotten a lifestyle boost with its new onboard and in-app technologies via the company's NissanConnect infotainment system.
Having just gone on sale across Europe, the Navara touts its beefed-up suspension to also provide higher safety levels with the inclusion of Intelligent Trailer Sway Assist technology.
As a result, the Japanese carmaker also found a way to make the ride, handling and comfort level better as well.
The suspension uses a double wishbone with a stabiliser bar up front while the rear is a second-generation five-link with dual springs and a stabiliser bar.
Stoppin power comes from front 320mm (from 296mm) and rear 308mm discs brakes (previously drum brakes) as standard and is accompanied by anti-lock braking system, brake assist, electronic brakeforce distribution, traction control, vehicle dynamic control and Trailer Sway Assist.
Under the hood lies a 2.3-litre Euro6D-temp twin-turbo engine as standard with two engine tunes that's mated to either a new six-speed manual transmission (manufactured in Europe) or seven-speed automatic.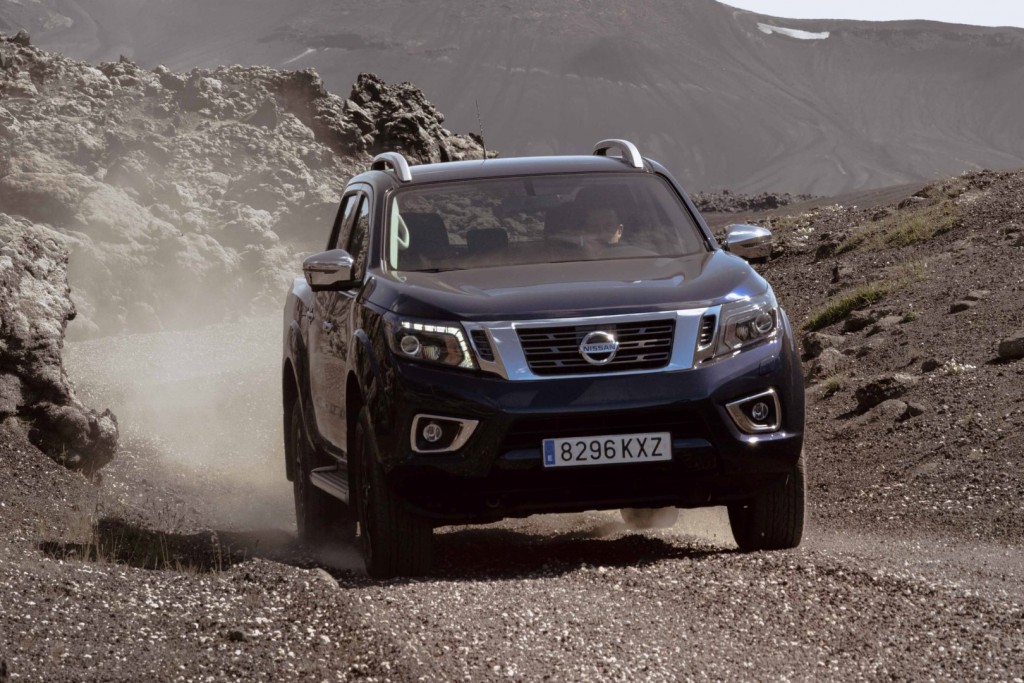 Both entry-level King Cab and range-topping Double Cab can be powered by the engine with an output of 163PS at 3,750rpm and 425Nm (+22Nm) of torque at 1,500rpm and can only be mated to a six-speed manual.
This allows the Navara to sprint from 0 to 100kph in 12.5 seconds and speed at a maximum velocity of 172kph.
The second tune outputs 190PS at 3,750rpm and 450Nm of torque at 1,500rpm. This allows the discerning buyer the choice of either a six-speed manual or a seven-speed automatic.
This means that the Double Cab can sprint from 0 to 100kph in 11.2 seconds and depending on the choice of transmission, it can cruise at a top speed of 290kph (AT) or 298kph (MT).
The engine features the adoption of steel pistons and Diamond-Like Carbon Coating to the piston rings and has a lower compression ratio of 15.1 (vs. 15.4 previously) which aids in producing less NOX.
The fuel injection system pressure has also been increased from 2,000 to 2,200 bar with a new pump as has the water cooling system and exhaust system which now integrates a Diesel Particle Filter (DPF) and Selective Catalytic Reduction (SCR) technologies to help lower NOx emissions even more.
All that translates to the manufacturer providing a five-year or up to 100,000km warranty at present.
Measuring in at 5,210mm-long, 1,850mm-wide and 1,822mm-tall, the King Cab sees an increase in payload of 55 to 95Kg (depending on spec) versus the outgoing model with a new payload of 1,165Kg.
The Double Cab comes in at 5,280mm-long, 1,850mm-wide and 1,824mm-tall meanwhile sees a payload increase of 54 to 114Kg (depending on specification), taking total payloads from 1,115Kg to 1,180Kg and a Permissible Total Weight of 3,250Kg.
Regardless of variant, the Navara rolls on three choices of wheels and tyres that include 255/65 R17 (steel), 255/65 R17 (alloy) and 255/60 R18 (alloy).
Depending on the wheels, this pickup truck has a ground clearance from 230 to 234mm up front, 219 to 223mm at the rear and 238 to 242mm between the front and rear axles - giving it the ability to wade up to 600mm of water.
Other notable standard features include Intelligent Emergency Braking, Hill Start Assist, Hill Descent Control and Intelligent Around View Monitor.
Inside, the cabin features a faster responding 8.0-inch (+1.0-inch) high-resolution multi-touch control screen with Android Auto and Mirroring as well as Apple CarPlay via NissanConnect.
The NissanConnect Services app features a telematics control unit and built-in 4G device, embedded TomTom Maps combine with over-the-air updates alongside live traffic information, 3D maps, weather information and Google Satellite and Street View.
The app also includes remote horn and light control and remote vehicle locator.
Higher grade models feature updated LED headlamps with a high gloss black inner shell versus chrome in the past.
The new Navara - engineered specifically with European customers in mind, is sold in 109 countries worldwide and is built at the NMISA plant in Barcelona, Spain.