LONDON: Believe it or not, the Renault Clio is 26 years old and after 13 million units sold internationally, there's another new one that's due out by the third quarter of the year in the UK.
There's no mention of price on the French carmaker's best seller, but the order books will be opened in September, while the company promises that the car will have greater appeal thanks to its styling, features and range of powertrains.
A 1.5 dCi 110 diesel engine is offered while mated to a six-speed manual gearbox is the new comer to the new Clio's powertrain range, as is the availability of a six-speed manual transmission for the TCe 120 petrol engine. And there's going to be a total of 11 engine/transmission combinations.
While featuring a redesigned grille as well as new front and rear bumpers, external features (depending on variant) include LEDs for the daytime running lights, front headlights and rear light clusters.
Additionally, four new colours have been added to the options list (Mars Red, Titanium Grey, Frost White and Iron Blue), a selection of new wheel and wheel trim designs as well as a more extensive personalisation programme.
The company says the Clio's interior will also benefits from the use of finishing materials previously reserved for its higher-end models paying attention to the tactile and visual appeal of the plastics, while the chrome trim has been subdued by its matt finish.
There's going to be three different connected multimedia systems in the options list that includes the Media Nav Evolution and Renault R-Link Evolution if the standard and new R&Go system isn't to the liking.
The new CLIO is the first B-segment Renault to have Bose quality sound available, while being furnished with, depending on variant, front and rear parking sensors, a reverse camera, Easy Park Assist
To further personalise the Clio, the French brand has an INITIALE PARIS signature that offers the ultimate in Renault travelling comfort and amenities, with an exclusive choice of colours and materials.
Features include an exclusive body colour of Givré Grey (metallic finish), full-grain Nappa leather for the steering wheel and gear lever, specific door panel and dashboard trimming and leather seats in either black or black-and-white.
The INITIALE PARIS version of the new CLIO also stands apart from the rest of the range thanks to the following standard equipment: BOSE® premium audio, LED Pure Vision head lights and C-shaped LED daytime running lights, the R-LINK Evolution multimedia system complete with connected services, reverse camera and Easy Park Assist.
A choice of two petrol engines (90hp or 120hp) and two diesel units (90hp or 110hp) are available for the new Clio Initiale Paris, with either a manual or seven-speed Efficient Dual-Clutch (EDC) automatic transmission.
Renault Clio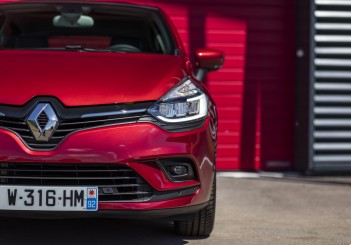 Renault Clio RS