PETALING JAYA: You could be the person to bump up car sales as we rush headlong into the second half of 2015. And the Malaysian Automotive Association (MAA) will thank you for it.
Every car out of the showroom counts as passenger car sales in Malaysia are expected to see little growth this year, following record sales in the last few years.
The MAA has forecast total industry volume to record its lowest growth in five years in 2015 – a measly 0.5% to 670,000 units from the 666,465 units achieved last year.
Vehicle sales in the first half of 2015 fell 3.3% year-on-year to 322,184, mainly due to subdued business optimism and moderation in consumer spending as a result of the economic uncertainties and increased cost of living.
Tough lending practices, especially for hire-purchase loans, also affected sales. Still, the show must go on, as they say.
Manufacturers were busy launching new models in the first half of the year - among them the updated
Perodua Myvi
,
Mazda2,
Honda HR-V
,
Peugeot 308
,
Nissan X-Trail
,
Ford Mondeo
,
Subaru Outback,
Toyota Camry Hybrid
,
MINI John Cooper Works,
Audi TT
,
Isuzu MU-X
,
Mitsubishi Triton
,
Hyundai Genesis,
Kia Rio 5-door,
Renault Fluence
and the petrol-powered
Citroen Grand C4 Picasso
variant.
Also launched were Mercedes-Benz's locally assembled
C-Class
variants and
BMW 2 Series tourers
along with the
BMW i8
plug-in hybrid sports car.
Super exotics were also not left out in the first half of the year with the
Ferrari 488 GTB
and
Mercedes-AMG GT S
making their sales debut.
The MAA remains optimistic that vehicle sales in the second half of the year will be better.
As the car-buying public waits with bated breath,
CarSifu
lists the range of cars to watch out for from now till the end of the year.
Click the links below for details on each car.
[columns][column size="2/5"]
[/column]
[column size="3/5"]
The premium compact sedan Peugeot 408, which was revealed in last year's Beijing Auto Show, uses the EMP2 platform making it a light car that promises better fuel efficiency. >
MORE 
[/column][/columns]
[columns][column size="2/5"]
[/column]
[column size="3/5"]
Featuring a sleeker style compared to its predecessor, the new Kia Cerato Koup is also more powerful. >
MORE
[/column][/columns]
[columns][column size="2/5"]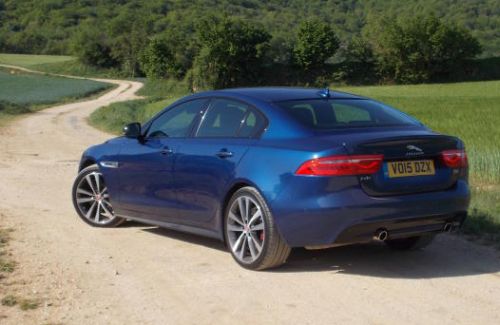 [/column]
[column size="3/5"]
The Jaguar XE redefines the concept of the sports saloon and is the driver's car in its class. >
MORE
[/column][/columns]
[columns][column size="2/5"]
[/column]
[column size="3/5"]
The new Land Rover Discovery Sport touts a versatile and capable premium compact SUV featuring a 5+2 seating on a footprint no larger than existing 5-seat premium SUVs. > 
MORE
[/column][/columns]
[columns][column size="2/5"]
[/column]
[column size="3/5"]
The latest 2015 facelift for the BMW 3 Series results in a sharper-looking exterior, more driving technology and cutting-edge engines. >
MORE
[/column][/columns]
[columns][column size="2/5"]
[/column]
[column size="3/5"]
Going by its popularity worldwide, the Mazda CX-3 mini sport utility vehicle (SUV) looks set to be a winner in Malaysia. >
MORE
[/column][/columns]
[columns][column size="2/5"]
[/column]
[column size="3/5"]
Mazda took the focused approach when it developed its fourth generation low-slung, fun-to-drive, two-seater roadster that's known as the MX-5. >
MORE
[/column][/columns]
[columns][column size="2/5"]
[/column]
[column size="3/5"]
The 2015 Ford Everest seven-seater SUV (sport utility vehicle) is a versatile family set of wheels, with stunning off-road technology and refined interior comfort. >
MORE
[/column][/columns]
[columns][column size="2/5"]
[/column]
[column size="3/5"]
The Renault Captur crossover combines the characters of three types of vehicles. >
MORE
[/column][/columns]
[columns][column size="2/5"]
[/column]
[column size="3/5"]
The Renault Clio GT is a punchy 1.2-litre turbo petrol go-getter that's willing to stand toe-to-toe with anything that makes it look diminutive on the streets and should arrive by late 2015.  >
MORE
[/column][/columns]
[columns][column size="2/5"]
[/column]
[column size="3/5"]
The Nissan NP300 Navara is the most powerful 2.5-litre diesel pick-up workhorse while promising fuel economy and improved off-road capability. >
MORE
[/column][/columns]
[columns][column size="2/5"]
[/column]
[column size="3/5"]
The Ford Ranger gets new updates for 2015 with a bolder, sportier look as well as improved comfort and upgraded diesel power trains. >
MORE
[/column][/columns]
[columns][column size="2/5"]
[/column]
[column size="3/5"]
Hailed as the most powerful V8 car of its segment, the Mercedes-AMG C 63 gets a powerful 4.0-litre V8 biturbo engine. >
MORE
[/column][/columns]
[columns][column size="2/5"]
[/column]
[column size="3/5"]
Lexus has updated the ES mid-sized sedan for 2015, which comes in three variants. >
MORE
[/column][/columns]