PRAGUE: Skoda has just revealed a new sportier version of its smallest SUV, the Karoq. With sportier styling and a new 2.0-liter petrol engine, it will be a welcome addition to the lineup after the rugged-looking Karoq Scout was announced earlier this week.
The Karoq isn't getting a vRS variant anytime soon, so the Sportline is probably about as sporty as this compact crossover SUV is going to get. Thankfully, then, this is more than just an exercise in aesthetics: the Karoq Sportline will be equipped with a 187bhp 2.0-litre petrol engine, which is the most powerful unit offered in the range.
A smart set of unique 18-inch black alloys wheels kick off the styling enhancements, and they can even be upgraded to a set of 19s. There's a bodykit that looks remarkably similar to the one fitted to the Kodiaq Sport, and the Karoq Sportline also has redesigned bumpers at the front and the back. Instead of everything on the outside being colour-coded, the grille, roof rails and wing mirrors of the Sportline are finished in a contrasting gloss black.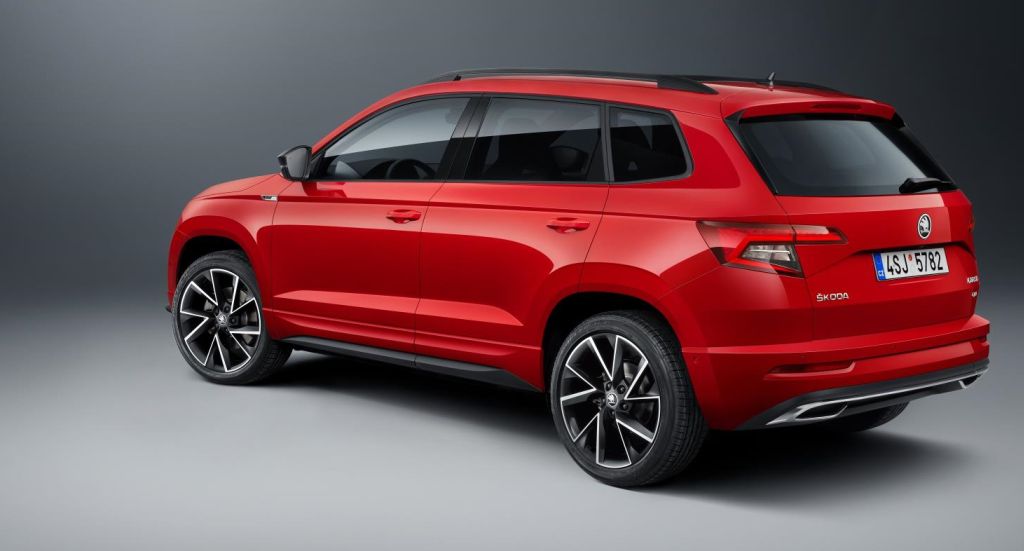 On the inside, there are black sports seats in a three-ply air-permeable fabric supposed to be more breathable than regular seating fabrics, and thus more comfortable in hot weather. Other interior design features include a steering wheel with perforated leather and silver stitching, a black headlining, stainless steel pedals, and LED ambient lighting.
The VW Group's superb Virtual Cockpit digital display is available, but only as an option. However, the Sportline does come with an additional selectable interface exclusive to it.
Buyers have no less than four different engines to choose from in this new trim level. There will be two different versions of the 2.0-litre TDI with power outputs of 187bhp and 148bhp. The other two engines are petrols: a 1.5-litre 148bhp TSI and the new 2.0-litre unique to the Sportline version of the Karoq.
Like the new Karoq Scout, the Karoq Sportline will go on sale shortly after its appearance at the Paris Motor Show between Oct 4-14.