MARANELLO: A unique Ferrari has been seen lapping Fiorano today and it is the unique, one-off and new Ferrari Omologata.
It was commissioned by an unnamed European client, the V12 engine Omologata is a vibrant evocation of the values that define Ferrari in relation to GT racing: a car that is equally at ease on the road as it is hitting the apex on the track in the hands of a gentleman driver.
The new Ferrari Omologata comes in Rosso Magma finish and sophisticated racing livery.
The Ferrari Omologata project took a little over two years to complete. The idea from the onset was to create a futuristic design with distinctive elements reinterpreted to provide potential for a timeless shape that drew inspiration from racing heritage to sci-fi and references to modern architecture.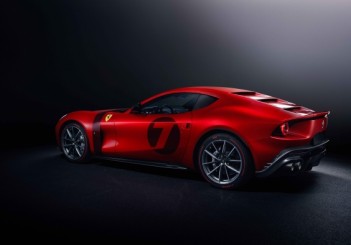 To achieve this, the designers unlocked every possible area of freedom from the underlying package of the 812 Superfast, keeping only the windscreen and headlights as existing bodywork elements.
The designers carefully studied the stance and attitude of the car from all angles, defining a tapering front volume from the flattened oval grille. The rounded section over the front wheelarches, emphasized by a contrasting stripe wrapping across the bonnet, seems to naturally extrude from the grille.
The tail is surmounted by a prominent spoiler which adds not only downforce, but a more aggressive, sporty stance. Overall, the car appears to be poised to attack the tarmac even at a standstill.
Omologata was indeed a keyword that resonated throughout the development of this, the 10th front-engined V12 one-off Ferrari has delivered since the 2009 P540 Superfast Aperta.
The ultimate touch went as far as developing a new shade of red just for the livery, to match the fiery triple-layer Rosso Magma over darkened carbon-fibre finish.
Inside the car, the electric blue seats, finished in a tasteful combination of leather and Jeans Aunde fabric with 4-point racing harnesses, stand out against a full black interior.
In the absence of rear quarter lights and screen, the atmosphere in the cabin is purposeful, reminiscent of times past.
Metal parts on the dashboard and steering wheel are finished with the crackled paint effect associated with the great GT racers of the 1950s and 1960s as well as with Ferrari's engine cam covers.
A hammered paint effect so often used in cars such as the 250 LM and 250 GTO finds its way on details such as the inner door handles and on the Ferrari F1 bridge.
The Omologata is a fitting one-off exercise which manages to encompass a range of subtle Ferrari signature design cues without being too nostalgic.