TOYOTA CITY: Toyota said today it will launch its new Yaris in Japan on Feb 10.
The new Yaris was developed to combine the nimble handling characteristic of compact cars with a high-quality ride comfort and the latest safety and security technologies.
It is the first model to adopt the TNGA platform (GA-B) for compact cars, and features a lightweight and highly rigid body with a low centre of gravity.
The car's next-generation hybrid system is based around a 1.5-litre inline three-cylinder Dynamic Force Engine, and fuses powerful, seamless driving performance with world-leading fuel efficiency for a compact car*4 of 36.0 kilometers per liter*5, according to WLTC test cycles.
The new Yaris is the first Toyota compact car to feature the E-Four electric four-wheel-drive system.
The petrol-powered grades are equipped with a newly developed 1.5-litre inline three-cylinder Dynamic Force Engine, with the option of either a six-speed manual transmission or a Direct Shift-CVT with 2WD or 4WD settings that provides smooth, direct acceleration. The petrol 4WD version is scheduled to go on sale from April 2020.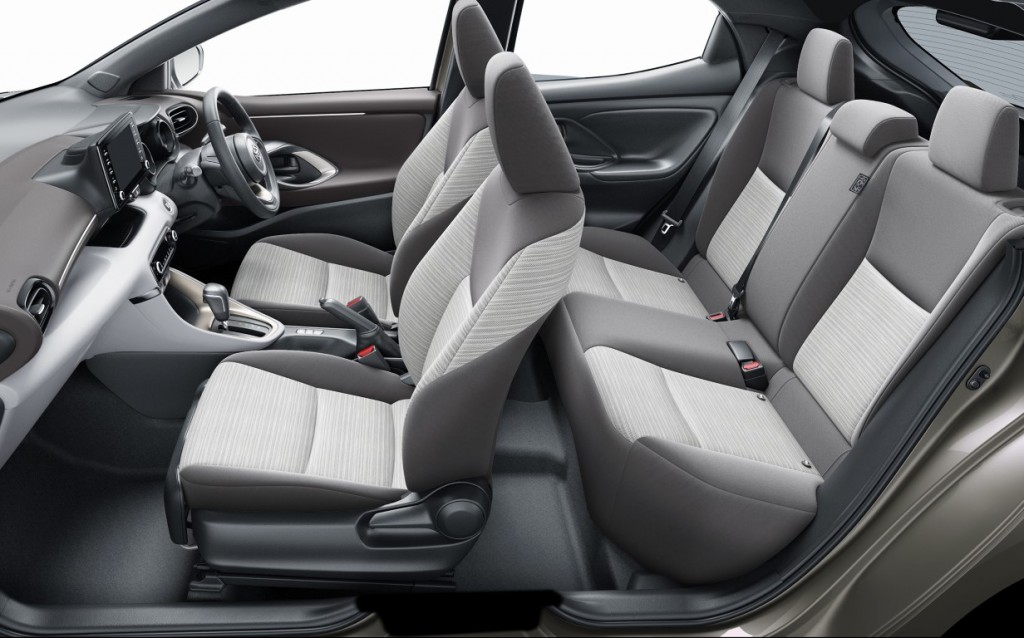 To offer customers with more variety, there is also a grade that pairs an improved 1.0-litre engine with a lighter and more compact CVT.
The new Yaris is expected to become a highly popular compact car, especially when it is equipped with a wide range of advanced and convenient functions.
It is the first Toyota car to be equipped with Toyota Teammate Advanced Park (including Panoramic View Monitor functions), Toyota's advanced parking support system. It is available as an option on hybrid variants.
The Yaris also features the latest Toyota Safety Sense, which is now capable of detecting oncoming cars when turning right at an intersection, and of detecting pedestrians crossing the street when turning right or left. It comes with Turn Tilt Seats, which make it easier to enter and exit the vehicle. Display Audio, which can be connected to smartphones, is also fitted to all grades as standard.
The new Yaris comes with a 1,500-watt accessory power outlet.
This not only allows the use of electrical products using the same electrical outlets found in the home, but also enables the vehicle to be used as a power generator during blackouts and other times of emergency.
The Yaris is scheduled to be added to Toyota's KINTO ONE car subscription service.
The model name is derived from Greek mythology; it was named after goddess Charis, who was a symbol of dignity and elegance.