GENEVA: The Volvo XC40 has been named as the Car of the Year here ahead of the 2018 Geneva Motor Show.
The XC40 won the award with an ample margin, gathering 325 points. This is the first time a Volvo has won the coveted award.
The Volvo was in contention with six other cars for the top European award namely Alfa Romeo Stelvio, Audi A8, BMW 5 Series, Citroen C3 Aircross, Kia Stinger and SEAT Ibiza.
Volvo president and CEO Hakan Samuelsson was present to receive the trophy for the XC40.
The roomy SEAT Ibiza was second among the seven nominees aspiring to the title, with 242 points, a recognition of its strong position in the B-segment. BMW 5 Series was third in this final voting (226 points), followed by Kia Stinger (204), Citroën C3 Aircross (171), Audi A8 (169) and Alfa Romeo Stelvio (163). The group of seven finalists were assembled last November from a long list of 37 candidates.
The Car of the Year jury is made up of 60 journalists from 23 European countries. They performed the last round of driving tests at the Mortefontaine proving ground in France two weeks ago.
Last year's winner was the Peugeot 3008.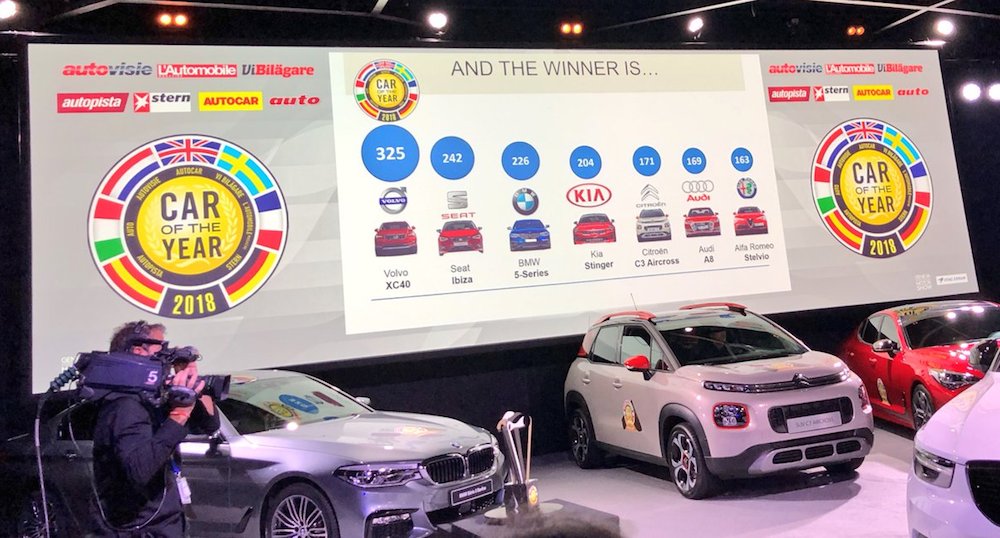 Another major awards programme, 
World Car of the Year Award,
 will announce its own winner on March 28 at the New York International Auto Show. In this awards event, 10 models have been shortlisted. For this year, they are Land Rover Discovery, Range Rover Velar, BMW X3, Mazda CX-5, Volkswagen T-Roc, Volvo XC60, Alfa Romeo Giulia, Kia Stinger, Nissan LEAF and Toyota Camry.
Selections of winners are based on a wider pool of automotive journalists from around the world. They include jurors from China, Japan, South Korea, India and Egypt. The 2017 World Car of the Year was the Jaguar F-PACE.
The Geneva motor show opens to the public from March 8-18.
READ MORE:

Orders for new Volvo XC40 surge past 20,000 units

A sneak peek of the new Volvo XC40 Inscription

Volvo plant in Belgium starts making XC40

Volvo rolls out compact XC40 in latest upmarket move under Geely

Volvo XC40 promises to cut the clutter