While the family sedan is still a favourite among Malaysian car buyers, five-door C-segment hatchbacks are more commonly seen on the road nowadays.
In recent years, more automakers in the country have included compact or family hatchbacks in their product line-up due to increasing demand, particularly from young adults with active lifestyles.
Still, it's not surprising that family hatchbacks in our market are mainly offered by car marques with a strong European base, where sporty-looking hatches are extremely popular.
CarSifu checks out three of the latest C-segment hatchbacks, namely the Volkswagen Golf Mk7, Ford Focus Sport+ and Peugeot 308 THP.
All three high-grade models have powerful turbocharged engines, sharp and athletic looks, touchscreen displays with USB and Bluetooth connectivity, keyless entry and push-start ignition, dual-zone air conditioning and lots of safety technologies.
The 308 THP is the only locally assembled car here, as it comes from Naza Automotive Manufacturing in Gurun, Kedah.
The Focus Sport+ rolled out from the Ford Thailand Manufacturing facility in Rayong, while the Golf is imported from Germany.
Performance and fuel economy
The Golf is the only car here to offer the addictive driving joy of a DSG dual-clutch gearbox, with its lightning-fast and seamless gear shifts when accelerating, mated to a brawny turbocharged engine.
To recap, Volkswagen's notorious seven-speed direct shift gearbox (DSG) is a dry-running dual-clutch type, without an oil bath.
While you don't get the raw fury of the higher-powered Golf GTI or Golf R, the standard 1.4-litre turbocharged Golf with a seven-speed DSG still provides an intense adrenaline rush when you step hard on the accelerator pedal.
For more thrills, just shift the DSG into S or Sport mode, where gear down shifts are earlier, and the gears are held on for longer.
Meanwhile, Ford has its PowerShift dual-clutch transmission which is not featured in the 1.5-litre EcoBoost turbocharged Focus cars here.
Normally, we wouldn't be griping about this as the conventional torque-converter six-speed automatic shifts well and smoothly.
However, when you drive it right after experiencing the thrills offered by the DSG, you would wish Ford had equipped the latest Focus with PowerShift.
Compared with the DSG-equipped Golf, both the Focus Sport+ and 308 THP felt like they lack some punch.
It's no surprise that the Golf has the fastest 0 to 100kph sprint time at 8.2 seconds, compared with the Focus Sport+ (8.9 seconds) and 308 THP (9.4 seconds).
It should be noted that among the trio, the Golf has the smallest 1.4-litre displacement engine, compared with the 1.5-litre Focus Sport+ and 1.6-litre 308 THP.
In terms of fuel economy, the Golf also outshines its rivals at 5 litres per 100km on the combined cycle, compared with the Focus Sport+ and 308 THP which are rated at 6.3 and 6.5 litres per 100km respectively.
This is due partly to the better fuel economy offered by Volkswagen's DSG, and the Golf's relatively low 1,288kg kerb weight as well as its engine start/stop system with regenerative braking.
It's worth noting that the Focus Sport+ is both the most powerful and heaviest car here, with a 180PS output and a kerb weight of 1,364kg.
The 308 THP is the lightest on the scales at 1,255kg.
While the Focus Sport+ has an advantage of around 30PS over its rivals, it delivers this at a higher engine speed of 6,000rpm.
Both the Golf and 308 THP's powerplants deliver around 150PS at a comparatively lower engine speed of 5,000rpm.
However, in terms of low-end grunt and pull, the Golf is the champion again with 250Nm of torque from as early as 1,500rpm.
The difference in torque output is not a lot, as the Focus Sport+ and 308 THP produce 240Nm of torque at 1,600rpm and 1,450rpm respectively.
Volkswagen Golf 1.4L (Highline)
This upgraded seventh-generation Golf was introduced here in late March, in two variants, namely the Comfortline priced at RM149,888 and Highline priced at RM159,888.
The upgraded Golf gets LED tail lights and an extra 10PS for an increased engine output of 150PS.
For the RM10,000 price difference, the Golf Highline gets an auto-dimming rear view mirror, bi-xenon headlights with LED daytime running lights, dual-zone Climatronic air-conditioning, cruise control with speed limiter, front fog lights with cornering lights, keyless entry and push-start ignition, 17-inch wheels, Park Assist parallel parking assistant, Rest Assist drowsiness detection, and Mel Stripe fabric sport seats.
Volkswagen's Park Assist can automatically steer the car into parallel parking bay areas, and all that's needed is to control the accelerator and brake pedals.
The system works by using sensors in the front bumpers, together with front and rear parking sensors.
As for Rest Assist drowsiness detection, it detects deviations from the steering pattern of an attentive driver, and will emit warning sounds as needed.
One highlight here is the eight-speaker audio system, which comes with a 6.5-inch colour touchscreen together with a USB port and SD card slot as well as Bluetooth connectivity.
The electronic parking brake has an Autohold function, which is useful in stop-start traffic conditions.
There are a lot of nice kit here, like rain-sensing wipers, rear air-conditioning vents, an information display in the meter cluster indicating useful stuff like remaining travel range before refuelling and average fuel consumption, automatic air-conditioning, one-touch up/down powered windows, lighted vanity mirrors, as well as front and rear reading lamps.
The cabin design is clean and uncluttered, and we like the sporty black-and-silver themed interior.
We have test driven the Golf before, and it's always nice to experience the well sorted out suspension set-up, which provides more than adequate comfort even on uneven, poorly maintained roads.
It's great at spurts of fast acceleration and with the sharp and precise steering, the Golf is another marvellous Volkswagen car for point-and-shoot manoeuvres.
The cabin is well insulated from road and engine noise, and even when we hit the 6,000rpm redline, the throaty exhaust note was not deafening.
The Golf is simply a competent all-rounder that makes for a nice family car, and provides a barnful of motoring fun when in a spirited mood.
Ford Focus Sport+

The new third-generation Ford Focus was launched in early March in Malaysia and comes in three variants: the base model five-door Trend, four-door Titanium+ and five-door Sport+. The cars are priced at RM118,888 for the Trend and RM139,888 for the Titanium+ and Sport+.
All three variants use a 1.5-litre four cylinder Ecoboost engine, which is the most powerful in its class - producing 180PS and 240Nm of torque while mated to a six-speed SelectShift automatic transmission.
Interestingly, Ford is the only one among the three manufacturers to offer a hatch and a sedan version.
So, for the consumer, it all boils down to practicality as to whether the larger boot of the four-door Titanium+ is preferred or whether the better-looking and slightly better handling Sport+ will suffice.
Cabin insulation scores really high because it is very quiet inside, making for a very pleasant and comfortable drive. Not to mention roomy too and the leather seats are a nice touch as well.
While the suspension soaks up the rough and uneven surfaces, it is on the firm side, which is best appreciated on undulating road surfaces when at speed, and you will find that the Sport+ clings to the road confidently without jumping around nervously.
And if you're up for a spirited drive, you are not going to feel let down with the Sport+. Acceleration is gradual and linear while the gear shifts are smooth and it does produce a very subtle, but exciting, exhaust note.
Most importantly though, is that the car is ultimately fun to drive.
Ford also didn't stinge on features and safety such as side and curtain airbags, front parking sensors, Active Park Assist and City Stop, Blind Spot Information System with Cross Traffic Alert. Funnily enough, it doesn't include a rear camera.
The Sport+ comes with LED daytime running lights, power-adjustable and auto-folding side mirrors, auto headlamps, rain sensing wipers, dual-zone air-conditioning, 12V powerpoints within the armrest stowage bin and leather upholstery.
There's also steering wheel-mounted paddle shifters, an eight-inch touchscreen display with SYNC2, as well as a SD card slot, nine audio speakers, rear armrest with integrated cup holders and keyless entry with push-start button.
The Sport+ holds its own when it comes to being a fun and practical hatchback, which boils down to the aesthethics and whether or not it agrees with you.
Peugeot 308 THP
Peugeot's second generation and latest 308 (T9) Turbo High Pressure (THP) offering landed in Malaysia early last year, which marks a complete overhaul to its looks and feel for this particular Euro-hatchback.
It comes priced on-the-road at RM132,504 with GST without insurance and sits above the more affordable 308 THP Active at RM115,972.
The five-door hatchback from Nasim uses a 1.6-litre turbocharged engine producing 152PS and 240Nm of torque, while a six-speed automatic gearbox with quickshift manages power to the front wheels.
The 18-inch 'Saphir' wheels wear low profile 225/40 series tyres that adds a sporty touch to the 308's curvaceous sheet metal with subtle creases found on the bodywork to add some character to its design cues.
Inside, occupants will find the seats to be more than adequately comfortable within the clean and uncluttered two-tone cabin.
Also, it comes with a very large panoramic roof with a thin electrically activated veil to help brighten up the interior during the day or retract it during the night for some moonlighting.
When it comes to road-holding, this little "Pug" gets the job done with some roll, but manages to stick to the road well by handling directional changes a little better than anticipated.
Drivers of more petite builds should find the steering wheel rather pleasant to grasp while the engine tries its level best to maintain its smooth ways so as not to compromise too much of its comfort levels, which seems to rob it of some fun during those spirited driving moments.
But with a cabin full of friends and heading out of town for a long weekend, who needs to travel excessively at speed when everyone's enjoying good company within the spacious cabin and 470 litres of bootspace to fit everyone's belongings.
Furthermore, this French car comes brimming with goodies that includes the Driver Assistance Pack which features radar-based Dynamic Cruise Control to help match the speed of the vehicle in front and another radar-based detector that emits both audible and visual warnings to warn the driver of an imminent collision (Emergency Collision Alert).
Additionally, its been awarded the full five stars by the European New Car Assessment Programme (EuroNCAP) in terms of crash safety that includes other safety items such as six airbags, emergency automatic braking, electronic stability programme and hill-start assist.
Lastly, in terms of offerings such as LED headlights, leather-Alcantara upholstery, keyless entry with push-start button, park-assist, reverse camera, five-year unlimited mileage warranty and complimentary Peugeot Lounge access, it's certainly hard to turn a blind eye to the 308 THP.
VERDICT
In terms of vehicle footprint, there's little difference between the trio here.
The Focus Sport+ is the longest by about 105mm compared to its rivals.
While all three cars offer a barnful of premium features and great fun behind the wheel, there are differences between them which could make or break a deal for budding owners.
For instance, concerning boot space, the Peugeot 308 THP car leads the way with 470 litres, followed by the Golf 1.4 TSI at 380 litres and the Focus Sport+ at 316 litres.
As for making U-turns or the ease of parking in tight spaces, the 308 THP wins with its 10.4-metre turning-circle (compared with the Golf's 10.9-metre and 11-metre for the Focus Sport+).
The French car also has the biggest wheel size here (18-inch) and gets fitted with low profile 225/40 series tyres.
The German and American cars have 17-inch wheels, also fitted with low profile tyres sized 225/45 and 215/50 respectively.
We don't think the lower profile tyres on 308 THP resulted in firmer ride quality, as we found the French car to provide ride comfort that strikes a nice balance between a typically firm European feel and at the same time, soaks up road jinks well.
This also holds true for the Golf and Focus Sport+ which have solid, planted handling characteristics during spirited driving in corners and road curves.
As for delivering value for money, there's no doubt that it's the 308 THP priced at RM132,504 on-the-road with GST without insurance.
It's more affordable than the Focus Sport+ by some RM7,300 and RM27,300 for the Golf.
Among the trio, the 308 THP is the only one with a reverse camera and a panoramic glass sunroof as well as the largest infotainment unit with a 9.7-inch HD touchscreen display.
Its German and American rivals have sensor and software-based hands-free Park Assist technology that semi-automates parking manoeuvres, while the driver controls the speed.
It's all just down to preference, although we still fancy having a camera-based system to help with parking.
The Focus Sport+ is the only one with full leather seats (the 308 THP has mixed leather/Alcantara sports seats with electric lumbar support and massage function while the Golf gets fabric seats).
Also, only the Focus Sport+ has a traditional handbrake with both its rivals sporting space-saving electric parking brakes instead.
We also noted that the Focus Sport+ uses cost-effective halogen headlamps, while the Golf and 308 THP have more expensive bi-xenon and LED headlamps respectively.
In terms of audio performance, we were impressed with the systems in all three cars with the 308 THP having a six-speaker set-up with high fidelity Arkamys sound staging, while the Golf and Focus Sport+ have an eight and nine-speaker system respectively.
However, the Golf seems to stand out the most as a rewarding driver's car with its dynamism, impressive handling, DSG-powered performance and rear air-conditioning vents, while being the most expensive at RM159,888.
In conclusion, while the French car is of great value for money, and the American car is the most powerful, our favourite is the German car because it delivers great motoring pleasure and an exhilarating ride.
By THOMAS HUONG, RIZAL JOHAN and JAY WONG
Ford Focus Sport+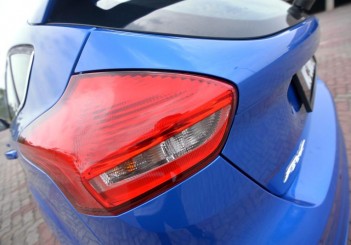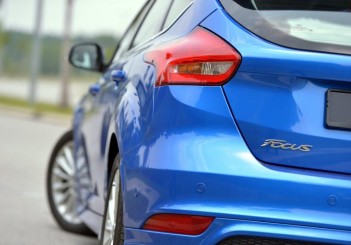 Peugeot 308 THP

Volkswagen Golf 1.4 TSI Highline