Driving a Bentley has always been a particular joy with its vehicles possessing ultra-luxury extras that have been properly blended with high-performance credentials and the new Bentayga sports utility vehicle (SUV) with a twin-turbo V8 engine is no different.
Thanks to Bentley in Malaysia, we were able to helm this high-powered SUV for a trip north into the state of Perak and back for a day.
With clear blue skies ahead we set off on the trip starting with a highway run which was followed by rougher B-roads to showcase its abilities in the ride and handling department.
This particular Bentayga was the British marque's 4.0-litre (3,996cc) twin-turbo V8 variant that drinks from an 85-litre fuel tank - filled up with RON95 or up to RON98 petrol, to generate up to 550PS and 770Nm of torque.
To help it not become such a fuel guzzler, the direct injection engine also has cylinder deactivation for four of its cylinders when cruising.
For this drive, the Bentayga came as a left-hand drive pre-production prototype version that was painted in Rose Gold and accented by chrome bits placed conspicuously so as not to "outshine" the exceptional paintwork.
The Bentayga's price tag starts at a base price (without duties, taxes and registration) of RM743,900 and with all its luxury options included that amount balloons to RM1,061,000.
The company's order books are open now and deliveries are expected to begin in the fourth quarter this year.
The Bentayga rolls on larger 22-inch (+1.0-inch) wheels wrapped with Pirelli P Zero 285/40 tyres that are part of the marque's Mulliner Driving Specifications - and it managed to fill out the wheel arches rather nicely.
In both instances, there was nothing to complain about with plenty of ponies to tap into and a high level of compliance over uneven surfaces - even when in Sport mode.
The standard eight-speed ZF automatic transmission was able to react quickly to throttle inputs regardless of being in one of the four drive modes (Individual, Comfort, Bentley or Sport).
Power is further distributed to the permanent all-wheel-drive system with a Torsen centre differential and an open rear differential with an electronic differential lock.
Under full-throttle, there was hardly any front lift or rear squat as we tried to sprint from 0 to 100kph in 4.5 seconds - impressive for something that has a standard kerb weight of 2,146kg, and while we weren't able to, we trust that it'll easily reach a top speed of 290kph while keeping you firmly planted into the backrest.
The Bentayga's front six-piston and rear mono-piston callipers can properly abuse the front 400mm and rear 380mm ventilated discs.
Here, brake-feel was direct and had a proper amount of an initial bite that wasn't overly excited nor dull. Travelling deeper into the brake pedal made this luxury SUV feel unbecomingly sporty and (again) nose-dive at the front-end was impressively minimal.
This was all thanks to the self-levelling air suspension with Continuous Damping Control paired up with a 48-volt electric active anti-roll bar for the front quad-link double wishbones and rear trapezoidal multi-link suspension which helps to mitigate bumps and uneven road surfaces exceptionally well while also maintaining a levelled drive at all possible instances.
The combination makes cornering the Bentayga in Sport mode simply supreme while it constantly deals with pitch and roll seemingly better than "The Boss' boss" - masking its kerb weight exceptionally well to give it a very nimble and neutral disposition despite it having a 56:44 (front to rear) weight distribution.
Calming down to a more relaxed drive along the highway route, the Bentayga's Comfort mode will be the way to go as it takes abrupt throttle responses and suspension harshness away to literally soak up road imperfections while still maintaining a well-levelled ride.
During this moment, it was time to appreciate the equipage of the cabin that had a combination of Linen and Brunel leather for the headliner, diamond-quilted door inserts and perforated heated/vented seats with massage functionality and contrast stitching.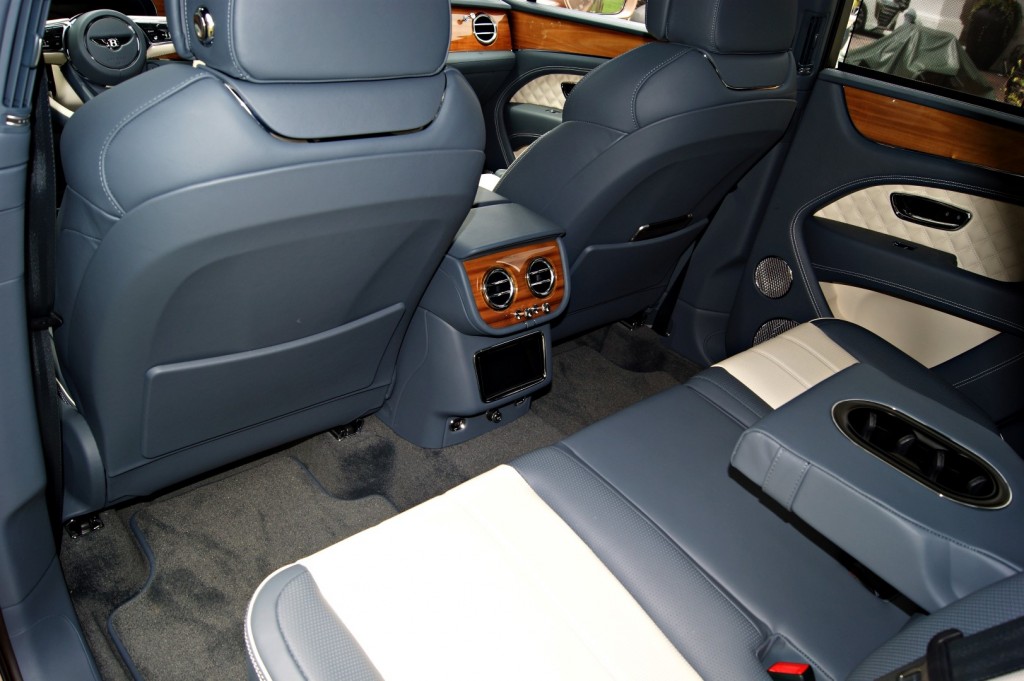 Rear seated occupants will also be pleasantly surprised by the inclusion of heated/vented seats for them as well and a pair of properly cooling rear cabin vents to keep comfort levels high during a hot day.
Not to mention, the Sunshine specification for its panoramic roof and powered side windows keep glare at a minimum and the addition of Koa wood veneer accents for the five-seater configured cabin - allowing the boot to accept up to 484 litres of storage, gives a nod to one's high level of maturity and taste.
Specifically for the driver, this Bentayga was equipped with the Touring Specification which included adaptive cruise control.
Also incorporated for added safety was the Bentley Safeguard Plus system which constantly scans the road for possible frontal collisions and if detected it will automatically alert the driver and apply the brakes.
This gets paired up with a heads-up-display, Traffic Sign Recognition, Lane Assist, Park Assist, Night Vision and Traffic assist which senses vehicles and initiates small steering inputs to help avoid an unfortunate event.
Although the cabin is well insulated, the V8s grunt is more noticeable in the rear than in the front when in Sport mode. This opens up a valve within the exhaust system to add some slight drone into the cabin and happens to be a welcomed soundtrack that mixes nicely with the 1,780-watt 17-channel Naim sound system with 20-speakers.
The sound system is controlled by a crystal clear 10.9-inch central touchscreen with gesture control, navigation with 3D building display, Digital Audio Broadcasting (DAB) radio, wireless Apple CarPlay, Android Auto, Bluetooth and a rear touchscreen remote.
All in, the V8-powered Bentayga feels nimble at all times thanks to the collaboration of its tricked-out suspension system that's paired with the use of rigid high-strength steel together with an aluminium monocoque (including the front fenders) that have been superformed by hot gases heated to between 450 and 500 degrees Celsius.
The Bentayga, in general, is able to run quietly or boisterously at the owner's behest, not to mention, have the ability to claw at the road during spirited drives with the electronic power-assisted steering system able to afford direct and accurate inputs.
Its uncanny calmness provides a playful disposition about it that ultimately impresses, considering the size and heft of this SUV, while maintaining a respectable 0.34Cd (coefficient of drag) for a relatively quiet highway driving experience that's further deadened by the inclusion of Acoustic side window glass.
Finally, to justify this ultra-luxury SUV's gigantic asking price, it's simply and unquestionably a posh ride intertwined with plenty of gusto and refinement that's be-fitting those who are properly prestigious.
Now, the only question remains is how well it'll fare against its upcoming plugin hybrid variant and performance-oriented 6.0-litre W12 Speed flagship to help discerning buyers decipher their preferred flavour of performance - playful (V8), efficient (plugin hybrid) or
brutish (W12)
.
Unfortunately, there's no mention as to when these variants will be arriving in Malaysia especially with the world still within the vice-grips of the Covid-19 pandemic.
SPECIFICATIONSBentley Bentayga V8 First Edition Engine:
 3,996cc direct-injection V8 petrol
Maximum power:
 550PS at 6,000rpm
Maximum torque:
 770Nm from 1,960 to 4,500rpm
Transmission:
 8-speed ZF automatic
Key features (with options):
 Six airbags, 22-inch wheels with 285/40 Pirelli P Zero tyres, full matrix LED headlights with signature daytime running lights, redesigned LED rear light cluster, new bumper mounted secondary lamps, new 10.9-inch central touchscreen with gesture control, new navigation system with 3D building display, DAB radio, wireless Apple CarPlay and Android Auto, Bluetooth connectivity, 4G telephone module, 4G Wi-Fi hotspot, touchscreen remote for rear cabin control, heated/ventilated front and rear seats with massage function (front only), four driving modes (Individual, Comfort, Bentley and Sport), complimentary Breitling clock with dark mother of pearl face, Bentley all-terrain modes (Snow, dirt, gravel and sand), heads-up-display, adaptive cruise control, lane assist, night vision, traffic assist, powered side window blinds, acoustic side windows, panoramic roof, Bentley Dynamic Ride air suspension system, sports pedals, Jewel fuel and oil caps, embroidered "Bentley" emblems, diamond quilting on doors and seats, leather headliner, Koa veneer, Naim sound system, hands free powered boot operation, mood lighting, illuminated treadplates and LED Welcome lamps by Mulliner.
Base price:
RM743,900
Price with Options:
RM1,061,000
*
Prices are without duties, taxes and registration