Consumers now have more choices in the budget sedan segment, with the recent launches of the new Perodua Bezza and third-generation Saga.
A frequent question we get is - which is the better car to buy? Our answer is - that depends on your budget, transport needs and usage, and compromises you are willing to make.
Also, the Bezza comes in 1.0 and 1.3-litre forms, with five variants priced on-the-road at RM37,300 (1.0L manual): RM39,300 (1.0L auto): RM42,800 (1.3L manual): RM44,800 (1.3L auto Premium) and RM50,800 (1.3L auto Advance).
The 2016 Saga only has a 1.3-litre form, and there are four variants priced on-the-road at RM36,800 (Standard manual); RM39,800 (Standard CVT), RM42,800 (Executive CVT) and RM45,800 (Premium CVT).
Now,
CarSifu
compares both cars, with more focus on the highest grade variants (check out the comparison table).
Size and rear headroom
In terms of footprint, the Bezza is a bit smaller than the Proton Saga, but it has a much bigger boot - 508 litres versus the Saga's 420 litres.
But the Saga has the better design in terms of rear headroom - with more than an inch of gap between our heads and the rear roof line, when we leaned back in the rear seats.
In the Bezza, however, it is just about adequate for 1.73-metre adults like us, as our heads touched the rear sloping roofline when we leaned back.
Driving and fuel economy
As for driving experience, the Bezza has a 4.5-metre minimum turning radius, which gives it an advantage in tight U-turns (compared with the Saga's 5.1-metre minimum turning radius.
The Bezza Advance uses a four-speed automatic gearbox and 1.3-litre dual VVT-i (Variable Valve Timing - intelligence) engine, while the Saga Premium has a CVT (continuously variable transmission) and 1.3—litre single VVT engine.
Both cars produce similar power and torque.
The Bezza is quite a nippy car, because like typical Perodua cars - it is lightweight (Bezza Advance has a 930kg kerb weight) and has good power-to-weight ratio.
Perodua claims fuel consumption can be miserly, with the Bezza Advance able to achieve 4.54 litres per 100km (compared with Saga Premium CVT using 5.6 litres per 100km).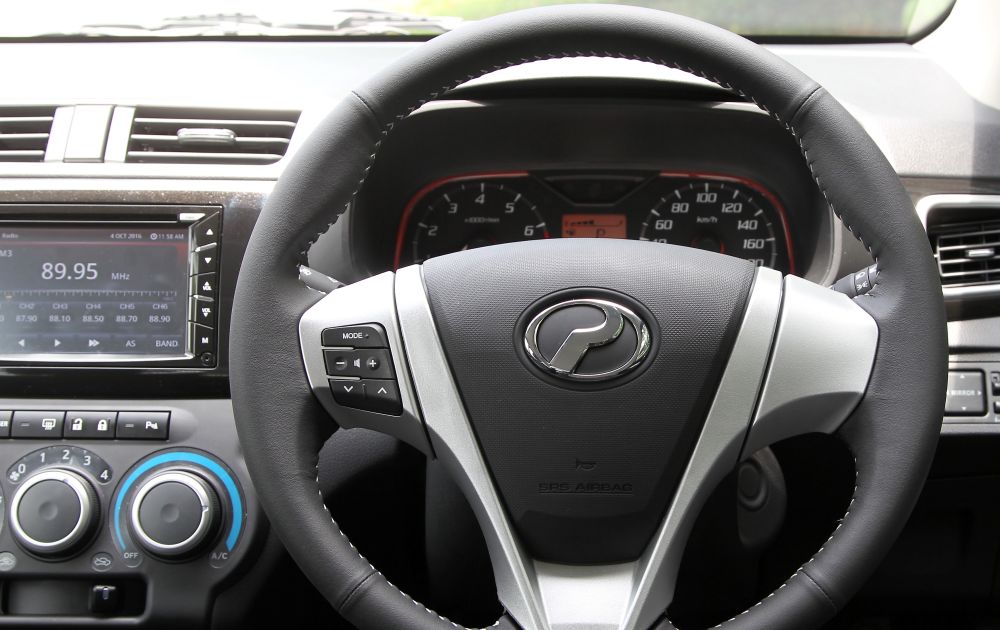 Fuel efficiency is where the Bezza Advance has the advantage, as it has a dual VVT-i engine, electric power steering, engine Eco Idle (or Auto Stop-Start) and is a much lighter car compared with the Saga Premium's kerb weight of 1,075kg.
In the Saga, steering is the hydraulic powered-type.
Safety and comfort features
Both the Bezza Advance and Saga Premium have similar safety features.
While both cars have a 5-year or 150,000km (whichever is first) warranty, the Bezza Advance costs RM5,000 more as it has extra kit like smart entry and push-start ignition, a large touchscreen display, GPS Navigation, and leather seats.
Both cars have a reverse camera, but on the Saga Premium, the camera view is smaller as it is integrated with the rear view mirror.
Conclusion
Like choosing a laptop computer, the right choice will depend on what you want out of a car and your budget.
The Bezza has the bigger boot and better fuel efficiency, while the Saga is slightly bigger and has better rear headroom. In a head-to-head comparison, the highest grade Bezza offers more kit but costs RM5,000 more.
In a nutshell, the Bezza would be ideal if you find the bigger boot space and superior fuel consumption are more important than other considerations. On the other hand, the Saga would be right for the person who prizes better headroom. And it's the cheaper choice as well.
Back to you.