Kia and Maxus in Malaysia have rustled up their answer to grab a piece of the local large multi-purpose vehicle segment held by used imported models.
Large multi-purpose vehicles offer business-class road journeys with quality interior trim, classy leather-clad cabins, powerful engines and silky-smooth gearboxes, and a plush ride quality.
Recent entrants in this segment where buyers are business owners or top corporate executives, include the Kia Grand Carnival and Maxus G10.
The Grand Carnival, imported from South Korea, is priced at RM161,191 (KX variant) and RM180,668 (top grade EX variant).
The Maxus G10, assembled in Klang, is priced at RM133,091 (standard variant) and RM152,623 (SE variant).
Both MPVs offer value for money in a niche segment where the Toyota Alphard and Vellfire are popular, despite the astronomical prices for the Japanese MPVs.
Compared with the diesel-powered Grand Carnival, the petrol-powered G10 has slightly bigger dimensions – it is 53mm longer and 188mm taller, and a wheelbase that's 138mm longer.
The Grand Carnival is an eight-seater, while the G10 is sold as a 10-seater.
It is worth noting that while both are powerful vehicles, the Grand Carnival has a lot of pulling power at relatively low engine speeds.
The G10 has a 225hp/345Nm turbocharged petrol engine, while the diesel-powered Grand Carnival produces 193PS/440Nm.
Another point to check out for buyers is fuel economy.
This is where the diesel engine of the Korean people carrier proves to be particularly frugal, with combined fuel consumption rated at 7.9 litres per 100km (compared with 10.3 litres per 100km for the Chinese transporter).
Kia Grand Carnival
Here's Kia's latest Tiger-nose grilled eight-seater multipurpose vehicles – the Carnival, which is conventionally shaped but does its best to look smart with its gentle curves and creases on its body panels.
The Carnival seen here is in the range-topping EX model variant draped in Snow White Pearl (Aurora Black Pearl and Titanium Brown also available) and the eight-seater is packing lots of goodies that should have it selling like hot cakes at RM180,668 (OTR with GST without insurance), and if it isn't, it should be.
Under the hood, it has a 2,199cc turbodiesel engine mated to a six-speed automatic gearbox that manages the 193PS and 440Nm of torque going to the front wheels.
But more importantly, the bulk of the power comes in from 1,750rpm mark, which means hauling a full load of 'bulky lads' will be rather sufficient and won't be putting too much strain on the mill.
Its looks is easy on the eyes with a definitive crease along the shoulder line that connects the front projector halogens with LED daytime running lights to the rear LED light cluster.
There is also a set of large 18-inch machine finished alloy wheels for 'bling' wrapped with 235/60 series tyres.
You venture within a few meters to its parked location and the car lights up to 'welcome you home'.
Depress the button on either the driver, front passenger door or tailgate, and gain access to the cabin.
But aside from that, approach the Carnival and stay at the rear for about three seconds and the tailgate pops open automatically.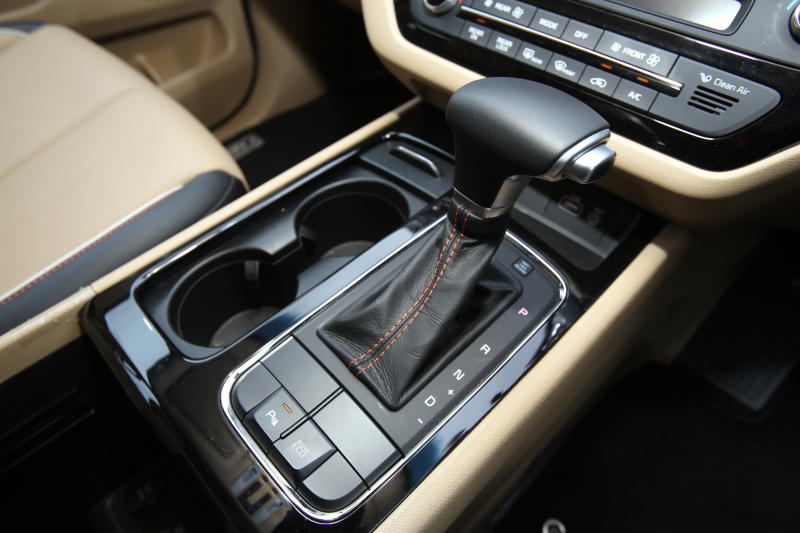 The cabin feels premium, with its two-tone beige leather upholstered seats and car-like ergonomics.
It is comfortable and the leather feels durable with the controls being quite self-explanatory and comprehensive.
Taking a look around and visibility is pretty much unperturbed with a generous amount of visibility also coming from the external mirrors while the driver 'whirs' up the 12-way powered seat to dial in that preferred position.
The seats are well bolstered and there's plenty of support, but can it really fit a total of eight, with the usual number usually residing at seven.
Even with a full load of eight persons, cargo space is left to 359-litres, which is not very much for eight to begin with, but folding down both second and third rows expands it to a whopping 2,718 litres.
Not to mention, the second row seats are versatile enough to be able to stand upwards and allow for easier access to the third row.
The powered sliding doors can be controlled by the driver and there's even a dedicated button to activate them, or simply pulling on the handles will also do the trick.
Firing up the 2.2-litre turbodiesel mill is a smooth process and the usual clatter seems subdued, but not eliminated.
There is a good amount of grunt from the engine, thanks to the bulk of its power coming in early.
The steering is responsive, and it feels borderline sharp with a nice amount of heft to suggest a sporty nature about it.
Step on the throttle and the diesel mill is a giver without complaints and the brakes feel rather strong in performance, ready to bleed speed at any given moment.
While combining performance with handling, there is some medium frequency shocks intruding into the cabin, but aside from that, the Carnival it's simply zippy in the hands thanks to that responsive engine – now combine that with all its bells and whistles and it makes this eight-seater MPV a very hard one to ignore.
Maxus G10
The G10 was launched by Weststar Maxus in April 2016 at RM137,888 on-the-road, and since then, the Torino-designed MPV has been a hit with sales of over 600 units to date.
Maxus is the commercial vehicle marque of Shanghai Automotive Industry Corp (SAIC), the leading automaker in China which has joint ventures with Volkswagen and General Motors.
In Malaysia, SAIC Motor has a partnership with the Weststar Group which has been selling Maxus V80 vans for a few years, mainly to government and corporate entities.
The G10's growing sales is due to its competitive pricing and generous kit level.
It is fitted with full leather seats and safety features including dual airbags and ABS, electronic brake force distribution, electronic stability programme, brake assist, brake override system, tyre pressure monitoring system and reverse camera.
Other features include all-round disc brakes, xenon HID headlights, LED taillights, powered sunroof, keyless entry system, push-start ignition, rain sensing wipers, leather upholstery, and a six-speaker audio system with MP3, DVD and Bluetooth features.
The G10 is presently locally assembled in Klang, and the new SE variant shown here was launched in June with more premium features and priced at RM152,623.
The new features on the SE variant include an enhanced infotainment system with a 15-inch touchscreen mated to a 360-degree surround view camera system, a ceiling-mounted 10.1-inch LED screen and LED reading lights for rear occupants, a double panoramic glass roof, and anti-squeeze automatic dual sliding doors.
Its powerful engine is mated to a ZF-sourced six-speed automatic transmission with manual mode, and the G10 is a smooth, responsive performer.
It has a Lotus-tuned chassis, and runs on ContiCrossContact UHP tyres sized 225/55 R18.
The G10 handles road curves well at speed, and there isn't much body roll when dealing with corners.
We found strong stopping power and progressive brake feel.
Cabin sound insulation is high-quality - noise intrusion into the cabin is relatively muted, even when we stepped hard on the accelerator pedal, and the tachometer moves near the 6,000rpm redline.
The G10 proves to be a smooth, refined and strong people carrier that eats up the miles in comfort.
The cabin is replete with storage spaces including four door pockets that can each fit a 1.5-litre water bottle, cup holders, and a deep centre storage box.
Rear passengers get six ceiling mounted air-conditioning vents to ensure they are comfortably cooled on a hot day, as well as rear reading lights.
However, the fit-and-finish in the cabin still has room for improvement; the top of the front doors' interior plastic panel has a sharply cut edge that can be covered by a rubber seal.
VERDICT
Sure, the G10 trumps the Carnival with its 32PS of added power (although down by 95Nm of torque), costs about RM28,000-less, and bears the respectable Lotus-tuned suspension badge. It somehow feels a little strange seeing the badge on a different car brand other than a Proton.
Having said that, the Carnival answers back with a better build quality, a suspension system that can rival the G10's handling abilities and just overall better ergonomics.
Initially, the G10 will stand out rather handsomely with its Xenon HID headlights and LED tail lights.
So just like a moth to a flame, the G10 simply amazes with all its 'offerings' but stand it toe-to-toe against the Carnival and you start to notice certain areas where the G10 can improve on.
Firstly, the G10 has a little plastic flap that's located just under the driver's right foot that contains the stamped vehicle's identification number.
Not that we pried and took a look, but instead, it made itself known to us because that particular flap simply came loose and there wasn't any way to secure it - other than with super glue (probably).
Step on the accelerator and the G10 feels a tad less responsive compared with the Carnival's more peppy response.
The G10's cabin is very much more accommodating, but the driver's seat seems to perch the driver a little too high up in respect to the steering wheel and almost making it bus-like in terms of ergonomics.
Although the G10 also has leather upholstery, it didn't seem as thick as the Carnival's.
The Carnival also has a much better-looking cabin with its up-scaled interior, compared with the G10's hard plastics.
In all honesty, the G10 will simply make the Carnival's owner appreciate, if not love, his MPV more thanks to the better design, ergonomics and far better fuel economy.
Plus, Kia also has a stronger global brand compared with Maxus, which is just starting to flex its muscles in the Asean region.

Maxus G10 SE


Engine:
1,995cc petrol turbocharged, direct injection
Maximum power:
225hp at 5,500rpm
Maximum torque:
345Nm at 4,000rpm
Transmission:
ZF six-speed automatic
Fuel consumption (combined):
10.3 litres per 100km
Features:
Two airbags, ABS, electronic brake force distribution, electronic stability programme (ESP), brake assist, brake override system, tyre pressure monitoring system, child seat attachment points, all-round disc brakes, xenon HID headlights, LED tail lights, 15-inch touchscreen mated to a 360-degree surround view camera system, a ceiling-mounted 10.1-inch LED screen, LED reading lights for rear occupants, double panoramic glass roof, anti-squeeze automatic dual sliding doors.
Price:
RM152,623.30 (on-the-road with GST, without insurance), three-year or 100,000km (whichever is first) warranty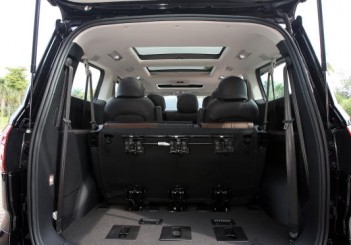 Kia Grand Carnival EX


Engine:
2,199cc CRDi (common rail direct injection) VGT turbocharged diesel
Maximum power:
193ps at 3,800rpm
Maximum torque:
440Nm at 1,750rpm to 2,750rpm
Transmission:
Six-speed automatic
Fuel consumption (combined):
7.9 litres per 100km
Features:
Six airbags, Electronic Stability Control (ESC), Hill Start Assist, all-round disc brakes, 4.3-inch TFT LCD colour display touchscreen, front and rear parking sensors, Reverse camera, tri-zone full automatic air-conditioning, cluster ioniser, 12-way powered driver's seat, dual powered sliding doors, push-button powered tailgate, auto down for all powered windows
Price:
RM180,668 (on-the-road with GST, without insurance), five-year/unlimited mileage warranty