The food delivery rider hollered his approval and gave a thumbs-up as the sports car turned the corner at a busy intersection in Petaling Jaya.
The object of his attention? A sleek Italian making all the right noise as it roared past. It was, in fact, the Ferrari Portofino M.
The first Portofino debuted in Malaysia in 2018. The successor to the California T then made way for an upgraded version that arrived on our shores late last year with the letter "M" affixed to it. It's Ferrari-speak for "Modificata" or modified in Italian.
In the space of three years, the key changes in the mid-life refresh of this drop-top has been a boost in power, better brake feel, and sharper vehicle response - all to step up the driving pleasure.
As a supercar company, Ferrari is looking to boost sales of its grand tourers (GTs) along with its other models that emphasise outright performance.
As befits the GT classification, the RM998,000 Portofino M is built to travel at high speeds for long distances with a much more comfortable and luxurious ride than Ferrari's other production sports cars. It's also characterised by an elegant bodywork and a big engine placed upfront for a bigger cabin space. As part of the Ferrari constellation, it is also called upon to handle sportily on demand.
By virtue of a front engine layout and a hefty retractable hard top, the M was never meant to be as performance-focused as say the lighter mid-engined F8 Tributo. Still, it's fast enough to provide some jollies to its driver.
Sculpted presence
Visually, the makeover in the Portofino M sees tweaks here and there with a view to making the styling more cohesive.
The GT carries on with a "smiley" face but front and rear bumpers have been revised, with the rear featuring a redesigned and separate diffuser that can be specified in carbon fibre.
The cabin is familiar and intuitive, remaining largely the same as the original Portofino. In short, it's still using the old dash layout, buttons, and infotainment system, which we reckoned some customers don't mind.
The seats are easy to get in and out of as they are not as low slung as the typical supercar.
View from the driver's seat is excellent whether roof is up or down.
Ferrari says the top opens and closes in 14s but in practice it was always a few seconds later. And you could do either action with the car moving at up to 40kph.
While the front seats are lovely, the rear two seats in the 2+ GT are best left to little tykes or used as additional storage. The boot provides decent space for soft luggage for a weekend getaway but bear in mind the roof eats up some of the space if one decides to let down the top.
In addition, the steering wheel can be specified as a carbon fibre wheel with LED rev indicators. It's an option along with a passenger LED display.
Drive time
The award-winning twin-turbo V8 makes 612hp at 7,500rpm, 19hp more than the one in the Portofino. Torque to the rear wheels amounts to 760Nm at 3,000 to 5,750 rpm.
The car sprints from 0 to 100kph in 3.45 seconds, with top speed at 320kph
The Magna transmission has been upgraded from a 7-speed to an 8-speed dual clutch, with lower gears having shorter spacings and a wider top end.
The manettino mode switch on the steering wheel has 5 drive modes that include a Race mode - a first for a Ferrari GT convertible, and a new exhaust for a stronger, more emotive note. Other drive modes are the default Comfort, Sport,Wet and ESC-Off.
In Race mode, all the electronic nannies are throttled back, while ESC-Off alters the electronic differential and ABS response but switches off all the other nannies for sideway hijinks, a setting best left to expert drivers in a track environment.
There's no lack of power or speed even in Comfort. It can lap up the miles in relaxed manner and at a pinch can turn snarly with a flip of the switch and right foot mashed to the go-pedal.
This was evident on the highways and byways from PJ to Kuala Selangor.
Driving a supercar wouldn't be much fun without the emotive sounds it makes. Each downshift was accompanied by a growly exhaust and the burble of a V8 sending power to the rear wheels. It's a question of intensity depending on drive mode chosen.
At slower speeds, steering is light and gets progressively firmer as the revs build up.
The new 8-speed dual clutch is quick to shift but playing with the paddle shifters proves to be more engaging — especially so in Race mode, which affords a quicker throttle and sharper steering response.
There's immense traction and precision as the car weaves through narrower roads.
As much as the Portofino M is speedy, it also comes with stoppers that work wonderfully to bring the car to a quick halt, aided by less brake pedal travel, which makes it easier to modulate.
Traversing patchy surfaces shows the suspension to be compliant, isolating the harshness from the cabin to a surprising degree.
Inside the cabin, it's composed and comfortable. With the top down, wind noise is not deafening and one can still hold a decent conversation with a passenger without having to shout.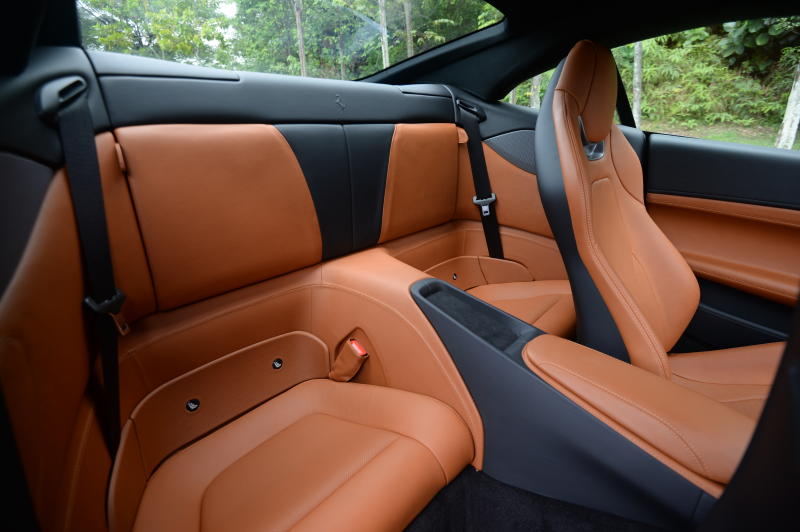 It's a wrap
Being more GT than anything else, the Portofino M's dynamic mannerism is not at the level of its pricier mid-engined siblings.
But one could argue the GT speaks to a distinct clientele with different needs — one who's less interested in outright performance but values comfort and luxury more in a stylish long hauler that's easier to live with on a daily basis.
SPECIFICATIONSFerrari Portofino MEngine:
3,855cc, twin-turbo V8
Maximum power
: 612hp from 5,750rpm-7,500rpm
Maximum torque
: 760Nm from 3,000rpm-5,750rpm.
Transmission
: 8-speed dual clutch automatic
Features (as tested with included options):
Xenon headlamps and carbon ceramic brakes, 10.25-inch touchscreengasoline, particulate filter, ADAS Full pack, adaptive headlights, semi aniline leather interior, passenger display, magneride dual mode suspension, ventilated full electric seats, forged diamond wheels, surround view, high power hi-fi system
Combined fuel consumption (l/100km)
: 11.3
Acceleration (0-100kph)
: 3.45s
Acceleration (0-200kph):
9.8s
Top speed:
320kph
Price:
RM998,000 (base without duties, customisation options and insurance)