Previously offered only in an eight-seater configuration, the Kia Grand Carnival is now an 11-seater with some updates.
The sole variant has been priced down to RM179,888 from the previous flagship SX model which was tagged at RM184,888 in late 2018.
The Grand Carnival still hasn't transitioned fully to LEDs for the projector headlights and front fogs but at least the daytime runners and rear light clusters are.
This South Korean multi-purpose vehicle (MPV) plays its convenience game really well with powered sliding doors on both sides that can be actuated from within the cabin at the press of a button.
Comfort is really impressive with plenty of room and if owners are hauling the insane maximum of 10 passengers - space will be extremely minimal for those in the fourth row and there won't be any boot space left.
Hidden under the rear boot's floorboard is where the fourth bench resides and tugging on a tether firmly will have them easily deployed or quickly stowed away.
Having such an ability is, of course, mind-boggling which is why this MPV's wheelbase is long at 3,060mm compared to the Toyota Alphard (2,950mm) or Vellfire (3,000mm).
The cream and black combination of the interior projects some premium-feel while its soft touch-points in the high visibility areas do well to render that point.
Passengers will have plenty of headroom to contend with along with a plethora of cup holders for those long haul journeys as well as USB ports for peripherals and gadgets that are located in the rear including the luggage area.
Despite rolling on 18-inch wheels, noise, vibrations and harshness is well-taken care of thanks to 235/60 series tyres that really help to "smoothen" out any uneven road surfaces.
Due to the tyre specs, don't expect for a razor-like steering feel.
The front Macpherson and rear multilink suspension setup here will add to comfort levels.
The Grand Carnival's powertrain hasn't changed with its 2.2-litre turbo-diesel mill still producing 200PS and 441 Nm of torque while being mated to an eight-speed automatic for the front wheels.
Power delivery is decent with plenty of gusto if needed and the transmission operates smoothly in all instances but with a maximum of 11 humans onboard, let's just say it'll get the job done.
Although the engine is a "clacker" - as all turbo-diesel engines are, the interior remains quiet when puttering about in urban environments or simply cruising along on highways.
In both instances, it is nothing short of pleasurable.
Within tighter confines, the Grand Carnival's light steering feel aids manoeuvrability which helps to hide its size and weight as a people mover.
Having said that, drivers will still need to have more front axle lead when turning at full-lock to ensure the rear of this 5,115mm-long MPV clears any obstacles.
Entry into the cabin's rear seats can feel quite challenging for the elderly with the lack of an added step to counter the effects of the vehicle's tall ride-height.
From the driver's perspective, all-round visibility is excellent with large exterior mirrors, an electrochromic rearview mirror and a 7.0-inch touchscreen with reverse camera footage, voice control, Apple CarPlay and Android Auto.
The Grand Carnival's driving experience is one that's always relaxing regardless of the distance to destination and with a total of six onboard, expect nothing short of an airy feel.
What we really liked the most was the inclusion of a centre pass-through section right up to the boot.
Here, passengers are able to clamber through to the rear by folding the centre section of the second and third-row seats.
Carrying a full load of passengers will quickly and greatly cramp the interior's confines and since humans come in all shapes and sizes, the second and third rows are able to slide forward or aft in order to help dial in some leg-room for all.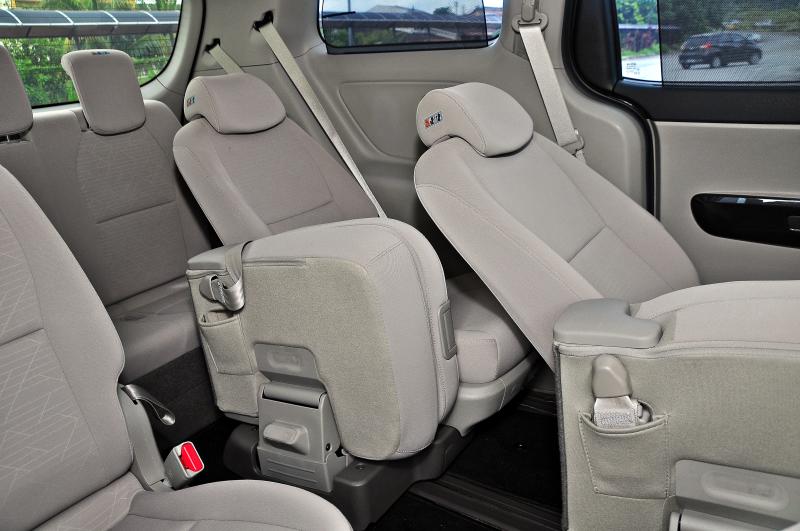 Other than that, there's very little to complain about the Carnival, save for some nit-picking.
Although Kia has provided a touchscreen infotainment unit, it just looks awkwardly small within the vastness of the dashboard.
There's also that out-of-fashion T-bone gear selector, no 360-degree camera system and no powered driver's seat at the least.
The powered tailgate, as well as the Blind-Spot Collision Warning with Rear Cross-Traffic Collision Warning from the previous SX variant, was unfortunately done away with to make this MPV more attractive in terms of pricing.
Personally, having a 360-degree camera system, powered boot, powered driver's seat and paddle shifters will make it far more attractive.
These negatives are subjective and do not pose too much of a deal-breaker, but the truth of the matter is that the Grand Carnival is one that's going to shoulder transportation duties for family and friends.
To that effect, there's already plenty of goodies to help boost comfort and convenience which does help to make the Grand Carnival's lack of certain equipment easily forgivable.
Even way back in the cramped confines of the fourth row, there's air conditioning vents, USB ports and cup holders if needed while the second and third-row occupants get manual sunshades.
For what it's worth, the Grand Carnival would be an excellent addition for the family thanks to its sturdy build quality, excellent comfort levels, all-round visibility and the ultimate ability to bring the entire "village" on road trips.
SPECIFICATIONS Kia Grand Carnival 2.2 CRDi Engine:
2,199cc, turbodiesel
Maximum power
: 200PS at 3,800rpm
Maximum torque:
440Nm from 1,750 to 2,750rpm
Transmission:
8-speed automatic
Features:
Six airbags, electronic stability control, hill start assist, rearview camera, multi-function steering wheel, 7.0-inch touchscreen with Apple CarPlay, Android Auto, Bluetooth and USB ports, keyless entry with push-start button, tri-zone automatic climate controls, full auto-up and down power windows, dedicated power-slide door button, electrochromic rearview mirror, four USB charging ports, integrated roof rack, LED daytime running lights, rear LED light clusters, halogen fogs and projector headlights, 18-inch wheels with 235/60 series tyres.
Price:
RM179,888 (on-the-road without insurance)