It's not easy living up to expectations as the top selling car in Malaysia especially when any changes made with subsequent model upgrades are critically viewed and appraised.
And the latest evolution of the Myvi, which is in its third-generation status, sees a very significant change in going Dual Mode CVT (Continuously Variable Transmission) from the previous model's four-speed automatic.
While the Myvi might share a 1.5-litre engine similar to that in the Toyota Vios and Yaris, the D-CVT is said to be developed by Daihatsu to befit the driving needs expected of the Myvi.
The D-CVT is described as a compact and lightweight transmission that was designed to enhance transmission efficiency further, provide 'powerful and smooth' acceleration at low speeds with quieter performance and increase fuel efficiency (meaning better mileage).
In Perodua's reckoning, the Myvi with D-CVT should return a 5% improvement in fuel economy (or an additional 1km) for every litre of petrol and 20% better acceleration.
In addition, the latest Myvi variant is equipped with a full suite of safety features that qualifies it to be a car with Autonomous Level 2 technology.
This is the Perodua Smart Drive Assist (PSDA) that has four features – Advanced Safety Assist (ASA), Driving Assist, Parking Assist and Head Lamp Assist.
A further breakdown of what each safety system comprises reveals that only the top AV variant has the full line-up of what's available and this is pared somewhat for the other versions down the line.
Still, the entire model spectrum (except for the 1.3 model without PSDA) remains well equipped with safety features, both active and passive.
This includes the full ASA package of Pre-Collision Warning, Pre-Collision Braking, Pedal Misoperation Control and Front Departure Alert, along with the Lane Departure Warning and Prevention features and Auto High Beam.
The Myvi 1.5 AV earns its flagship status with such Driving Assist features as Adaptive Cruise Control, Lane Keep Control and Blind Spot Monitor as well as Parking Assist items in the Rear Cross Traffic Alert and Reverse Camera.
Body styling saw minimal changes between old and new, and the most obvious one that immediately stands it apart from the previous edition are the vertical daytime running lights in front and vertical strips on the rear bumpers.
Perodua obviously saw the need for the latest Myvi to be driven to fully gauge its newly minted status and organised a media drive from Putrajaya to Johor Baru and back.
We had our hands-on experience with the top model Myvi AV and came away convinced that the Myvi has retained its hot pace despite a change of transmission and the addition of 'assisted driving' conveniences.
While previous CVTs have this deep transmission roar on kick-downs, improved electronic control of the operation has reduced that significantly and this was noted in the Myvi AV.
We could make direct comparisons somewhat to the Alza that we used to own and felt that the transmission roar between the four-speed automatic and D-CVT was similar; maybe a tad louder in the latter.
Of course, we could do without that by selecting the gearshift to S for Sport or press the PWR (for power) button on the steering wheel.
Doing so had the electronic control 'shifting' the D-CVT to a lower 'gear' to tap on the engine's power or torque curve for stronger moving acceleration.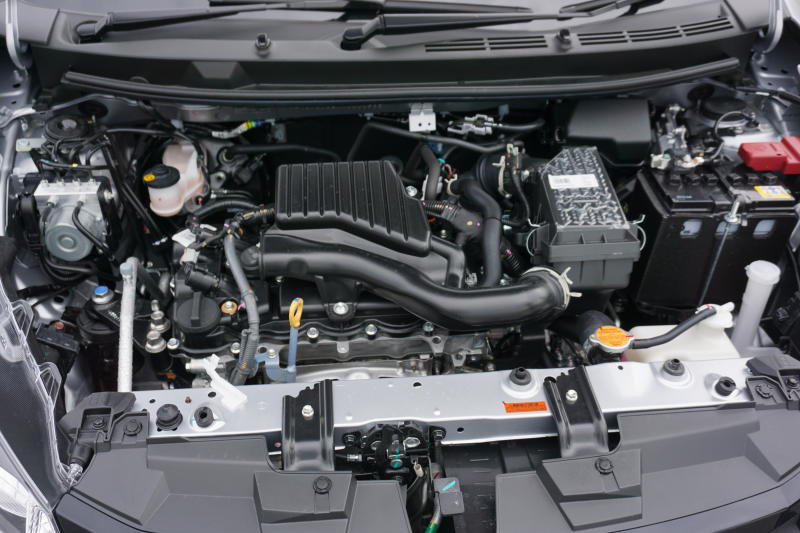 The pick-up in speed on the move was generally good and we could make reasonably quick passes on the highways, supported by the good engine output of 103hp and 137Nm of torque.
Driving along at constant high speeds was pretty easy to do without pushing the engine hard and it was even easier on the engine at a lower 110-120kph; engine speed for the latter was quite similar to what we were used to in our Alza at 2,200-2,300rpm.
Starting out with a full tank, we almost made it to Johor Baru after taking a detour to Batu Pahat for a nasi briani lunch.
We were pretty close to empty by the time we arrived in Kulai as what was left in the 36-litre fuel tank could provide us a mileage of about 50km; we decided to fill up at this point to slightly more than RM60 worth.
After covering at least 50km in JB for meals and photo shoots over two days, we made it back to Putrajaya on less than RM100 of fuel all in; pretty good considering the lively driving we were doing.
Road roar was a constant note on highway drives and wind noise, mostly around the door mirrors and roof area, became obvious from 120kph onwards.
The steering wheel system is electronically assisted and it stiffened up as we hit highway speeds, giving it a weighted feeling that took some getting used to.
And like all lane departure warning systems, there would be beeps if we changed lanes without using the indicators.
In urban driving, the steering feel was a lot lighter in operation, which is how it should be for easy parking manoeuvres and less demanding arm-work.
The seats generally have short squabs that did not provide ample thigh support but we made the long distance runs without suffering any discomfort.
Likewise, the front seatrests might be a bit lower than expected but back support was generally good as we didn't feel any ache in that area as well.
A brief spell as a rear seat passenger allowed us to enjoy the good legroom, thanks in part to the short seat squab.
Luggage space is ample at 277 litres and if you want more, the 60:40 folding rear seatrests could be folded away according to the additional space required.
The Myvi AV is the only one with leather seats albeit with rather bold red styling that is more for flash than upmarket appeal.
For its flagship status, it commands a top price at RM58,800 on the road without insurance and sales tax.
With more than 14,700 orders received for the new Myvi at the time of the Putrajaya-Johor Baru drive, Perodua says the waiting list averages four months.
It's definitely worth the wait if you want a compact car that is comfortable and delivers reasonably quick driving on the highway without burning up too much fuel.