By RIZAL JOHAN and JAY WONG
carsifu@thestar.com.my
Which turbocharged SUV meets your needs? On one side is South Korea's Hyundai Tucson. On the other is Germany's Volkswagen Tiguan. We do the legwork.
Sports utility vehicles (SUVs) that come with smaller, turbo-charged engines are pretty much in vogue lately and if you are in the market for one, you will be spoilt for choice especially below the RM180K range.
With stylish looks, high riding position and car-like ride comfort and features with plenty of room at the rear, it's a no-brainer why demand for SUVs are on the rise year after year.
Japanese marques are the favourites among Malaysians, but there are other choices out there which we feel are worthy of attention.
As such, CarSifu brought out the Hyundai Tucson and the Volkswagen Tiguan in this head-to-head to highlight the pros and cons these turbo-charged SUVs have to offer and, in the end, pick a winner.
Both models offer a lot of value with their unique styling, long-list of equipment, safeties and space.
With turbocharged engines, performance is assured and you would probably end up driving faster than you should.
They also have their own design aesthetics to win you over, so read on and find out which one we fancied.
Hyundai Tucson 1.6 Turbo GDi
This third-generation Hyundai Tucson 1.6 Turbo GDi SUV received a significant update to its powertrain last year in the form of two variants: a 1.6-litre turbo petrol engine and a 2.0-litre diesel engine priced RM145,688 and RM155,788 (on-the-road without insurance).
Previously, the Tucson came with the Nu 2.0 MPi engine.
Other than that, both variants share the same exterior and interior design, equipment and safety features.
The smaller displacement turbo-charged Tucson comes across as a big, bold SUV thanks to its commanding front fascia with chunky grille slats, chrome trims and huge LED headlamps.
The body is sporty though, with its athletic stance, sharp, slanted creases and pronounced wheel-arches that it makes a statement when it hits the road.
The 1.6L turbo-charged petrol mill powers the car along without any fuss.
We enjoyed the response of the steering which is sharp and makes it feel like you are driving a small car despite its size.
The turbo engine spews out 177PS at 5,500rpm and 265Nm of torque from a low 1,500rpm to 4,500rpm.
The seven-speed dual clutch transmission works fast with buttery-smooth gear shifts.
The Tucson's road-handling capabilities was impressive too as it kept body-roll to a minimum thanks to its suspension - McPherson strut in the front and multi-link in the rear - and its Vehicle Stability Management (VSM) system hugs the turns and corners nicely.
It also soaks up the harshness of certain road surfaces very well giving you and your occupants a pleasant ride.
Another plus is the addition of the Down-Hill Brake Control which automatically brakes for you when the car is descending a steep slope.
It also comes with Hill-start Assist which is always a welcome feature as you don't have to worry about the car rolling back.
The Tucson scores higher in terms of noise, vibration and harshness (NVH) control compared to the diesel variant as it produces significantly less engine noise thus providing a much quieter cabin.
The cabin is roomy with a wheelbase of 2,670mm providing enough leg and head room for rear passengers.
It's also comfortable with seats wrapped in leather and rear air-conditioning vents. Also, the driver's seat is eight-way powered with lumbar support.
There is also ample luggage space at 488 litres and the rear seats fold down with a 60:40 configuration offering even more room should the need arise.
The dashboard is well laid out with a flush Android-based Audio Visual Navigator screen and a series of buttons and dials to operate the entertainment system and climate control.
The legible instrument cluster with a 4.2-inch TFT LCD offers loads of driver information and down the centre of the dashboard is the gear lever, two cupholders, two 12V charging points, USB and AUX jacks and buttons for Auto Hold, Drive Mode, Downhill Brake Control, Front Parking Sensor and electronic parking brake.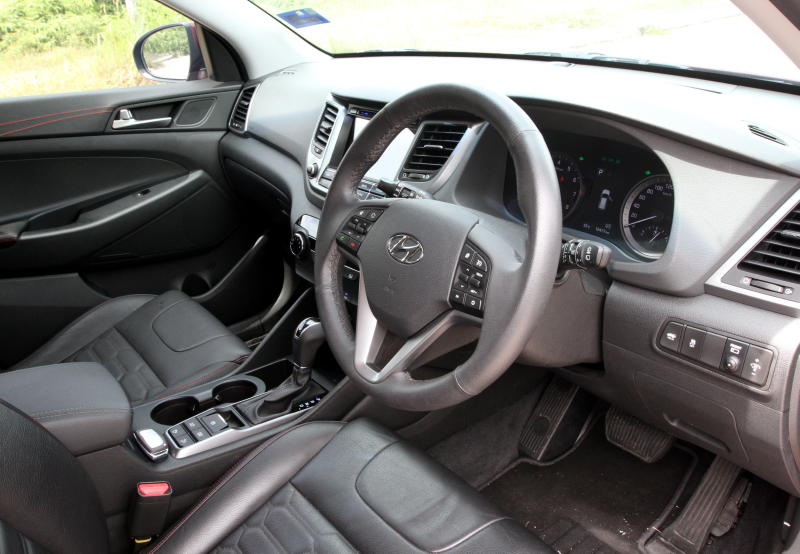 It's a clear and simple layout which makes it easy to understand and operate without much fuss.
The only negative here is the feel of the plastics itself which is slightly lacking compared to the competition.
The Tucson is flush with safety features with six airbags, anti-lock braking system (ABS), electronic stability control (ESC), rear and front view camera and safe driver recorder.
For the money, the Tucson offers a lot of kit including keyless entry, push start button, LED headlamps and park assist system among many others.
The Tucson lacks nothing in terms of features, safety and drivability. Although it does seem to sip more fuel, even in Eco mode (there are three Drive Modes to choose from including Normal and Sports) but we feel it is far from being a deal-breaker.
Ultimately, the deciding factor here is the Tucson's looks and whether it speaks to you.
Volkswagen Tiguan 1.4 HL
The arrival of the second generation Volkswagen Tiguan mid-sized sport utility vehicle (SUV) back in April 2017 marked a sense of polished maturity over its predecessor.
Priced at RM169,578 on-the-road with GST for the range-topping Highline (HL) variant, the Tiguan 1.4 HL simply offers more in terms of size, cabin space, comfort, style, sophistication and all-round practicality.
Powered by a 1.4-litre turbocharged engine, mated to a six-speed Direct Shift Gearbox (DSG) with paddle shifters and a wet clutch, that produces 150PS and 250Nm of torque, it surprisingly doesn't drink as much as we'd thought considering how large it looks.
In fact, the new Tiguan is a light sipper and even if the right foot is made of lead, it simply doesn't drink like a horse.
In the looks department, the Tiguan loses some of its roundness from its predecessor and adds on some sharper angles for a more charismatic presence that seems to bode well for many - although it arguably does tend to resemble a Bavarian SAV from the side profile.
The front grille's horizontal slats merge well with the automatic headlights with 'Leaving Home' function and daytime running lights, not to mention the creases on the bonnet and shoulders give it a little more charisma and 'flow'.
The rear LED light cluster is the one that sets it apart from the previous model.
But although this SUV does roll on 18-inch wheels with 235/55 series tyres, the wheel wells do seem to swallow them up rather much - even more so if it were wearing the smaller 17-inch set with 215/65 series rubbers on the Comfortline variant.
Inside, the cabin is typically Volkswagen, but the main point is that it has far more soft-touch sophistication over the outgoing model, thanks to the included combination of piano-black and polished aluminium accents here and there to remain understated and not too 'grabby' for attention.
The combination of the Active Info Display (AID), 8.0-inch touchscreen display and Vienna leather-fabric upholstered seats helps to elevate the Tiguan up there with the upmarket bunch.
Getting the Highline variant also means that your key-twisting days have ended with its Keyless Access system (or for so long as you keep driving vehicles with keyless entry and a push-start button).
The only gripe is the lack of a hands-free boot operating system to indulge this driver even more, but at least it's a one-touch unlock system that can be activated from inside the cabin and at the rear.
The cabin is rather airy with plenty of shoulder-room for this "meaty" writer at 79kg with a "manly" stature of 1.75m.
The same could be said about the rear seats that comes with plenty of leg room and a fold-out tray if required.
Beyond that, the 615-litre boot space simply astonishes and although the boot-opening is accommodating for larger items, it's also a little inconveniently raised off the ground.
Strapping in and getting the engine to turn over with the push-start button brings the AID and 8.0-inch touchscreens to life.
Rolling off from standstill is smooth and gunning the throttle gets the Tiguan hustling with little effort.
The ride has a firm feel to it and is rather communicative thanks to the large wheel and tyre combination.
The seats are adequately plush and also have a good amount of thigh support, while the high ride-height helps contribute to that commanding view and the cabin has dialled in a good amount of ergonomics.
Despite the Tiguan's size, it feels surprisingly nimble and man-handling the steering wheel equates to a controlled amount of pitch and roll that isn't excessive enough to cause panic in average drivers.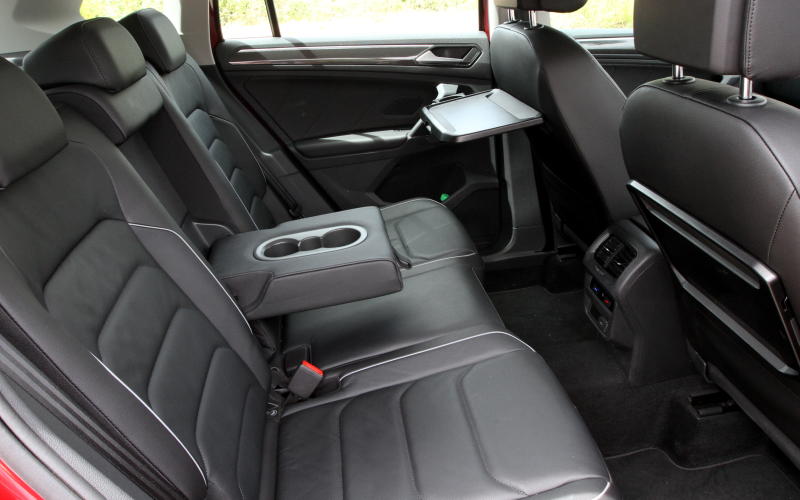 Comfort levels are rather subjective, but in our opinion, the cabin's Noise, Vibration and Harshness (NVH) control is commendable.
Although we said that the Tiguan felt communicative at first, it might feel a little sedate for those who prefer a more spirited engagement at highway speeds in that the driver may know about the notes and nuances of the road's surface, but won't really feel it very much for better comfort levels.
In stop-go traffic, the Tiguan is smooth - just lift the foot off the brake and let it creep forward, and it definitely won't have any difficulties getting it up to speed with a century sprint time of just under nine seconds and a top speed of almost 200kph.
The Tiguan, in its entirety, is a handsome all-round performer, and carriage when taking on everyday duties, which makes this SUV a popular option for ownership.
VERDICT

So the Tucson trumps the Tiguan in terms of pricing by some RM20,000, but when it comes to preferences - there is always a debate to see which writer gets the VW key fob.
Disagreements aside as to who gets to drive, we are in agreement that these two SUVs are similar when it comes to ride and comfort levels.
There's also no argument about their respective on-road performance either.
Both feel peppy, nimble, effortless and smooth from the get-go, but it's the Tucson that takes the "hill" with its performance figures - and longer equipment list, over the Tiguan.
But after being in both SUVs, it becomes clear that the Tucson and Tiguan get the "quantity" and "quality" labels respectively.
Compared to the Tiguan's overall offerings, the Tucson - while being priced at RM145,688, reigns supreme in terms of providing more for its customers, which includes handsfree tailgate operation, adaptive cruise control, front view camera, bigger 1,591cc displacement and more power at 177PS (+27PS) and 265Nm (+15Nm).
Although the Tiguan is a little down on its equipment list and up on its price at RM169,578, the design of its sheet metal seems more attractive and its interior cabin more inviting.
Sure, the Tucson may have a reverse camera, but it's the Tiguan that provides a larger screen and clearer camera for better viewing, not to mention, the Tiguan's overall cabin fit and finish has more of an upmarket feel than the Tucson's swathe of plastics.
Nonetheless, both SUVs are able to trade blows rather well, but it also became apparent that after half a day of car-swapping, cruising and gunning the throttle, one of these turbocharged SUVs has a bit of a drinking problem...and it wasn't the German.
Somehow, the Tucson had managed to reduce its 62-litre fuel tank by half, while the Tiguan had gone through almost a quarter of it's estimated 60-litre tank.
Nonetheless, the Tucson is a value-for-money package in that there are certain features that are usually found in more premium makes such as the hands-free tailgate operation.
And while the Tiguan costs RM24,000 more and lacks a few bells and whistles, its overall fit and finish, premium interior and exterior aesthetics as well as better fuel consumption are enough to ace this shootout.
SPECIFICATIONS - Hyundai Tucson 1.6 Turbo GD-i
Price: RM145,688 (on-the-road without insurance)
Warranty: Five years or 300,000km


Engine: 1,591cc, Gamma turbo direct injection


Maximum power: 177PS at 5,500rpm


Maximum torque: 265Nm from 1,500rpm to 4,500rpm


Transmission: Seven-speed dual clutch


Fuel consumption: 7.6l/100km (combined cycle)




Features: Six airbags, keyless entry, smart key with start stop button, 8-way driver power seat, LED headlamps with static bending light, LED daytime running lights, three drive modes (normal, sports and eco), leather seats, auto cruise control, auto brake hold, smart power tailgate system, leather wrapped steering wheels with controls, audio visual navigation, AUX, USB, Bluetooth connectivity, park assist system, 17-inch alloy wheels, anti-lock braking system (ABS), electronic stability control (ESC), vehicle stability management (VSM), brake assist system (BAS), hill-start assist control (HAC), downhill brake control (DBC), rear and front view camera, safe driver recorder.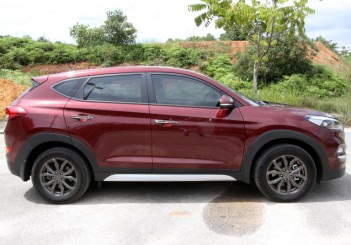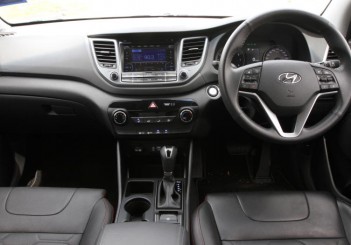 SPECIFICATIONS - Volkswagen Tiguan 1.4 TSI Highline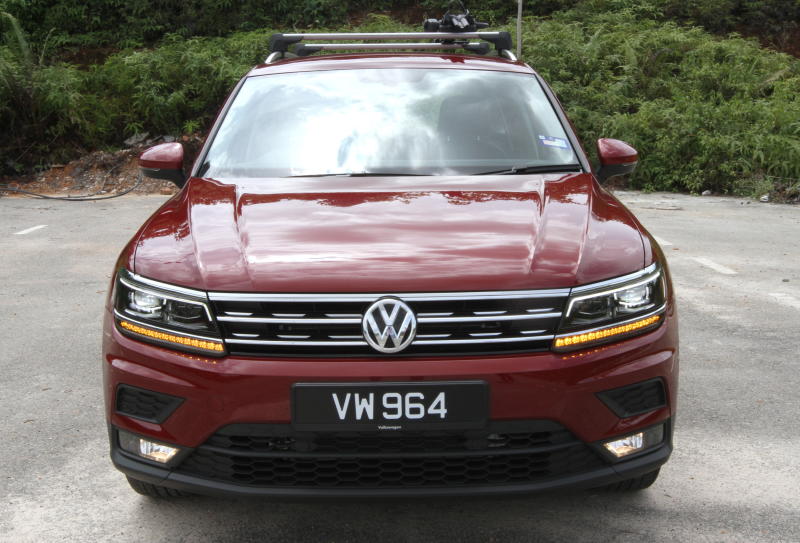 Price: RM168,578 (on-the-road with GST without insurance)
Warranty: Five years manufacturer's warranty with three-year free maintenance and five years roadside assist


Engine: 1,395cc, direct injection turbocharged


Maximum power: 150PS from 5,000rpm to 6,000rpm


Maximum torque: 250Nm from 1,500rpm to 3,500rpm


Transmission: Six-speed DSG with paddle shifters


Fuel consumption: 6.7l/100km (combined cycle)




Features: Six airbags, anti-lock braking system with brake assist, electronic stability control, hill hold control, intelligent crash response system, multi-collision brake system, active bonnet pedestrian protection, LEDs for front, rear and daytime running lights with 'Leaving Home' function, cornering lights, park distance control, auto-dimming rear view mirror, cooled glovebox, drawer under passenger seat, electromechanical parking brake with auto hold function, folding table with cup holders, rear air vents, active info display, powered tailgate, three-zone climate controls, cruise control with speed limiter, 12-way powered driver's seat with lumbar support, keyless entry with push-start button, reverse camera, 18-inch wheels with 235/55 series tyres, 'Vienna' combination leather upholstery, 8.0-inch touchscreen display radio 'Discover Media' with Navigation, USB and iPod interface, SD card slot, AUX-IN, Bluetooth connectivity, eight speakers and App-Connect.