The recent MINI Track Day 2020 provided plenty of thrills at the Sepang International Circuit for driving enthusiasts and owners of the fun-to-drive small cars.
Participants experienced lots of high-speed manoeuvres and the signature go-kart feeling MINI cars are renowned for.
There were two sessions that saw driving skills being put to the test, namely the MINI John Cooper Works (JCW) Track Experience and MINI Driving Experience.
In the JCW Track Experience, the cars provided included the new MINI JCW Countryman 306HP and JCW Clubman 306HP, as well as their 3-Door and 5-Door counterparts – offering concentrated power with motor racing genes.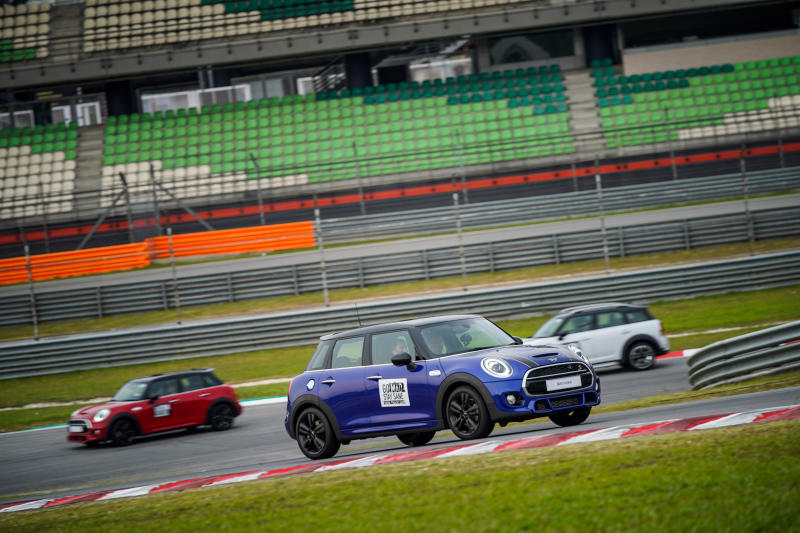 We started at the South Paddock, and the first session consisted of fast laps on the circuit, with two drivers per car and each driver allowed three laps before swapping places.
We took the updated MINI JCW Clubman 306HP which was launched at RM358,888 late last year, and is powered by a 2.0-litre turbocharged mill producing a whopping 306hp and 450Nm of torque.
Other cars in our JCW cars' group, all fitted with a eight-speed Steptronic sports transmission, included the MINI 3-Door and Countryman.
We were told very insistently not to choose the Green driving mode, and to stick to Sport mode all the time. The updated MINI JCW Clubman 306HP was great fun on the track, thanks to its impressively quick acceleration to high speeds, and direct steering quality as well as a precise "point and shoot" character.
The 225/35 run-flat tyres on 19-inch wheels were very grippy, and the ALL4 all-wheel drive system provided even more control as we tackled the circuit's twists and turns.
Next, we switched to the less powerful MINI JCW 3-Door, which has a a 2.0-litre turbocharged mill producing 231hp and 320Nm of torque.
The MINI JCW 3- Door was much more involving to drive, and resulted in us focusing and working harder in attacking the circuit's hairpin bends.
Step hard on the accelerator, and it takes more time to get to high speeds on the wide straights, and we also struggled with a fair bit of understeer in the corners.
"Slow in, fast out, look ahead to where you want to go and your hands will steer accordingly," our instructor in the lead car kept barking through the walkie-talkie.
Meanwhile, the MINI Driving Experience was a time attack on a cone-filled slalom course, followed by a tight U-turn and a straight-line pedal-to-the-metal acceleration and hard braking to a complete stop in a cone-marked area.
"This is not about speed; it's about control," our instructor barked. The cars provided for this time attack included the MINI 60 Years Edition, Cooper S 5-Door and 3-Door, as well as Countryman Pure and Sports.
We took the 2.0-litre turbocharged Cooper S 5-Door with 192hp and 280Nm, and a seven-speed Steptronic dual clutch sports transmission, and we found responsive acceleration and precise steering.
The Cooper S 5-Door was nimble and handled well as we negotiated the slalom course. It was a fun and intense session, as each participant had three attempts to achieve the quickest time for the run.
Also on display for the first time was the new MINI Countryman Blackheath Edition - a limited-edition all-black design MINI Countryman variant, reminiscent of the dark shrub land of Blackheath, South East London in the United Kingdom.
The Countryman Blackheath Edition, the first special edition of its generation, offers menacing looks with its Midnight Black exterior colour and Piano Black design features.
It is also the first MINI Countryman to be powered by the newly updated MINI TwinPower Turbo engine, paired with the seven-speed Sport dual clutch transmission.
This limited-edition MINI also has the latest update of the MINI Connected App. BMW Group Malaysia head of corporate communications Sashi Ambi said passion is synonymous with MINI, and it has earned that reputation by imparting more than just passion-fuelled drives for the past 60 years but also by playing a significant role in ensuring that passion translates safely on the road.
"The MINI Track Day 2020 is how we fulfill that responsibility while making it enjoyable for all, and we are glad to present yet another thrilling experience for MINI fans this year," he said.