IN March, Blueshark, a subsidiary of Sharkgulf Technologies Group and provider of advanced electric scooters, launched the Blueshark R series locally, comprising the R1 and R1 Lite.
This two-wheeler is gaining popularity and is making waves in the Kuala Lumpur urban mobility scene.
The Blueshark R1 is sleek with contemporary and captivating looks.
Its body seamlessly blends modern aesthetics with practicality.
The electric scooter's clean lines, aerodynamic curves, and compact frame allow it to effortlessly navigate city streets.
Furthermore, the Blueshark boasts a robust chassis that instils confidence and ensures durability, making it capable of withstanding the challenges of urban adventures.
Its compact size also makes parking a breeze, addressing a common concern for urban commuters.
One notable feature is the smart digital instrument cluster, a 10-inch full-colour IPS high-definition screen running on the company's proprietary ArkRide operating system which offers a host of vital information.
With just a touch, I could access important details such as speed, battery level, and range.
Additionally, Blueshark offers Bluetooth connectivity, enabling me to sync my smartphone with the electric scooter.
This feature offers navigation, allowing me to find the venue or preferred route, as well as the ability to stream my favourite tunes during the ride.
The ArkRide OS supports 4G/5G with Bluetooth connectivity, GPS navigation, media playback, over-the-air updates and a riding recorder.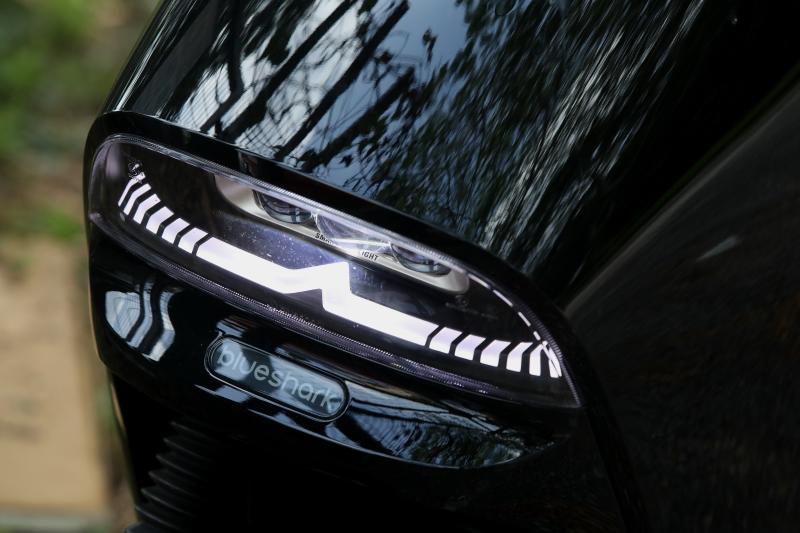 Aside from the Advanced Driver-Assistance System and five driving modes of Normal, Eco, Sport, Walk Assist Mode (WAM) and Turbo, the R1 also come with connectivity via a mobile app where owners can locate the nearest battery swapping stations, make a service appointment or track the vehicle's location in real-time, among others.
When it comes to performance, R1 does not lack in that department.
Powered by two high-capacity iron phosphate battery packs for a total capacity of 2,880Wh, the R1 promises a riding range of 110km in Eco mode which limits the speed to 40kph.
However, the electric scooter has a limited range of about 100km if one is on Eco mode which offers you 40kph.
I tried the Sport at 80kph and Normal at 60kph interchangeably which gave me about 60km range which can be a challenge for any daily commute.
The good news is that by early 2024, Blueshark will launch another model which offers a 200km range and is likely going to be a big hit with the city folks.
I am looking forward to that.
Powering the scooter are two battery packs that promise to deliver a total capacity of 2,880Wh for a riding range of 110km.
Meanwhile, the electric motor dishes out 5kW and 201Nm of torque to allow quick acceleration and a top speed of up to 90kph in Turbo.
The power and responsiveness of the R1 allowed me to effortlessly glide through traffic, without breaking a sweat.
Safety is a priority for Blueshark. I intentionally tried a few hard brakings and was quite impressed with the stopping power.
The R1 is equipped with an anti-lock braking system (ABS) and double hydraulic disc brakes with the Combined Braking System (CBS), so the front and rear brakes are applied simultaneously for superior stopping control.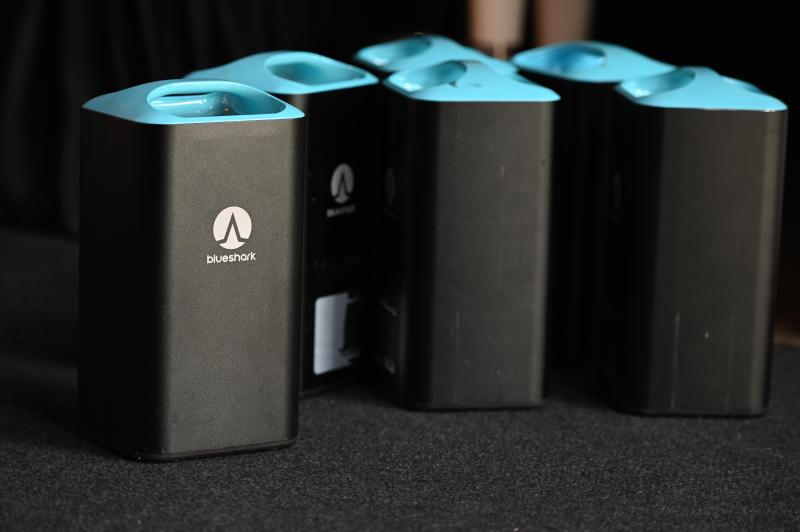 Followed by integrated LED lighting enhances visibility, and an anti-theft alarm.
The R1 is also fitted with a reverse gear and side view camera viewing, where the side camera will show the approaching vehicle on the 10-inch screen.
Charging infrastructure for electric vehicles is a concern in Malaysia, but Blueshark addresses this by offering compatibility with various charging options, including standard home outlets and dedicated public charging stations.
At present Blueshark is working with Petronas, the charging facilities at their stations add convenience to riders.
The battery management system optimises charging efficiency, ensuring minimal downtime and maximising availability.
Meanwhile, at my home, the battery packs were fully charged in 3.5 hours (as claimed by the distributor) and are capable of more than 2,000 full charging and discharging cycles.
The R1's firm, long and wide seat, wide floorboard and spot-on ergonomic design offer comfortable riding.
The suspension system is able to absorb bumps and vibrations, delivering a smooth and stable ride.
The user interface is intuitive and user-friendly, providing easy access to all the features that Blueshark has to offer.
Furthermore, its lightweight construction offers nimbleness while riding through the city traffic jam.
In conclusion, the R1 priced at RM9,390, combines futuristic design, impressive performance, and rider-oriented features but could do with a longer than 100km range.
Buyers will also need to pay a monthly rental of RM79 for two lithium iron phosphate battery packs.
The company also offers the BlueSwap Battery Subscription Plans where:
> BlueSwap Lite costs RM59 per month with up to 36 battery swaps,
> BlueSwap Standard costs RM99 per month with up to 70 battery swaps,
> BlueSwap Pro costs RM139 per month with up to 120 battery swaps,
> BlueSwap Flex costs RM1.95 as pay-per-swap
SPECIFICATIONSBlueshark R1Motor:
High-speed permanent magnet
Maximum power:
5,000W
Maximum torque
: 201Nm
Battery:
Two lithium iron phosphate battery packs for a total of 2,880Wh
Brakes:
Anti-lock braking system (ABS) and double hydraulic disc brakes with CBS
Features:
Advanced Driver-Assistance System, five riding modes (normal, eco, sport, WAM mode and turbo mode), Bluetooth connectivity, GPS navigation, media playback, reverse gear and a riding recorder
Weight:
92kg
Range:
110km
Top speed:
 90kph (Turbo mode)
Price:
RM9,390 (on the road without registration and insurance but with SST exemption. Other operational costs apply.)