I have seen many modern retros over the years and the BMW R18 First Edition is definitely the best to date when it comes to looks.
I am not the only one who felt that way and many around the world are probably of the same opinion.
You will be hard-pressed to find an online bike review site saying the bike looks mediocre or bad.
I will consider myself lucky to be able to review the motorcycle, courtesy of Datuk Kenneth Lee See Hu.
I bumped into him during one of my rides at Ulu Yam and he was kind enough to allow me to review his R18.
The R18 First Edition is a modern interpretation of classic cruiser motorcycles that were popular in the 1930s.
It's a high-end luxury cruiser that features a traditional look with modern technology, making it an excellent choice for those who appreciate classic style and comfort but don't want to compromise on performance.
One of the bike's most alluring features is its classic styling, which turns heads and draws attention wherever you go.
The large fuel tank, teardrop-shaped saddle, fishtail dual exhaust pipes and long and low profile give the bike a timeless look that's both elegant and powerful.
The bike's LED lighting system is also a standout feature, providing ample illumination and enhancing visibility at night.
The pinstriping is done by hand and not forgetting the chromed protruding big cylinder heads are a treat to any eyes.
The R18 is powered by a massive 1,802cc boxer engine, producing 91hp and 158Nm of torque, providing ample power to propel the bike effortlessly.
Transmission is a six-speed type with a hydraulic clutch that is smooth with precise shifting.
The instrument cluster is analogue, featuring a large speedometer and tachometer, and there are no digital displays or unnecessary buttons.
Whenever I thumb the starter, the bike's noticeable vibration reminds me that this is not a small machine.
I could feel the side-to-side rocking which travelled up my arms and shoulders.
The first time, when I powered up this machine, it caught me unprepared. Don't take my word for it, try it!
The bike's throttle response is smooth and immediate, allowing me to quickly accelerate and reach highway speeds with ease.
The R18's suspension system provides a smooth and comfortable ride with the telescopic fork and rear shock absorber soaking up bumps and rough terrain with ease.
The bike's brakes are also highly responsive and effective, giving you the confidence to come to a quick stop when needed.
Around corners, the R18's low centre of gravity, wide tyres, and long wheelbase provide a stable and planted feel, allowing you to confidently navigate through turns.
The bike's suspension system includes a telescopic fork at the front and a rear shock absorber that is adjustable for preload and rebound damping.
The R18's handling is best suited to more relaxed, sweeping corners, where its stability and smooth power delivery allow for a comfortable and enjoyable ride.
The R18 has a well-balanced chassis and suspension setup that provides stability and a smooth ride on less challenging winding roads.
However, I must admit that R18's large size and weight can make it feel less nimble and responsive in super tight corners or when making fast U-turns.
I had to be mindful of the bike's size and take corners at a slower speed to maintain control of the bike.
I nearly dropped the bike twice while taking sharp turns and that was scary.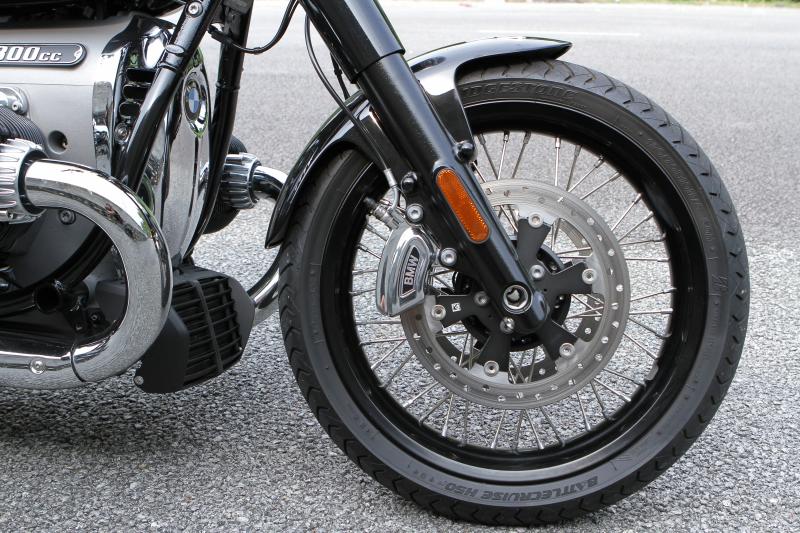 It will be a nightmare to lift this heavy bike from the tarmac.
The BMW R18 is a cruiser motorcycle designed for long-distance touring, and its handling characteristics are influenced by its large size and weight.
This sexy machine comes with mid-mounted foot pegs for a more relaxed riding experience.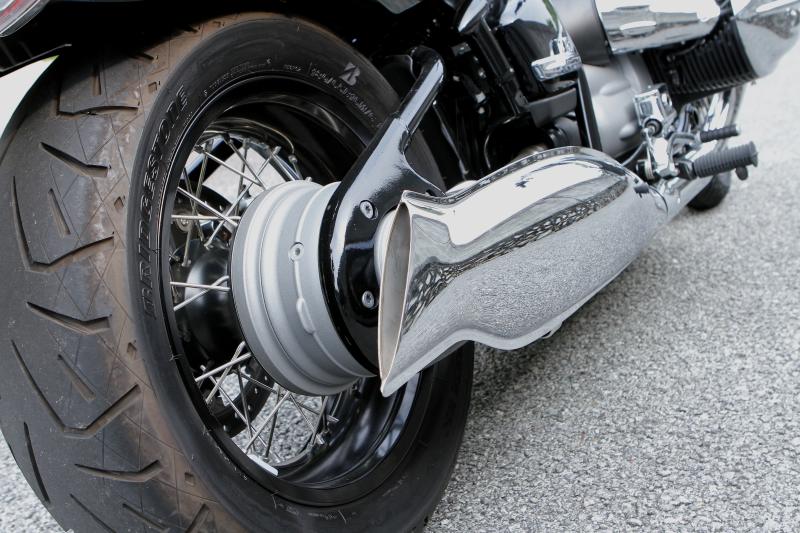 The R18 has a long wheelbase, a low centre of gravity, and a relaxed riding position that makes it easy to control at low speeds and on long straight roads.
On highways, the BMW R18, provides a smooth and enjoyable power delivery with three riding modes of Rain, Roll (similar to cruise mode) and Rock (similar to sport mode).
On the highway, the bike is nimble and feels half the weight of the bike.
I preferred the Rock mode on the highways, meanwhile, on the backroads of Bidor, the Roll mode was the best.
The weight distribution on the bike is perfect and I was able to overtake any vehicle with a twist of the throttle and a gear change.
The bike launches itself instantaneously although I was expecting a bit of lag due to the weight of the bike.
What's even more amazing was the bike rode solid like a rock even when I was hit by a strong crosswind nearing Ipoh.
On other bikes, I usually have to anchor my feet to the pegs and manage to ride carefully.
The R18 offers a unique and enjoyable riding experience, thanks to its powerful engine, comfortable seating position and classic cruiser styling.
When you first get onto the bike, you will immediately notice how low and convenient the seat is, allowing you to easily reach the ground with your feet.
Since the foot pegs are mid-mounted on this machine, I had to stop for a few minutes after two hours of riding to shake off the foot fatigue.
Furthermore, on long rides, there is little room to move my legs due to the protruding chromed cylinder head.
The gearing is smooth on this beast complemented by a light hand clutch.
Every time I accelerate, I don't feel the sudden push forward but rather a gentle speed increase.
However, my only gripe about this machine is it does not come with a windshield although recent R18 editions are equipped with such.
The sixth gear on this machine is perfect for high speed and also cruises effortlessly.
Its wide handlebar and generous saddle allow me to handle the bike confidently.
Overall, the R18 First Edition is an excellent choice for those who appreciate classic styling and comfort but don't want to compromise on performance.
It's a luxury cruiser that features modern technology and plenty of power, making it an excellent choice for long-distance touring or weekend rides.
While its weight may be a bit of getting used to, the attention to detail, comfort and style make it a standout option in the cruiser market.
SPECIFICATIONSBMW R18 First EditionEngine:
1,802cc, air-cooled two-cylinder boxer, four-stroke
Maximum power:
91hp at 4,750rpm
Maximum torque:
158Nm at 3,000rpm
Top speed (estimated):
120mph (193kph)
Transmission:
Six-speed
Suspension:
Front 49mm telescopic fork with 4.7-inch travel; rear single cantilever shock and adjustable for spring preload with 3.5-inch travel
Brakes:
Front 2X300mm discs, 4-piston callipers with ABS; rear 300mm single disc, 4-piston calliper with ABS
Features:
Three riding modes, reverse gear, ABS, traction control
Fuel capacity:
16 litres
Range (estimated):
235km
Weight:
345kg
Price:
RM149,500 (without registration, road tax and insurance)