I recently had the opportunity to review the Kawasaki Z900 SE (Special Edition) for a few days and it was an exhilarating experience from start to finish.
The Z900 SE features a number of upgrades over the standard Z900, including a Brembo braking system and an Ohlins suspension.
Let's get down to the various aspects of this machine.
The Z900 SE is a head-turner, featuring aggressive, sharp-edged styling and impeccable craftsmanship.
Inspired by the Japanese "Sugomi" design philosophy, it encapsulates qualities of awe and intensity in its visual aesthetics of crouching stance, low-positioned head and upswept tail.
This design approach delivers a bold and distinctive motorcycle, making a powerful visual statement for riders seeking a standout look.
The distinctive LED headlight and taillight add a modern touch, while the colour schemes and graphics give it a sporty yet elegant appearance.
It's a motorcycle that demands attention and admiration wherever it goes.
Meanwhile, the front fender is designed to assist the bike in slicing through the wind with less resistance.
It's connected to a cool-looking headlight and a protective screen.
On the sides of the bike, the radiator is only partly covered by sleek fairings that come from the front of the fuel tank.
These fairings also have air scoops on the sides, making the bike look more "macho."
The fuel tank is designed with style, holding 17 litres of fuel.
It has a nice bump in the middle that goes along the top of the bike, and it gets narrower at the back where it meets the seat.
The rear seat is small and this makes the middle of the bike slim, so you feel confident when putting your feet on the ground.
The Z900 SE gets a completely digital dashboard, featuring a colourful TFT screen that displays all the essential information to keep you informed.
The standard Z900 is fitted with inverted, 41mm forks with adjustable preload, and a rear shock with adjustable rebound damping and preload, which is decent.
However, I must admit that the Z900 SE variant offers premium fittings, with an Öhlins shock that offers a smooth ride.
Even at high speed, I did not feel anything on the imperfect back roads during my ride from Kuala Lumpur to Johor Bahru.
The 41mm with gold anodised inverted front forks and horizontal back-link rear suspension absorbed shocks from bumps and potholes, providing a comfortable ride without sacrificing handling performance.
The suspension setup on the Z900 SE strikes a good balance between comfort and sportiness.
Furthermore, the suspension is adjustable, allowing me to fine-tune it to my preference.
This adaptability makes it suitable for various riding conditions.
When it comes to performance, the Z900 SE doesn't disappoint.
The heart of this beast is a 948cc inline-four engine that delivers an impressive 125hp.
From the moment I twist the throttle, the Z900 SE responds with a surge of power putting a smile on my face.
The throttle response is quick and immediate, and the engine pulls strongly throughout the rev range.
Whether I am cruising on the highway or riding up twisty mountain roads, the Z900 SE unleashes an abundance of push that is both exhilarating and yet manageable.
Not to forget, the Z900 SE also has exceptional low and mid-range torque, coupled with thrilling top-end performance.
Additionally, it features the Kawasaki Assisted Slipper clutch for effortless and smooth operation.
This two-wheel has four riding modes of Rain, Road, Sport and Rider.
Rain mode reduces engine power and torque, and also makes the traction control system more intrusive.
Road mode is a good all-around mode that offers a balance of performance and fuel efficiency, ideal for everyday riding and commuting.
Sport mode gave me the full power and torque of the engine, with a sharp throttle response.
This is the mode I used, to have fun on twisty roads.
Rider mode allows me to customise the power and traction control settings to my own preference.
This is a good option if you want to fine-tune the bike for a specific riding style or condition.
In addition to these four riding modes, the Z900 SE also has the Kawasaki TRaction Control (KTRC) system with three settings of 1, 2, and 3.
Setting 1 is the least intrusive while setting 3 is the most intrusive.
The KTRC system can help to prevent wheel slippage, which can be helpful in wet or slippery conditions.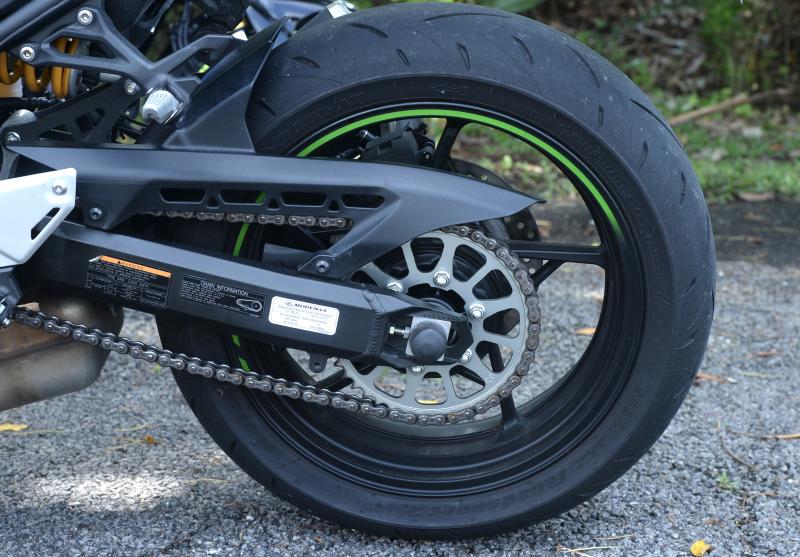 The braking performance is equally impressive with the dual 300mm front discs and radial-mounted callipers providing strong stopping power.
The ABS system works seamlessly, providing an extra layer of safety when needed.
Whether I am slowing down from high speeds on the highway or engaging in a tight corner in the mountains, the Z900 SE's brakes keep me safe.
Comfort is often an overlooked aspect of a sporty motorcycle, but the Z900 SE pleasantly surprised me.
The ergonomics strike a balance between sporty and comfortable, with a well-padded seat and upright handlebars that reduce strain on your wrists and back during long rides.
The overall riding position is friendly for a wide range of riders.
Plus, the bike's low and narrow fuel tank allows for a secure knee grip, enhancing control during spirited riding.
The Z900 SE is an impressive motorcycle that excels in all areas.
Its thrilling performance, exceptional road handling and comfortable ride make it a perfect choice for both daily commuting and weekend adventures.
With its striking design and well-rounded package, the Z900 SE, priced at RM50,959, is a bike to consider for any rider who craves excitement and versatility.
SPECIFICATIONSKawasaki Z900 SEEngine:
948cc, 4-cylinder, DOHC, 16-valve, liquid-cooled
Maximum power:
125hp at 9,500rpm
Maximum torque:
98.6Nm at 7,700rpm
Transmission:
Six-speed
Suspension:
Front 41mm inverted fork with rebound damping adjustability, 4.7-inch travel; rear horizontal back-link, Öhlins S46 gas-charged shock with adjustable rebound damping, adjustable spring preload, 5.5-inch travel.
Braking system:
Front dual semi-floating 300mm Brembo discs with dual radial-mount, Brembo M4.32 monobloc, four-piston callipers, ABS; rear single 250mm disc with single-piston calliper, ABS
Features:
Four Riding Modes, Kawasaki TRaction Control (KTRC), power modes, integrated riding modes, Slipper Cutch, ABS
Fuel capacity:
17 litres
Weight:
212kg
Price:
RM50,959 (without insurance, road tax and registration)