THE Suzuki GSX-S1000 GT is an exciting addition to the sport touring motorcycle market.
The GSX-S1000 GT exhibits a sleek and aggressive design, staying true to Suzuki's sporty DNA.
Meanwhile, the bike's aerodynamic fairings and sharp lines give it an imposing presence on the road.
The quality of materials and fit and finish are top-notch, making it visually appealing.
The overall design strikes a balance between sportiness and practicality, making it suitable for long-distance touring.
The GSX-S1000 GT boasts a powerful 999cc, liquid-cooled, four-stroke, DOHC, inline-four engine that generates 136hp and 106Nm of torque.
Mated to a six-speed transmission, the engine delivers linear power with no surprises, allowing for effortless control at all speeds.
One of the highlights of the GSX-S1000 GT is its touring-focused ergonomics.
The upright riding position, spacious seat, and well-positioned handlebar offer a comfortable set-up for extended journeys.
Although non-adjustable, the windscreen still provides good wind protection and thus reduces rider fatigue during highway riding.
The overall ergonomics strike a fine balance between sporty aggression and touring comfort, making it suitable for riders seeking a versatile machine.
Technological advancements are another standout feature of the GSX-S1000 GT.
Equipped with a full-colour TFT display, this motorcycle provides riders with essential information, including speed, engine rev, gear position and fuel level.
The display is easily readable, even in bright sunlight, ensuring optimal visibility at all times.
The bike also features ride-by-wire throttle control, enabling precise control over the engine output.
It also comes with cruise control to further enhance long-distance rides.
The GSX-S1000 GT comes with 25.7 litre hard panniers on each side.
The panniers, which are easy to open, close, lock, remove and reinstall, are perfect for a weekend getaway and big enough to fit a full-face helmet.
Besides that, the bike is fitted with a USB port to charge a smartphone.
The GSX-S1000 GT excels in challenging corners and twisty roads, exhibited particularly during my ride in Kuala Klawang.
Its stable and balanced feel, coupled with its nimble and agile nature, make it exceptionally easy to navigate tight turns and twisty roads.
The adjustable suspension allows riders to fine-tune to their preferences, further enhancing the riding experience.
The powerful engine offers strong acceleration out of corners, adding to the thrill and excitement of riding twisty roads.
On highways, the GSX-S1000 GT provides a smooth and comfortable ride, reflecting its touring-focused design.
The ergonomics, including the comfortable seat and well-positioned handlebars, cater to long-distance riding, allowing riders to embark on extended journeys without discomfort.
In terms of performance, the combination of a six-speed transmission and slipper clutch elevates this motorcycle to a whole new level.
It effortlessly delivers smooth and controlled power, maintaining a seamless performance across various speeds.
Meanwhile, the GSX-S1000 GT's braking system is top-notch.
Equipped with dual 310mm discs in the front and a single 260mm disc in the rear, both featuring Brembo callipers, the bike offers a powerful braking system that delivers ample stopping power and excellent control.
The brakes are highly responsive, providing riders with precise feedback and allowing for optimal control.
During my review, one of my riding companions took the opportunity to test out the bike.
As we were cruising along the backroads of Gombak, a bird suddenly flew into the windshield of the bike, forcing my friend to execute an emergency brake.
Witnessing this incident from behind, I was startled. It's worth noting that we were riding after a heavy downpour, with leaves covering the ground.
However, thanks to the remarkable traction control and ABS, the situation was swiftly brought under control.
Exhaling in relief, I couldn't help but acknowledge how narrowly he escaped that potentially dangerous situation.
The suspension of this motorcycle deserves special mention due to its remarkable adaptability to diverse riding conditions.
During my journey from Bentong to Kuala Lumpur via the Karak highway, it delivered an incredibly smooth and comfortable ride.
Moreover, when I took the old Gombak backroad to Bentong, riding through Janda Baik's uneven and rough roads, the motorcycle proved its capability to handle such challenging terrains with ease.
Its exceptional versatility makes it an ideal choice for riders who frequently encounter a wide range of riding conditions.
The suspension is designed to strike a balance between comfort and performance.
It prevents excessive body roll and diving during hard braking while remaining compliant enough to absorb bumps and rough surfaces.
The adjustability of the suspension allows riders to fine-tune the settings to their preferences, enabling them to achieve the perfect balance between comfort and performance.
This is particularly valuable for sport touring motorcycles like the GSX-S1000 GT, which are designed for extended periods of riding.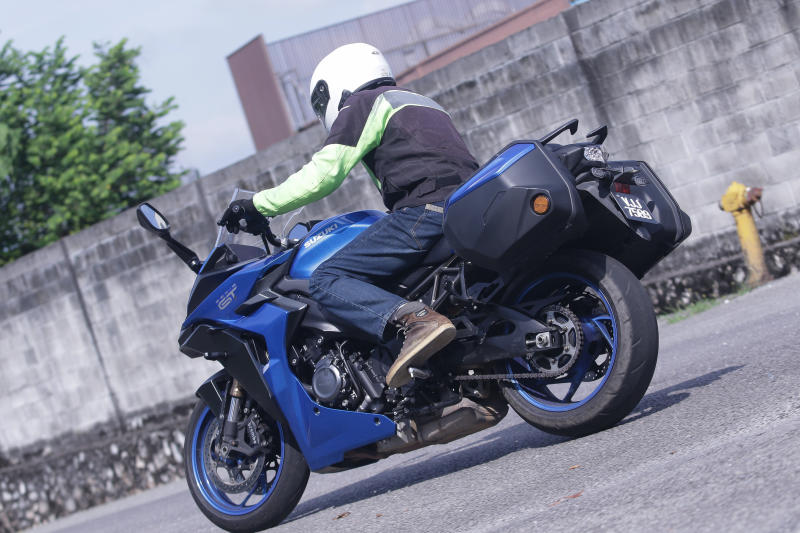 In conclusion, the RM85,700 GSX-S1000 GT stands out as an exceptional sport touring motorcycle that excels in power, handling, technology and comfort.
Its superb balance of features makes it a perfect choice for riders seeking a machine capable of handling long trips while providing an engaging and thrilling riding experience.
Its overall quality and performance make it a compelling option for those willing to invest in premium craftsmanship and superior performance.
SPECIFICATIONSSuzuki GSX-S1000 GTEngine:
999cc, liquid-cooled, 16v, inline-four
Maxiumum power:
136hp at 10,200rpm
Maximum torque:
106NM at 9,300rpm
Transmission
: Six-speed
Suspension:
Front KYB 43mm USD forks, fully adjustable; rear single shock, adjustable for preload and rebound damping
Brakes:
Front 2X310mm discs, Brembo four-piston radial calliper, ABS; rear 240mm disc, single-piston calliper, ABS
Features:
Suzuki Drive Mode Selector (SDMS) with three selectable ride modes, Traction Control (TC), Electronic Cruise Control (CC), and a bi-directional Quick Shift system (QS) and Suzuki Clutch Assist System (SCAS)
Fuel capacity:
19 litres
Wet weight:
226kg
Price:
RM85,700 (without registration, road tax and insurance)