The 2017 sixth-generation upgraded C-segment Hyundai Elantra sedan provides a smooth, refined drive and is extremely fuel-efficient, as we discovered on a road trip from Kuala Lumpur to Penang.
Our test drive unit is the naturally aspirated 2.0-litre MPi Executive variant, priced at RM116,388.
To recap, in June 2017, Hyundai-Sime Darby Motors (HSDM) unveiled three upgraded Elantra variants including the 2.0-litre MPi Dynamic (RM120,588), and Sport (RM131,488).
Prices are on the road without insurance.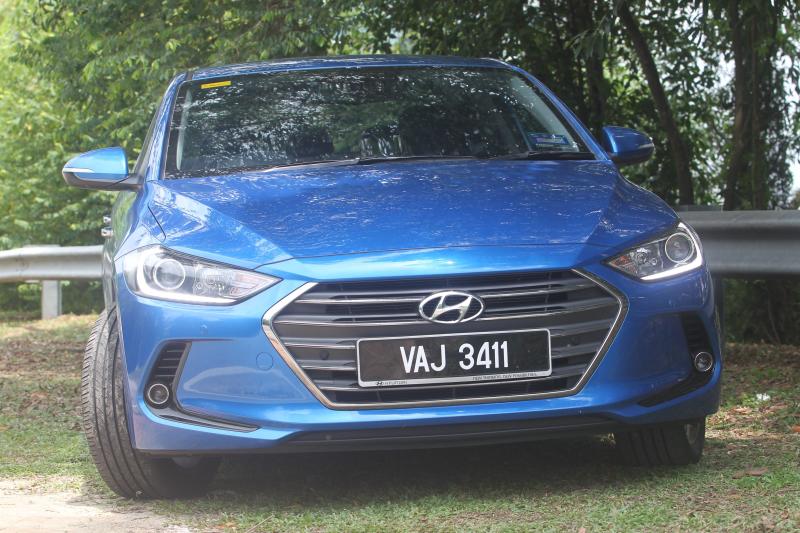 Exterior
The upgraded Elantra has clean, sleek lines that give it a sporty coupe-like profile, as well as a prominent hexagonal front grille.
The projector halogen headlamps with LED positioning lamps, are designed to provide better lighting performance on the road.
Rear LED combination lamps provide more visual impact, and its Dynamic Precision design concept is rather striking.
The Elantra also provides more bang for the ringgit, with integrated LED side repeaters on the wing mirrors for better visibility to other road users when the car needs to turn or change lanes.
It's also noteworthy that the Elantra's aerodynamic profile and exterior design allows it to claim a best-in-class drag coefficient of 0.27 which would improve fuel efficiency.
Performance
This 2.0-litre car has a Nu 4-cylinder MPi (multi-port injection) engine delivering 152ps at 6,200 rpm and 192Nm of torque at 4,000 rpm, paired with Hyundai's 6-speed automatic transmission.
The result is smooth power delivery, and a nice feel to the throttle response.
On the North–South Expressway, we drove mostly at a sedate pace to conserve fuel and noted that the tachometer needle hovered around 1,600rpm to 1,700rpm at 80kph.
At 110kph, the needle was at 2,250rpm.
There's no turbocharged zing here (for that, you have to look at the new 204ps/265Nm Elantra Sport) and the Elantra MPi is simply an easygoing creature that exudes silky-smooth refinement.
Fuel Consumption
According to the supervision cluster, which shows useful data like average fuel consumption and remaining travel range, the 2.0-litre Elantra MPi delivered 12.2km per litre after we drove 955km at an average speed of 55kph over three days.
We started the journey to Penang with nearly a full tank, and for the return trip to Kuala Lumpur, we pumped an extra 23.5 litres of petrol into the 50-litre fuel tank.
After reaching Kuala Lumpur, the remaining travel distance was more than 100km, based on the trip meter's calculation.
Interior
The Elantra 2.0 MPi Executive has a black-themed interior, with mixed suede/fabric and leather upholstery, stitched in red for a sporty look.
Floor mats edged in red also lend a sporty look.
There is no automatic air-conditioning here, but rear passengers get more comfort with rear air vents.
It is quite well equipped, with a 7-inch TFT touchscreen and reverse camera, and a nice audio system that provides crisp sound quality.
Pressing a button on the driver's door handle gets you access into the car, which also has a powered driver's seat.
For more comfort on long distance drives, there is Auto Cruise Control.
The driver can also choose from three driving modes - fuel economical Eco, Normal and dynamic Sport - which adapts the throttle, transmission and steering response.
Meanwhile, the touchscreen's infotainment system supports Android Auto and Apple Carplay, for those who want to access apps without breaking traffic laws while driving.
There is no space-saving electric parking brake here and thus, no Auto Hold function; you just have to live with the traditional hand brake between the front seats.
We found the interior materials to be of high quality, and the fit and finish to be excellent as well.
Practicality
The car is quite roomy inside, and we found more than enough head room and comfortable rear leg room for 1.7-metre adults.
There is a big and deep storage box, and two cupholders, between the front seats.
This is very useful for storing small items like keys, mobile phones and water bottles.
We also found two USB ports (including one in the storage box).
For rear occupants, there is a rear arm rest with two cupholders.
The 420-litre boot is not the biggest in the segment, but it has the segment-exclusive Hands-free Smart Trunk feature - the boot can be opened by just approaching the rear of the car with the key fob in a purse or pocket.
Ride and Handling
Running on quiet and comfortable Goodyear EfficientGrip tyres sized 225/45 R17, the Elantra 2.0 MPi Executive has a supple and smooth ride quality.
The motor driven power steering is light and accurate; the seats are comfortable over long distances; and suspension is well-tuned for comfort; the car soaks up road irregularities quite well.
Safety
- Six airbags
- Anti-lock brake system (ABS)
- brake assist
- electronic stability control (ESC)
- hill-start assist control (HAC)
- vehicle stability management (VSM)
- rear view camera
- front and rear parking sensors
- tyre pressure monitoring system
Equipment
- 7-inch TFT touchscreen
- Android Auto and Apple Car Play
- USB and Bluetooth
- driver's powered seat
- push-start ignition
- rear air-conditioning vents
- auto cruise control
- steering wheel audio controls
- segment-exclusive Hands-free Smart Trunk
- projector halogen headlamps
- Automatic headlights
- mixed suede/leather seats
- manual air-conditioning
- One touch powered up/down window only on driver's door.
Reliability
- 5-year or 300,000km (whichever comes first) warranty
- 24-hour road assist service
Price
RM116,388 on the road without insurance
Summary
Everything in the Elantra 2.0 MPi Executive feels high quality, and well-thought out, from the smooth polished surface of the gear knob, to the the slightly rough texture of the plastic surfaces and the nice seat materials.
This is a car you will love driving on long distance trips, and also in congested city areas where you need effortless and accurate, responsive manoeuvring in tight traffic and parking conditions.
It majors in good fuel economy, high cabin comfort quality and overall, it is very competent and refined.
In terms of pricing and equipment level, it gives its rivals a good run for the money, and C-segment sedan buyers should put this car on their shortlist.
Photo gallery: 2017 Hyundai Elantra 2.0 MPi Executive