Reaching out to a bigger market is always a key target that sways the decision of carmakers when considering a new model and BMW is no different in this respect.
Its latest baby is the 2 Series Gran Coupe, the fourth variation in this model line that sees such accomplished company as those from the 4, 6 and 8 Series.
What gives it star quality is that the 2 Series Gran Coupe is the only one with a front-wheel drive model option in this select group of four-door coupes.
The decision to add such a model to this particular range is driven by the fact that there are BMW customers who want a 2 Series in a bigger form for their 'growing needs' (read that as young children) but do not want a 3 Series that is deem too big size-wise.
At first glance, you might find that desire a bit misplaced as you could easily mistake the 2 Series Gran Coupe for the 3 Series in dimensions.
The 2 Series Gran Coupe is actually smaller all round as it runs on a shorter wheelbase that is almost 180mm shorter; it also weighs a lot lighter by between 110 and 200kg depending on model variants.
Compared to the 2 Series Active Tourer, the 2 Series Gran Coupe is 220mm longer at 4,562mm being a four-door car and 130mm lower for the coupe look, while sharing the same 2,670mm wheelbase and body width.
With the slipperier coupe body, the Gran Coupe also gains an aerodynamic advantage, albeit marginally over the Active Tourer at 0.25 Cd (versus 0.26).
BMW followed up on the 2 Series Gran Coupe world premiere at the Los Angeles Auto Show in November last year with an international media drive in Lisbon, Portugal.
As BMW Malaysia is only looking at the petrol engine variants, we had a go at the range topping M235i xDrive (all-wheel drive) and 218i front-wheel drive, which is the entry-level version that would be introduced locally.
The route, with its tight and twisty nature that wounds through the countryside and villages, was a lot shorter than what we were used to – about 100km to and fro between Lisbon and Ribeira, a world surfing seaside haven.
We started with the M235i that has the most powerful four-cylinder engine in the BMW Group and sprints to 100kph from standstill in 4.9 seconds.
All that aggression comes from a 2.0-litre engine that boasts of the BMW TwinPower turbo technology, Valvetronic variable valve timing and Double Vanos variable camshaft timing.
In sheer power, it delivers 306hp and 450Nm of torque; more than enough punch to move a 2 Series Gran Coupe weighing 1,570kg kerb very quickly.
It is paired with an eight-speed Steptronic Sport transmission and the car we drove came with the optional Adaptive suspension system to complement the Sports suspension design.
A major note is in the change in rear suspension design with the 2 Series Gran Coupe having the multi-link axle in place of the central arm system.
This is a more comfortable set-up and we found the ride, especially in the rear, most accommodating in that respect.
There are no grab handles but we found enough brace points in the foldable central armrest and door armrest while sitting in the rear as we meandered through the winding stretches at fair speeds.
At the driving wheel, we found the available torque peaking from 1,750rpm useful, especially when the 450Nm of torque stays flat till 4,500rpm.
We could feel this huge torque output putting us firmly on the road as we made our way through the sinuous stretches without the need to use the paddle shifts to gain a lower gear.
With a width of 1,800mm, the 2 Series Gran Coupe is still a fairly wide car to pilot through narrow winding roads and we had to temper our aggressive driving style.
Nevertheless, we could carry a fair bit of speed and the slight, and almost unnoticed, body roll made it pretty flat driving that we fully enjoyed.
BMW says the suspension elements are tuned to perform flatly without affecting ride and we concur on that note.
We ran on 235/35 R19 Continental PremiumContact 6 tyres, which were lower profile than the standard size 240/40 R18, but good ride comfort was never in doubt.
We ran off the road once while coming to terms with the car's dimensions along narrow roads and drove across a fair share of bumpy stretches but there was no jarring note all round.
This impression was brought down a notch when we hopped into the 2 Series Gran Coupe 218i, which ran on Pirelli P Zero 225/45 R17 against the standard specification of 205/55 R16.
We experienced a firmer ride that wasn't quite as comfortable as that of the M235i though it remained comfortable for its level of motoring.
It was a pity that we couldn't check out the 218i's handling characteristics as the return route to Lisbon covered mainly highway driving.
The 1.5-litre three-cylinder with full BMW specifications produce enough with 140hp and 220Nm that peaks earlier at 1,480rpm; it is paired with a seven-speed Steptronic dual clutch transmission.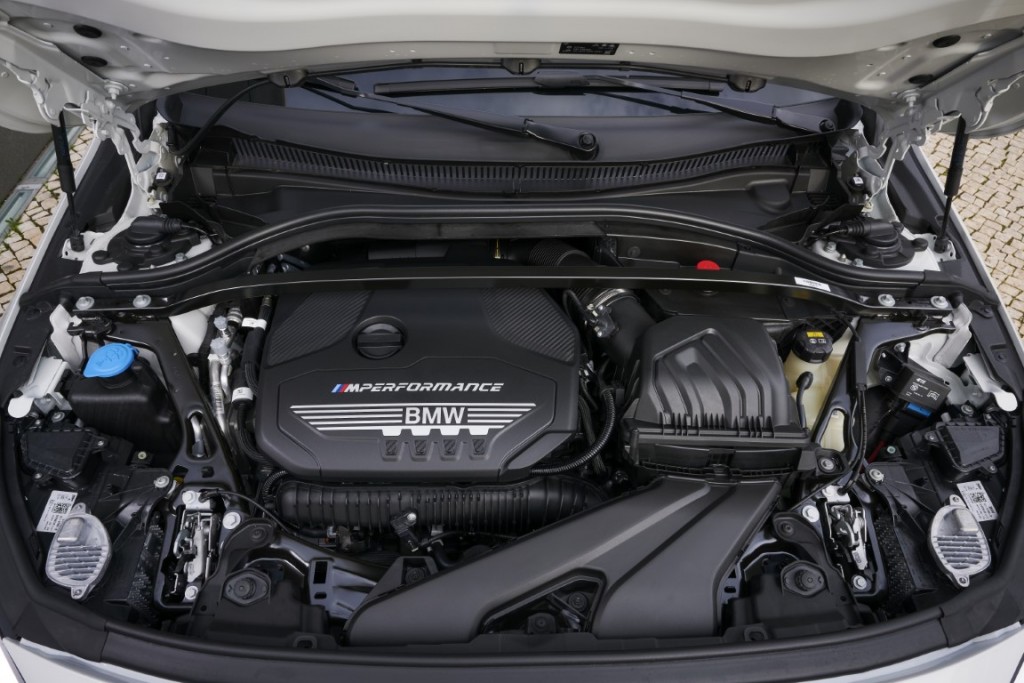 There is no want of push but after driving the M235i earlier, we could feel the slight lack of urgency when we hit the accelerator.
Performance-wise, BMW says the 218i would accelerate to 100kph in 8.7 seconds, almost four seconds slower than the M235i, while top speed is 215kph against 250kph.
There was also a less refined note but the 218i stayed just as quiet cruising on the highway with fairly subdued road rumble coming through over the varying road surfaces to break the monotony.
Its smaller size against the 3 Series was clear in the interior, especially the tighter legroom at the rear although it accommodated our 165cm Asian frame quite nicely.
Being targeted at the 30-40 age group that comprises the family types with young children, the 2 Series Gran Coupe's interior would be about right.
With 430 litres of luggage space, it would meet the needs of this targeted group too and the standard 40:20:40 split rear seatrests would free up space for more items.
The 2 Series Gran Coupe would be introduced in Malaysia as an imported car and should find appeal among those eyeing sporty-type family cars.