The new third-generation Z4 open-top two-door roadster was provided for quick test drives during our recent Australian BMW media test drive of its latest family line-up of roadsters, coupes and convertibles.
We sampled both the turbocharged 2.0-litre four-cylinder engined sDrive30i and the more powerful 3.0-litre six-cylinder M40i variants.
In July, BMW Group Malaysia had launched only the Z4 sDrive30i M Sport variant priced at RM479,800, on-the-road without insurance.
It was beautiful weather for open-top driving Down Under, with a cool autumn wind and a sunny morning overcast with dark clouds threatening rain later in the day.
The wide, open sky surroundings in the rural countryside of Melbourne city provided the best wind-in-your-hair experience in the Z4 sDrive30i M Sport, which was fitted with an M Aerodynamics package, Adaptive M Suspension, M sports brakes, and M sport seats.
It's also interesting that we were driving the new Z4 in the homeland of Australian BMW designer Calvin Luk, who was responsible for penning the third-generation Z4 roadster.
It should also be noted that the new Z4 was co-developed with the new Toyota Supra, and they both share platforms and powertrains.
However, beyond some of the mechanical underpinnings, both cars are very different, and this is also underlined by the fact that the Supra is a hardtop while the Z4 uses only a soft-top, unlike its predecessor.
The powered soft-top roof comes in Black as standard and can be opened or closed in 10 seconds, while travelling at speeds up to 50kph.
As BMW Group Australia product and pricing manager Howard Lam pointed out, the BMW and Toyota development teams went their separate ways some years ago after the initial collaboration stages on the two cars.
"The Z4 also had a track focused development and was designed to celebrate the thrill of driving. Notably, its wheelbase is shorter (for sharpened agility) while the length is longer," said Lam.
BMW Group Asia CEO Christopher Wehner also said the design brief for the new Z4 was the creation of a muscular, powerful and sporty car.
"The soft top enables weight reduction. This also ensures we achieved a ideal 50:50 weight distribution," said Wehner.
We also found more rear space for our luggage bags, as boot capacity has increased by over 50 per cent (to 281 litres) compared to its predecessor.
The Z4 sDrive30i M Sport has 19-inch M light alloy wheels wrapped with Michelin Pilot Super Sport high performance tyres sized 255/35 (front) and 275/35 (rear), and we found slick cornerng and good grip on the narrow countryside roads.
The variable sport steering communicates well and provides effortless low-speed manoeuvring.
Our Z4 sDrive30i M Sport test drive unit was also fitted with the optional M Sport rear differential for even more nimbler handling when cornering.
We also drove the more powerful Z4 M40i armed with a 3.0-litre 6-cylinder M Performance TwinPower Turbo engine producing 340hp and 500Nm of torque.
Power is also delivered via a eight-speed Steptronic Sport automatic.
Extra kit on this include the M Sport differential as standard, and a 12-speaker Harman Kardon Surround Sound system.
We kept the Z4 M40i in Sport mode and the powerful 3.0-litre six-cylinder in-line engine constantly revved eagerly whenever we felt the need for fast sprints as we sped past the scenic rural spots in Victoria state like Kerrisdale, Strath Creek and King Parrot Creek.
The Z4 M40i can do the 0 to 100kph sprint in 4.5 seconds, which is a tad faster than the 5.4 seconds on the sDrive30i.
Suffice to say, our brief drive in Australian countryside gave us a very good idea of the new BMW roadster's exhilarating, sporty performance and agile handling as well as a marvellous wind-in-your-hair driving experience.
BMW Z4 sDrive30i M SportEngine:
1,998cc 4-cylinder BMW TwinPower Turbo
Maximum power:
258hp at 5,000 to 6,500rpm
Maximum torque:
400Nm at 1,550 to 4,400rpm
Transmission:
Eight-speed Steptronic Sport automatic
Features:
Adaptive LED headlights with High Beam Assist, Adaptive M Suspension, BMW head-up display, BMW Live Cockpit Professional, 10.25-inch digital instrument display, 10-speaker Hi-fi system, M Aerodynamics package, M sports brakes, M sports seats, Parking Assistant, Rollover Protection System, wireless smartphone charging, 19-inch M light alloy wheels
Price (on-the-road without insurance):
RM479,800
BMW Z4 sDrive30i M Sport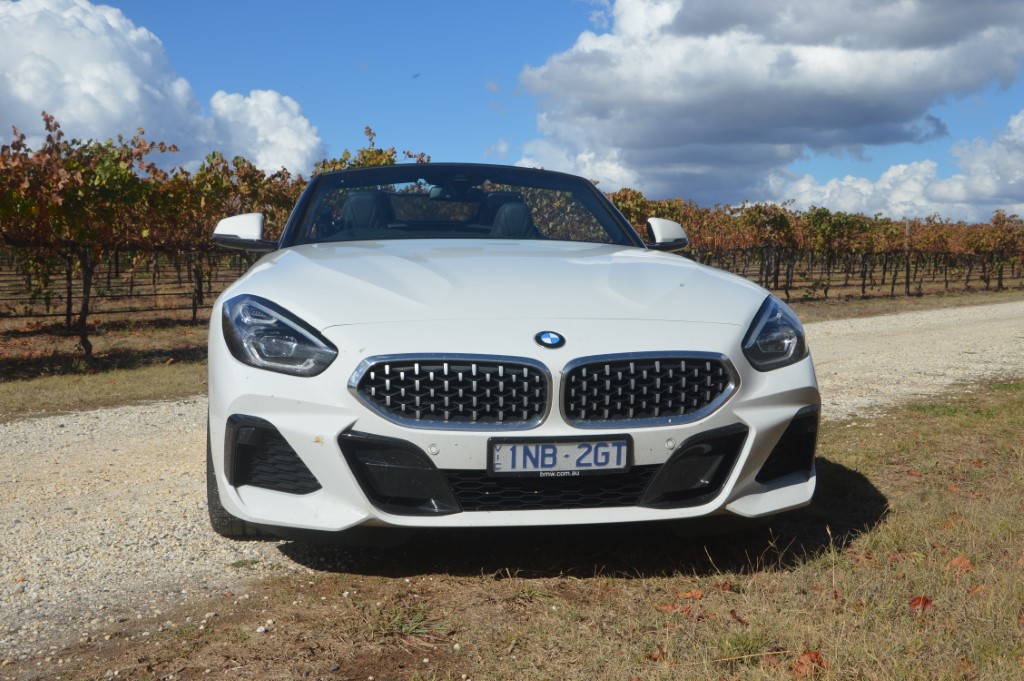 BMW Z4 M40i