After 400km-plus spent with the CX-9, what do we have to say of the biggest Mazda crossover?
It's a handsome piece of hardware, no doubt.
More so in black, with 20-inch alloy wheels, trendy headlights and squinty taillights, which seem a little too small for such an ample derriere.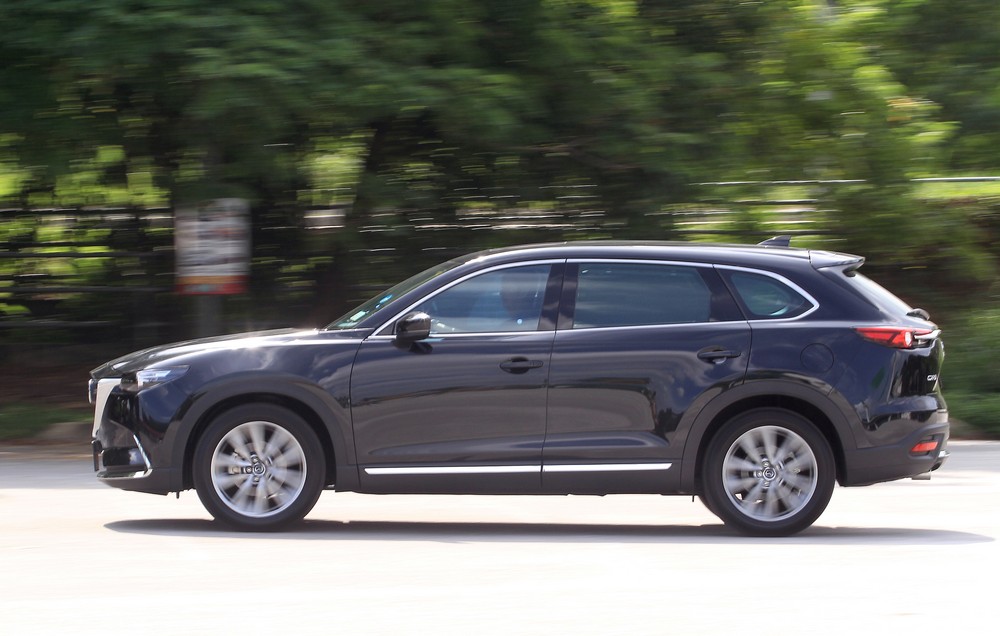 What's notable are the engine and the resulting driving dynamics. But we are getting ahead of ourselves.
The Mazda we drove recently is the all-new second generation CX-9, which has yet to launch locally but was made available for a media test drive.
Local distributor Bermaz Motor is looking at the second half of 2017 to introduce it as it wrestles with the delicate task of pricing it attractively amidst a volatile ringgit outlook.
The test unit is a fully imported model sourced from Australia and Bermaz would almost certainly specced it differently to go with the premium pricing.
You may recall the last CX-9 model was retailing at around RM289,000 in front-wheel drive form and RM329,000 in all-wheel drive. (
Update:
Initially, the new CX-9 pricing was announced as RM316,788 (2WD) and RM333,129 (4WD) OTR with insurance but has actually dropped at its
Nov 15 launch
to RM289,571 and RM306,643 respectively.
The CX-9 we piloted is the front-wheel drive version and feels suitably upmarket what with full leather upholstery, soft plastics and quality trim that signal its positioning. But it's a little let down by daytime running lights that are bulb-based instead of LEDs.
Making its world debut at the LA Auto Show in late 2015, the new CX-9 is lighter, safer and stronger. It packs a new engine as well as a new range of safety and infotainment technology.
Out went the thirsty 3.7-litre V6 engine and chassis from Ford and in came the full-blown Mazda architecture and a fuel efficient SkyActiv 2.5-litre turbocharged engine. The all-wheel drive CX-9 also gets the same inline turbo four mill in the same tune.
With the latest overhaul, the CX-9 is now in step with Mazda's "Kodo - Soul of Motion" design theme as have the rest of its passenger vehicles.
The exterior looks contemporary and sleek, which helps improve aerodynamics while the interior see some major revisions. It has also shed 130kg to bring its kerb weight below 1.9-tonnes, and this goes a long way in making the drive feel responsive.
Defining the face of the CX-9 is a huge chrome grille,with the rest of the bodywork moulded to make the vehicle look athletic. Overall, the CX-9 shows presence on the road.
As is typical of soft offroaders, the CX-9 is jacked up and has 22.2cm of ground clearance to better traverse ruts and rocky terrain without running the risk of scraping the undercarriage – or worst, getting stuck.
The latest 7-seat CX-9 has a 5.5cm longer wheelbase than before, which opens up more interior space and improved access to third row seats.
However, overall length is shortened by 3.1cm to around 5.1m, so there's a little less room for luggage storage but not by much.
Mazda has taken great pains to refine the CX-9 by padding up the cabin with more noise insulation, so you can better enjoy the 12-speaker Bose sound system.
Leather seats in the first two rows support the body where it counts and head and legroom aren't an issue. Driver seating ergonomics is also a plus point. Even third row seats are good to haul grown-ups in relative comfort on short trips.
The 3-zone climate control is strong enough to push cold air to the last two passengers without the need for air-cond vents in last row. Although Mazda has cut back on luggage space in the new CX-9, it's still sizeable to store most items for a trip out of town. Storage boot space is 230 litres with all seats up and a voluminous 1,641 litres with last two rows down.
Dashboard is well crafted and modern with an 8-inch touchscreen anchoring the clean design.
Knobs and settings are within easy reach. Enhancing the ergonomics further is a raised centre console that makes for quick access to the centre controller, gear shifter, electric parking brake and sport mode toggle switch.
Steering wheel is leather wrapped and comes with audio and cruise control buttons. Note that this CX-9 doesn't have paddle shifters, which isn't a deal breaker.
Coloured HUD, a powered sunroof and memory function for driver's seat, which has 8-way power adjustment, inject some luxury features to the interior. Adding practicality are plenty of drink bottle storage across all rows and a motorised tailgate.
Satellite navigation is available but didn't work as the CX-9 was not installed with local maps. Catering to families with babies and small children, it comes with Isofix mounting points in second row and top tethers for second and third row seats.
The second-generation CX-9 is as safe as can be going by the 5-star Australian NCAP rating it has earned. So you can expect it to be loaded up with a smorgasbord of safety features.
Six airbags aside, the crossover features reverse camera, anti-lock braking system, dynamic stability control, traction control, hill launch assist, rear cross traffic alert, trailer stability assist, smart city brake support, emergency brake assist, blind spot detection and roll stability control.
A premium family crossover must be able to move a bunch of people over distances in comfort and with a certain level of classy deportment reinforced by a responsive engine with more than sufficient thrust.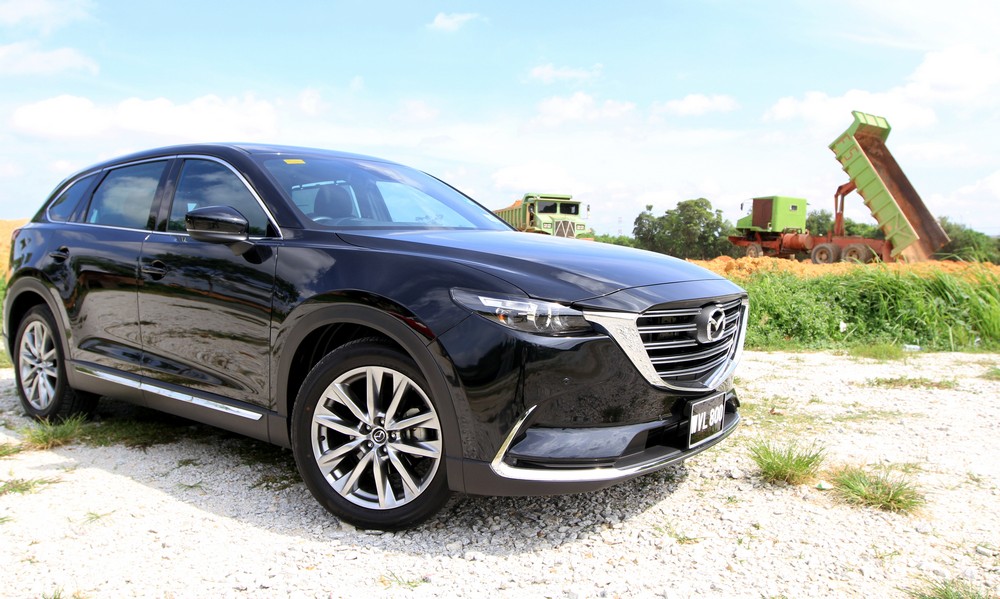 The new CX-9 fulfils this requirement. It's fast off the pace and is an excellent highway cruiser, sweeping occupants along in cushy and sedate surrounds. The vehicle feels like it has a bigger engine than it really does.
The petrol mill produces 228hp at 5,000rpm and 420Nm of torque at 2,000rpm, and is mated to a six-speed automatic gearbox.
Whether you are driving the vehicle leisurely or pummelling it on the highway, turbo lag is barely noticeable. When the mood arises, the Sport mode livens things up, quickening the revs for frisky manoeuvres.
An idle-stop system complements the downsized powerplant whose other goal is fuel efficiency. It delivers a claimed combined fuel consumption of 8.4l/100km, a 25% improvement over its predecessor.
The steering wheel is well weighted and offers a decent amount of road feel for such a big vehicle. Ladies won't have to struggle with the tiller to make tight turns.
The suspension has been tuned to filter out most road imperfections so what those on board experience is a smooth ride.
Body roll into bends is controlled so it's not a frightful experience even when attacking corners at speeds.
Although it's not going to be driven like a Mazda2 or MX-5, the new CX-9 delivers respectably on the brand promise of driving fun.
It has the looks, the space and the agility to make it a viable contender in the big 7-seat crossover market. At the heart of it all lurks a downsized mill that punches above its weight.