There it is. Soul Red Crystal paintwork — rich and sparkly — on acres of sheetmetal as it glistens in the morning sun.
The distinctive colour scheme shows off the Mazda CX-8 to great effect.
At nearly 5m long, this is a big crossover, only a little smaller than the CX-9 on which it is based.
The size is all but necessary to stuff in three rows of seats.
Outside
The CX-8 is good-looking, featuring a sporty exterior for what is basically a people hauler.
The front is almost a dead ringer for the popular CX-5 save for the grille design.
Slim LED headlights, golf-ball-sized spotlights, equally narrow taillights plus black plastic claddings around the body make the CX-8 look sporty and rugged.
Chrome trim is lavished on the exterior for the premium look.
Check it out on the radiator, window surrounds and spanning the taillights.
The 3D design of the 19-inch wheels complement the vehicle and are shod on Toyo Proxes R46 rubbers.
The CX-8 is locally assembled, with four variants.
Sharing the same wheelbase as the CX-9, it is aimed at a hitherto unexploited niche, appealing to a variety of clientele with prices spanning RM180K to RM 214K (for 2020 only).
The top variant gets a 2.2-litre SkyActiv-G turbo-diesel engine while the rest are powered by a 2.5-litre SkyActiv-G petrol engine as found in the CX-5.
Inside
This version — the 2.5G 2WD High — carries occupants in a relatively premium interior, it being a six-seater that allows for more space and comfort for mid-row passengers. Only the base variant can seat seven.
It's evident that the 2.5G 2WD High is configured to pamper the two passengers in mid-row, with window shades and individuallyheated seats, separated by a fixed centre console with dual cupholders, a storage compartment and a lower tray to keep personal belongings.
Mid-row passengers benefit from own climate control as they can control their own temperature and blower settings.
The individual seats sit on rails so they can be manually moved fore and aft for variable legroom and to allow for easy entry and exit for passengers in third row.
There's plenty of head and elbow room in mid-row. Front row is nice and comfy too — the Nappa leather seats are electrically operated and heated, with driver side getting memory seat and lumbar support.
Two average-sized adults — Mazda says not more than 170cm tall — in the last row get decent space but with limited elbow room and thigh support. They have to rely on second-row air-conditioning to cool off.
Like the first two rows, the third row also comes with cupholders and a bit more space on the sides to stash knick-knacks.
Overall, the cabin is a peachy spot to while away time in transit.
There's plenty of soft touchpoints and fancy wood trim to make it feel refined.
The leather-wrapped dash is attractive and functional without looking busy.
Other features that grabbed us were the colour HUD that reads road speed limit and a 360 degree camera system that makes reversing a big car so much easier and safer.
With three rows of seats, cargo space isn't much to speak off. But it is greatly enlarged by collapsing the last two rows forward.
The dash layout and centre console give away the fact that the CX-8 share common parts with the CX-5 and CX-9.
And therein lies some of its faults.
In this day and age, the 7-inch centre touchscreen display looks disproportionate to such a big car. A bigger display would sit better on the dash. And please do away with the thick bezels.
The piano black surrounds on the centre console also attracts dust and finger smudges.
As if Malaysia is not already hot enough, Mazda decided to give us heated seats in the first two rows. Ventilated seats would have been the right choice but we reckon the technical upgrade would have cost more.
By the way, the CX-8 doesn't come with a sunroof. No big deal in our book.
Safety
Safety isn't an issue as the CX-8 is well equipped to ward off danger. On top of six airbags, it has Dynamic Stability Control, Emergency Brake Assist, Traction Control System, Hill Launch Assist and Auto Hold Function.
This variant also comes with Rear Cross Traffic Alert, Lane Departure Warning System, Lane-keep Assist System, Driver Attention Alert, and Smart City Brake Support.
Drive time
Under this CX-8 bonnet is a naturally aspirated four-pot engine that makes 192hp at 6,000rpm and 258Nm of twist at 4,000rpm.
Is it robust enough for this big crossover? In a word, yes.
One is conscious of the weight and size of the CX-8 when taking off from standstill. But once it gets going at a healthy clip, those concerns fade away.
The interior is well insulated from external noises at highway speeds, adding to the premium feel Mazda is aiming to forge.
The engine pulls strongly at midrange revs with power delivered smoothly and linearly to the front axle, accompanied by a sporty exhaust note when pushed harder.
Going uphill with three adults onboard — it would have been more meaningful to have six but we could only muster three and a cat during the test period — still showed the CX-8 was no laggard at half load.
A Sport mode bumps up the throttle response for more aggressive driving. Tight corners are taken with aplomb, and this vehicle on stilts doesn't wallow like a boat in a gale, thanks to G-Vectoring Control (GVC).
The GVC electronics link the power steering and engine to allow for on-the-fly shifting of the vehicle's weight to improve grip and make the crossover behave more naturally.
GVC selectively reduces wheel torque and transfers weight to the steering wheel when turning. This leads to greater stability, steering precision and minimal body lean in corners.
The net effect is confident handling and a smooth ride quality.
The CX-8 is backed by a 5-year manufacturer warranty + 5-year free maintenance inclusive of labour, parts and lubricants.
Verdict
Sandwiched between the CX-9 and CX-5, the CX-8 finds favour with people who seek a balance between seat capacity and roomy comfort. For them, 6 seats are just right.
There's a bit of that feisty Jinba-Ittai spirit (car-driver connectedness) in the whole works.
At around RM194,000, this crossover is now priced even lower following the sales tax exemption, making it a tempting buy for those looking for an attractive people carrier with some driving panache.
SPECIFICATIONSMazda CX-8 2.5G 2WD HighEngine:
2,488cc, in-line 4-cylinder, 16-Valve DOHC, petrol
Maximum power:
192hp @ 6000rpm
Maximum torque
: 258Nm @ 4000rpm
Transmission:
Six-speed SkyActiv Drive automatic with manual shift mode
Features
: Adaptive LED Headlights, passive cruise control, Head-Up Display, sunshade, powered front seats, Nappa Leather, 360-degree View Monitor, six airbags, Rear Cross Traffic Alert, Driver Attention Alert, Lane Departure Warning System, Lane-keep Assist System, Driver Attention Alert, Smart City Brake Support, all-round disc brakes, stability control, traction control, speed sensing auto lock, keyless entry, power tailgate, 60/40 split fold with 3 headrest (2nd row seats), engine start/stop button, electronic parking brake, three-zone climate control, Android Auto and Apple CarPlay support
Fuel consumption (combined official):
7.9 l/100km
Price
: RM193,742 (OTR without insurance)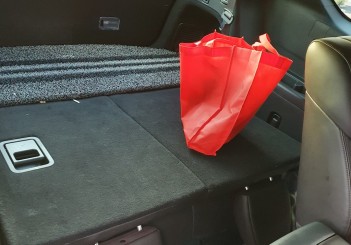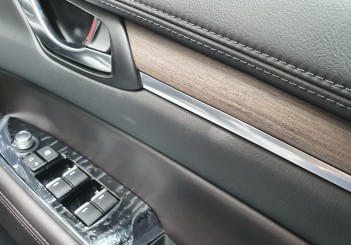 EXTRA
: Thomas Huong weighs in on the CX-8 in video below