This year, Honda Malaysia broke new ground again in the affordable B-segment car market by launching the Jazz and City Sport Hybrid i-DCD models, priced at RM84,880 and RM89,200 respectively.
The Sport Hybrid i-DCD (intelligent Dual Clutch Drive) system integrates a 1.5-litre DOHC i-VTEC engine, electric motor and lithium-ion battery.
Power is transferred via a 7-speed dual clutch transmission for performance akin to a 1.8-litre engine.
This powertrain delivers a total hybrid system output of 137ps and 170Nm of torque.
Fuel economy for the Jazz and City hybrids are rated at 4.0 and 3.9 litres per 100km respectively.
According to Honda Malaysia, the i-DCD's gear ratio was tested over 7,000km on various road conditions in Malaysia, over a period of more than two years.
It should be noted that the car's air-conditioning continues to function even when the car is idle in full EV (electric vehicle) mode, as the lithium-ion battery can power the fully electric-driven compressor.
The lithium-ion battery is charged automatically each time you brake.
According to Honda Malaysia, the lithium-ion battery is designed to last the lifespan of the car which is defined as 200,000km.
The lithium-ion battery comes with an 8-year warranty, with unlimited mileage.
Replacement cost for the lithium-ion battery is RM5,513.
Honda Malaysia says there is no need for special service or maintenance work for the Sport Hybrid i-DCD system.
As of June 2017, more than 865,000 Honda cars with the Sport Hybrid i-DCD system have been sold in Japan.
Globally, the i-DCD is produced only at Honda Motor's Suzuka Factory, which also manufactures manual transmissions and CVTs (continuously variable transmissions).
More than 92% of the transmissions produced are for Japan, and rest exported.
Beginning May 2017, the Suzuka Factory supplies the i-DCD motor to Malaysia.
Driving in Japan: Honda Sport Hybrid i-DCD
This brings us to a two-day drive over more than 360km in Japan, ensconced in Honda cars fitted with the Sport Hybrid i-DCD system.
Five Honda models were available, namely the Fit (Jazz equivalent here), Grace (City equivalent here), Vezel (HR-V equivalent here), Freed and Jade.
On the first day, we drove the Jade Hybrid – a six-seater MPV (multi-purpose vehicle) for the drive from Tokyo - Mount Fuji (Fuji Subaru Line 5th Station) - Lake Yamanaka.
The weather was bitterly cold and wet, with strong winds and incessant rain thanks to the after-effects of Typhoon Lan.
It was not the best weather for a long drive out of Tokyo, but the Jade was a snug cocoon to be in as we made our way via the Chuo Expressway.
The Jade Hybrid, with a Sport Hybrid i-DCD system, does not have the conventional instrument cluster with round dials.
Instead, the driver stares at a digital information screen which shows data like battery charge and power, petrol level, vehicle speed, drive mode, external temperature, clock, road speed limit and distance traveled.
With enough charge in the lithium-ion battery, the car starts quietly in EV (electric vehicle) mode, and accelerates silently until the petrol engine is called into operation.
The automated transition from EV mode to petrol engine operation is exceptionally smooth, and seamless.
Due to bad weather, many digital speed limit signages on the highway showed 50kph, and we seldom drove above 80kph.
The hybrid powertrain provides lots of torque, and the 7-speed dual clutch transmission shifts very smoothly; there are no unpleasant jerks.
This is very different from the dual clutch transmissions we have tried in other car marques, where jerkiness is something the driver oftentimes learns to live with.
Honda's 7-speed dual clutch transmission shifts fluidly, and provided for a quiet and refined drive as we ascended Mount Fuji as strong winds lashed us; only to find the 5th Station closed due to the horrible weather.
The next day saw clear skies, and we took the Grace Hybrid on the Ashinoko Skyline - Hakone Turnpike (Yugawara Pass toll booth) 10km route, which was a twisty, mountainous road where we drove rather spiritedly.
The high mountain scenery and winding route reminded us of scenes from the famous Initial D drift racing anime.
Again, the 7-speed dual clutch transmission performed fluidly and predictably, as we negotiated the turns and twists of the hilly road, before making the 100km highway drive back to Tokyo.
Photo Gallery: Honda VEZEL i-DCD hybrid
Photo Gallery: Honda JADE i-DCD hybrid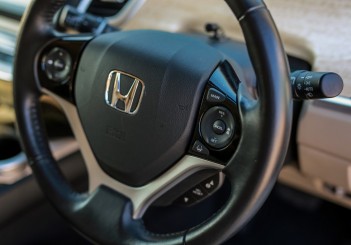 Photo Gallery: Honda FIT i-DCD hybrid