Welcome to the company of Clubmans.
On one hand, we have the Cooper S Clubman. On the other, the brawny John Cooper Works (JCW) version. Sorry, no base Cooper here.
Being fully imported, the two Clubmans are some of the priciest MINIs money can buy with the Cooper S at RM280,525, while the JCW is RM57,000 more at RM337,527.
Mind you, these are SST-exempted prices that will expire after June 30 this year.
Test units have been facelifted so you are getting the latest from Oxford.
The current F54 Clubmans introduce styling updates and a variety of equipment and connectivity enhancements.
Cooper S
As far as mid-life changes go, the Clubman sports a new enlarged grille with black surrounds as well as revised LED headlights and fog lights.
The daytime running lights now come as full rings.
The update is also noticeable from the tailights, which are now full LEDs with Union Jack graphics that convey a particular British charm.
The Cooper S is heavily accessorised with MINI Yours bits.
Check out the 18-inch MINI Yours British Spoke two-tone wheels and MINI Yours badge and proceed to get an overdose of it in the cabin.
The interior introduces MINI Yours Carbon Black lounge leather seats Other MINI Yours embellishments are seen in the ambient lighting on the dash, doors and centre console.
Plus MINI Yours floor mats as well.
Even if you were blindfolded and the car's interior had been debadged, you would still recognised it as a MINI with its characteristic toggle switches and circular theme as evident in the centre display (now touch-enabled), meter cluster and door handle housings.
The abundance of soft touchpoints and use of premium materials add to the perception.
The Cooper S is equipped with dual-zone automatic air-conditioning, passive cruise control, powered sport seats with memory function, paddle shifters, anti-dazzle rearview mirror, a high-resolution 6.5-inch touchscreen MINI Navigation System, MINI Connected Services, a 12-speaker Harman Kardon sound system and Apple Carplay.
Safety-wise, it comes with six airbags, anti-lock braking system with brake assist, cornering brake control, electronic brakeforce distribution and dynamic braking lights.
Further bolstering safety are dynamic stability control, traction control, an electronic differential lock control, pull-away assist, reverse camera, flat-tyre indicator and Attention Assist.
It's a surprise that other important safety tech such as blind spot monitoring, autonomous emergency braking and lane-keeping assist were left out as lesser cars already boast such features.
JCW
Moving on, we have the most powerful MINI ever, the JCW Clubman that shares the same engine block as the Cooper S but see major mechanical upgrades that endow it with 306hp and 450Nm, giving it a 4.9 seconds sprint time from 0-100kph. Top speed is capped at 250kph.
Contrast that to the more sedate 192hp/280Nm of torque in the Cooper S, ringing in 7.2 seconds before maxing out at 228kph.
While the Cooper S uses a 7-speed dual clutch gearbox to relay twist to the front wheels, the all-wheel drive JCW is matched with an 8-speed sports transmission that is able to cope with much higher torque, future-proofing its usage for some years to come.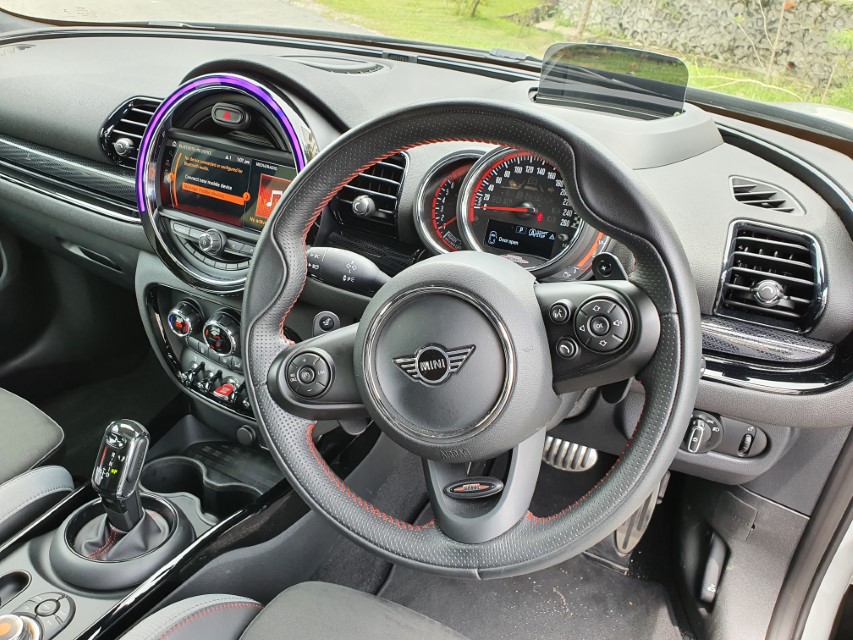 As part of the added performance package, there's launch control and the ride height is dropped 10mm with the use of JCW Sport springs.
Stoppers are upgraded with JCW sports brakes and wheels are up-sized to 19-inch.
To set itself further apart from the Cooper S, the JCW is loaded up with plenty of JCW parts that include a 95mm exhaust system, aerodynamic kit, front and rear badges, rear spoiler side scuttles and a panoramic sunroof as well as Chili Red colour for the bonnet stripes, mirror caps and the roof.
The interior is upgraded with a larger 8.8-inch touchscreen MINI navigation system, heads-up display and wireless charging, multi-function JCW leather steering wheel and a reverse camera that now show dynamic lines.
Other JCW items in the car included the dial design, sports seats and door sill strips.
Double take
While the Clubman has the same wheelbase as the Countryman, it's a tad smaller than the SUV.
Where both Clubmans are concerned, space for front row is great and pretty decent in second row in terms of head and knee-room.
While this model is a 5-seater, it's best to keep it to four people for comfort and wriggling room — like most passenger cars.
Driving view all around is fine except for the back where the thick middle bar of the barn doors hinder an already constricted rear view.
The low placement of rear air-conditioner vents don't quite cool off those in the back as well as those in the front especially now when we are going through a hot spell.
At 360 litres, boot space is fair enough and the low wide opening enables easy access.
Fold the rear seats forward to get 1,250 litres.
One caveat: leave enough space to open the barn doors if you are backing it up against a wall should you want to use the boot on a grocery run. Or just park frontside in.
Rev up
Both maxi-MINIs mash practicality and driving fun.
We found the seats to be firm and supportive in both Clubmans with adjustable thigh support in front row though the JCW's Dinamica leather seats have a much nicer feel to them.
The Cooper S doesn't disappoint on the go.
A punchy engine works with a smooth and quickshifting DCT to bring the car quickly up to speed complemented by sound being pumped in to add some vocal excitement.
The Cooper S handles well with a fairly communicative steering that informs on what the front tyres are doing at any given moment.
The car's low slung stance helps to evoke a planted feeling at speeds.
Suspension is not as aggressive as in the JCW but still provides the firmness to carve through corners confidently.
An effective brake pedal feedback ensures stopping quickly is fuss-free.
For the hardcore enthusiast, the JCW is the one to jump into, where driving fun is amplified.
Key to that is the upgraded 2.0-litre turbo engine that features various reinforcements and other mods to chassis and brakes to ensure the car can go like a rocket.
It can still be a daily runabout if you can live with the stiff ride.
But then that's a trade-off for those who prioritise out-and-out performance that JCW represents.
The beefy engine reacts well to go-faster inputs abetted by a steering that offers a nice feel of the road.
The JCW driver can happily chuck the all-wheel drive car into corners at full load and it would stick to the tarmac like it was on rails.
Ramping up the speed brings on a cacophony of sounds piped into the cabin.
It's a mix of the gruff engine roar, the pop and crackle from the exhaust, tyre noise and wind blast.
The JCW makes clear it's not for everyone; most people can only take its riotous soundtrack in small doses.
The Green drive mode offers an escape route, toning down the maniacal behaviour and offering some respite from it all.
The eight-speeder responds to the gobs of torque in a flash and shifts are snappy and precise.
However, it was a bit laggy in the bottom rev band.
One other point. The brake pedal felt somewhat spongey and takes getting used to but does the job well once you learn to modulate it.
Verdict
In a toss-up between the duo, we would gravitate towards the Cooper S, which offers a balance of performance and usability.
There are great reasons to go for the JCW though but you will have to pay much more for the muscled-up wagon, so decide whether the upgrades are worth the extra dough.
SPECIFICATIONSMINI John Cooper Works ClubmanEngine
: 1,998cc, inline 4-cylinder, TwinPower Turbo
Maximum power
: 306hp from 5,000-6,250rpm
Maximum torqu
e: 450Nm from 1,750-4,500rpm
Transmission:
Eight-speed Steptronic sport automatic
Acceleration (0-100kph)
: 4.9 seconds
Top speed
: 250kph
Fuel consumption (official)
: 7.7l/100km
Feature
s: Six airbags, ABS, Attention Assist, Dynamic Stability Control, 8.8-inch Touchscreen MINI Navigation, Mechanical Differential Lock (front axle), Park Distance Control (front and rear), rear view camera with interactive track lines, launch control, JCW (brakes/exhaust/aerokit/badges/bonnet stripes/rear spoiler/seats/suspension/leather steering wheel), panoramic sunroof, stainless steel pedal caps, Active Sound Design, MINI Connected Services, auto start/stop, electronic parking brake, 12-speaker Harmon Kardon system, Apple CarPlay, wireless charging for phones
Price:
RM337,527 (on-the-road without insurance, SST-exempted)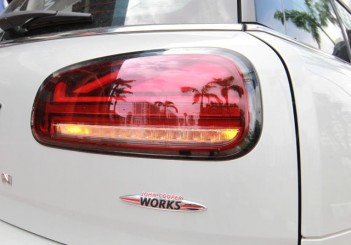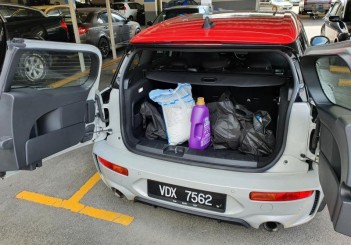 SPECIFICATIONSMINI Cooper S ClubmanEngine
: 1,998cc, inline 4-cylinder, TwinPower Turbo
Maximum power:
192hp from 5,000-6,000rpm
Maximum torque
: 280Nm from 1,350-4,600rpm
Transmission
: Seven-speed Steptronic dual clutch sports automatic
Acceleration (0-100kph)
: 7.2 seconds
Top speed
: 228kph
Fuel consumption (official)
: 6.2l/100km
Features:
Six airbags, ABS, Attention Assist, Dynamic Stability Control, Electronic Differential Lock Control, Park Distance Control, rear view camera, 18-inch wheels with runflats, MINI Yours trim, keyless entry, cruise control, rear folding armrest, 40:20:40 rear seat folding, navigation, MINI Connected Services, auto start/stop, electronic parking brake, 12-speaker Harmon Kardon system, MINI Logo Projection, bi-LED headlights, Active Sound Design, Apple CarPlay
Price:
RM280,525 (on-the-road without insurance, SST-exempted)