Ours is a country of sedans and increasingly SUVs. Open-top motoring has and will always be a niche pursuit.
In the Malaysian context, where the weather is either hot or rainy, going topless is simply undesirable.
But when the stars are aligned — like a cool breezy day with a touch of the sun peeking from the clouds paired with an open road — heck, that's when a car with a retractable roof comes into its own.
And then the joy of the drive begins. It's what this kind of car is built for. It's also an object of pride to be paraded.
In a country where convertibles are as rare as Malayan tigers, being seen driving one is a way to stand out from the crowd and cheekily declare to all and sundry: "Look at me and my ride. Admire and envy!"
With the Lexus LC 500 Convertible (LC), that surely is the case.
This stylish road hugger with oversized wheels is visually impressive and is guaranteed to draw attention with its sleek, flowing silhouette.
Lexus calls this body colour Naples Yellow Contrast Layering but the RM1.35mil car, launched locally last November, is also available in a choice of 10 other colours.
It goes down well with a black interior, which can also be had in red or brown.
Soft top colours are restricted to just black or beige.
The twin to the LC 500 coupe, the convertible looks like a piece of rolling sculpture with every unit said to have been vetted by Lexus takumis or craftsmen for the highest standards of build and finish.
Inspired by the LC-LF concept car, the LC comes with a pair of tri-beam LED projector headlights that flank the massive spindle grille.
The rear features LEDs for its light clusters and its third brake light that has been integrated into the edge of the upswept boot lid spoiler.
By its nature, a convertible's body needs to be reinforced as there's no fixed roof.
This Lexus gets the requisite amount of braces - which extends to the underbelly - to keep it rigid so as to improve handling.
The 2+2 driver-centric cabin is snug and plush, featuring eight-way powered sports seats that have been wrapped in semi-aniline leather.
An 8.0-inch digital combination meter cluster is paired with a 10.3-inch infotainment screen in the centre.
The latter is, alas, not a touchscreen and is controlled mainly from a touchpad that is finicky.
The switch to open and close the roof is smartly hidden under the touchpad palmrest.
On paper, the powered roof opens in 15 seconds and closes in 16 seconds and can be operated up to 50kph. But we only managed 18 seconds and 19 seconds respectively.
Keeping up with the times, the LC plays nice with smartphones as it comes with Android Auto and Apple CarPlay, an important consideration since our phones have become so much a part of our lives.
A desire for the LC requires you to overlook a few things: the car can only seat two adults; the boot is small and getting out is a pain in the butt especially on a slope. But all's well if you can let such limitations slide.
Powering the LC is a 5.0-litre naturally aspirated V8 engine with port and direct injection to produce 470hp at 7,100rpm and 540Nm of torque at 4,800rpm.
Power is relayed to the rear wheels via a 10-speed automatic transmission. It goes from 0 to 100kph in 4.9s and reaches a top speed of 270kph.
The drop-top is more grand tourer than sports car.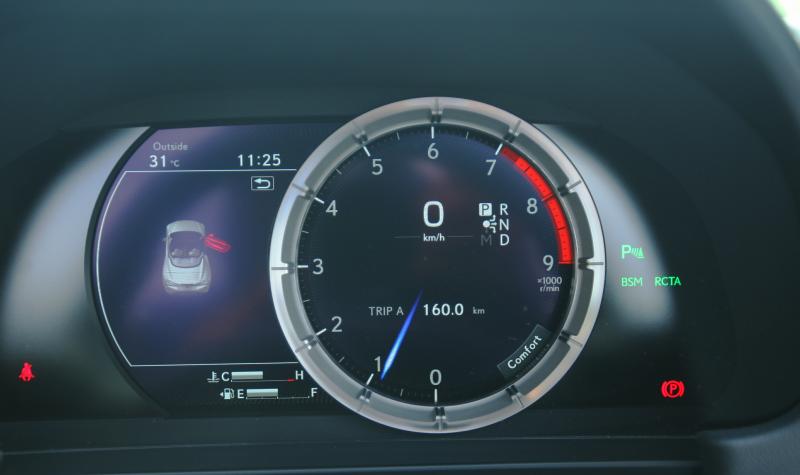 At highway speeds, the LC comes across as a refined and smooth operator with a steering that is light yet precise.
Pile it into corners and it shows just how agile it is, thanks in part to a mechanical limited-slip differential and a 52:48 front: rear weight distribution.
It shows a docile side when pottering along city streets.
Despite having huge wheels, adaptive dampers make for a firm and comfortable ride.
The 4-layered roof does a good job in keeping the cabin insulated from the outside but the fine engine notes are not totally divorced.
Take the top down and that's when the LC's emotive pull is at its strongest.
The wind in your hair, the sun in your face. But mainly, it opens up the senses to the V8 orchestra upfront.
The mighty engine can snarl, pop and crackle with the best of them.
Toggle through the drive modes for intensity by degrees, knowing that you have the best seat on the floor.
Lexus has done an excellent job at managing airflow over and around the cabin with aero bits so that the driver can still hold a conversation with a passenger without having to shout.
But that's missing the point of this Lexus.
In moments like these, it's best to shut up and enjoy the journey — and that seductive soundtrack.
SPECIFICATIONSLexus LC 500 ConvertibleEngine
: 4,969cc, 32-valve DOHC, V8 petrol
Maximum power
: 470hp at 7,100rpm
Maximum torque:
540Nm from 4,800rpm
Transmission
: 10-speed Direct Shift Automatic
Acceleration (0-100kph)
: 4.9 seconds
Top speed
: 270kph
Fuel consumption (combined):
12.7l/100km
Suspension:
Multi-link (front and rear)
Features
: Six airbags, Lexus Safety System+ ( Pre-Collision System, Lane Departure Alert with Lane Keep Assist, Dynamic Radar Cruise Control, Automatic High Beam and Blind Spot Monitor with Rear Cross-Traffic Alert), rear deflector, active roll bars, rear-wheel drive, push-start ignition, adaptive variable suspension, paddle shifters, all-round ventilated discs, navigation system, Apple CarPlay, Android Auto and Android Screen Mirroring, 13-speaker Mark Levinson Reference Surround Sound System, 149-litre boot, 21-inch forged wheels with runflat tyres, electronic flush-type door handles
Price
: RM1.35mil (on-the-road without insurance with SST)