Large-sized sports utility vehicles (SUVs) from Japan are usually comfort-oriented as in the case of the Mazda CX-9 - but there also plenty of driving dynamism to boot.
For this review, we received the 2WD variant dressed in Machine Grey and costing RM290,610 (on-the-road without insurance).
The all-wheel-drive variant will set you back another RM17,000 at RM307,610. Don't doubt the CX-9's size, although large, it's also a capable runner with enough power to get things rolling and enough boost for a nice big grin.
Exterior
Straight out of Japan as a fully-imported completely built-up unit, the CX-9 looks sharp at the front and haunched at the rear would best describe the CX-9 that's seeming at the ready to cut through the wind even when stationary.
The automatic headlights with integrated day time running "eyes" give it a human-like appearance and when switched on it really does bring this SUV to "life".
The rest of the CX-9's sheet metal seems to indicate a certain musculature that brings with it an expectation of effortless motion - and indeed it does.
With a 2.5-litre SkyActiv turbocharged engine, this SUV can get going with gusto if its owner pleases.
In terms of size, the flagship CX-9 is a long one at 5,075mm, although it is 30mm-shorter compared to its predecessor and has a longer wheelbase at 2,930mm (+55mm) for added stability.
With its 1,747mm-height, it's something that's worth standing back and admiring with all its intricately-formed curvaceous sheet-metal.
The only thing about its dimensions is that it doesn't have a wide stance at 1,969mm which is helpful when in more confined spaces.
Even though it rolls on 20-inch wheels wearing 255/50 series Bridgestone Ecopia tyres, they do close to nothing in trying to fill out those gaping wheel arches - especially so when its got a 220mm ride height.
Although it seems like its got plenty of height clearance for some off-roading the CX-9 is very much dedicated to the road.
Interior
Inside, the driver-centric cabin is undoubtedly comfortable but does seem a little tight from its lack of width - particularly in the second row and depending on your passengers' size it will just manage to fit three in relative comfort but knee room is plentiful.
Right at the back, the collapsible dual third-row seats also do have a little more knee room than usual thanks to the forward and aft adjustability of the second-row bench.
Comfort from the front powered leather seats with driver-side memory function stems from its support in the lumbar and thigh section as well as a ventilation function that helps keep the body and thighs as well as emotions cool.
The level of ergonomics is high in here with everything in easy reach and the controls are simple as well as concise to a point that it doesn't clutter nor confuse.
Interior comfort is ultimately the name of the game with soft high-quality materials surrounding its driver and coupled with a commanding view as well as plenty of all-round visibility.
Wind noise intrusion at excessive highway speeds is minimal and the amount of noise, vibration and harshness have been mitigated by plenty of sound-deadening materials that provide a nice carpet of insulation from anything jarring.
In seven-seater mode, popping the powered tailgate reveals a boot that will accommodate just 230 litres of space but drop the third-row seats flush into the floor will provide a whopping 810 litres instead.
Dropping the second-row seats will provide an upward sloping flatbed. Positioned high-up, the boot has been positioned higher which makes accepting payloads a little difficult but it is easier when accessing them later without the need to bend over too much.
The Drive
Via a six-speed automatic with Tiptronic mode, the front wheels will put down 228hp at 5,000rpm and 420Nm of torque from 2,000rpm onto the road.
Gear-shifts are perpetually smooth when in either Normal or Sport driving modes and there's no lack of power delivery thanks to the 420Nm of torque.
Takeoffs are smoothly effortless with the brunt of the grunt found somewhere between 2,500 and 5,000rpm-range.
Low speeds will have the steering feeling light, but punch the CX-9 into higher velocities and its heft increases for better feel and steering confidence.
At first, the comfort-oriented drive isn't going to convince many that this large SUV can and will hold its own when navigating through the twists.
Sure, things are quiet and serene on the inside, but flooring the pedal will have many rethinking their initial thoughts.
There's a nice carpet of softness present when rolling over roughly-patched roads and while some may seem like it could loosen teeth fillings, the CX-9 will smooth things out supremely.
For those who enjoy tightly twisting roads, the steering will feel sharp up to a point, but as drivers get faster around corners and dullness begins to rear its ugly head.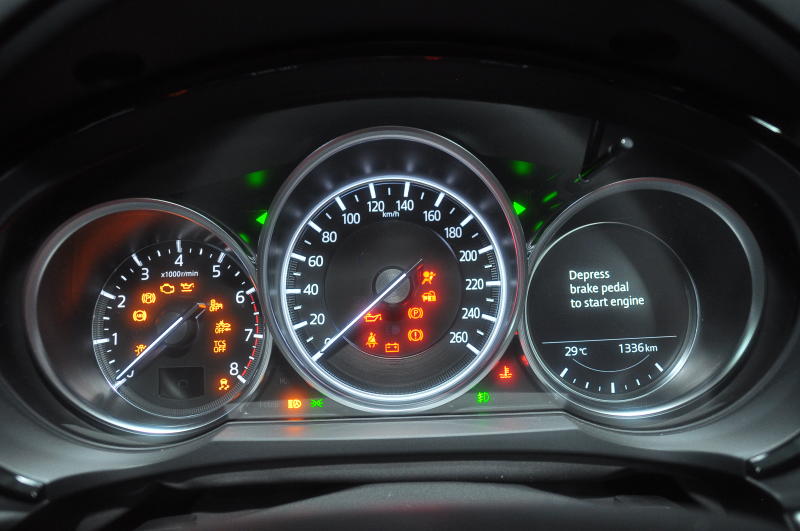 It really isn't the fault of this SUV, with the cause of it coming from the Bridgestone Ecopia tyres that are really more geared towards fuel economy and not performance.
Just thinking about replacing the 20-inch tyres brings about a painful afterthought. There's obviously more the CX-9 can offer in this department because seasoned drivers will be able to feel the tyres flexing at more dynamic speeds and will know to compensate for that.
Overall, this stately-looking SUV seems very befitting of its price point, with plenty of high-quality fixtures and fittings as well as practicality bundled into a chicer yet sporty SUV.
However, the unpainted black plastic cladding adds an element of ruggedness to it but also saps some elegance and from it.
The performance is more than adequate for something in the 2.0-tonne range and while it feels like a breeze to drive, fuel expenses could get on the high side from having too much driving-fun.
Too bad it doesn't come with paddle-shifters to match the level of fun. The brakes are decent in their performance but considering its weight and its ability to cruise at a top speed of 210kph, it could do with a little more bite since it does require some "planning in advance" when heading hot into corners or when needing to hurriedly come to a dead stop.
While the suspension will soak up everything, stiffer and stickier tyres will undoubtedly improve road feel and shouldn't necessarily degrade comfort levels extensively, but at least it will help to keep this SUV more securely on track if dynamism is of a higher priority.
And if that's the case, then perhaps forking out another RM17,000 for the AWD variant might be a more viable option but either way, this SUV gives big in space, style, practicality and fun.
SPECIFICATIONSMazda CX-9 2.5 SkyActiv 2WDEngine
: 2,488cc turbocharged direct-injection
Maximum power
: 228hp at 5,000rpm
Maximum torque
: 420Nm from 2,000rpm
Transmission
: Six-speed SkyActiv Drive automatic
Features
: Six airbags, antilock braking system, dynamic stability control, electronic brake-force distribution, emergency brake assist, traction control, emergency stop signal, hill-launch assist, speed sensing auto lock, walk away lock, automatic adaptive LED headlights, rear LED combination lights, automatic wipers, keyless entry with push-start button, blind-spot monitoring system, rear cross-traffic alert, lane departure warning, land keep assist, driver attention alert, smart city brake support, front 10-way driver (with 2 position memory function) and six-way passenger heated and ventilated seats MZD Connect infotainment system with Apple CarPlay and Android Auto, full-colour touch screen display, multifunction Commander Control, radio, AUX-jack, USB port, Bluetooth, Bose 12-speaker sound system, GPS navigation, reverse camera with 360-degree view, Mazda G-vectoring control, sunroof, rear door sunshades, rear air-conditioning vents, multifunction steering wheel, auto-fold power mirrors, walk-away auto-locking doors, 20 x 8.5J alloys wheels with 255/50 series tyres and 17x5.5J spare wheel with 185/80 series tyres
Price (OTR without insurance)
: RM296,610