THE historic coastal city of Melaka lay in wait for a loose convoy of Mercedes-Benz's latest offering of its fully-electric EQ line-up.
The all-CBU (Completely Built-Up - fully imported) convoy ranged from the entry-level EQA 250, EQB 350 4Matic, EQC 400 4Matic and finally, the range-topping EQS 450+ AMG Line which happens to be the only model variant built with the German luxury brand's modular Electric Vehicle Architecture (EVA) platform.
First assigned with the EQC for the 141km journey from Mercedes-Benz Malaysia's headquarters in Puchong, the return journey from Rosa Hotel, Melaka, would be in the EQB.
Range anxiety was not so much the primary concern since the EQC, with its 80kWh lithium-ion battery, indicated a travel range of 325km (100% charge offers a 437km max range) before setting off.
The EQB's 66.5kWh lithium-ion battery had about 50% charge left at roughly 230km (100% charge - 423km range) and there was always more than enough to go around for the trip back which was done predominantly with a light right foot.
Even as the EQC's range dipped below 100km, the notion was still absent upon arriving with 80km left while other fellow EQC drivers had more than 100km of range left.
Why so little? A heavy foot was the cause of it throughout most of the journey before engaging Eco mode for the last leg of the journey following a lunch stop which would prevent the electric motor from asking 100kW of power from the battery pack.
The EQC presented an immediate punch from the throttle even in Comfort mode and setting it to Sport/Sport+ mode simply notched up the sensitivity to throttle inputs and the same could be said when paddling through the steering wheel shifters too.
Unleashing the EQC's rated output of 408hp and 760Nm of torque dished out by its dual-motor powertrain (one electric motor each at the front and rear axles) was simply addictive.
While the EQC can provide such exhilaration while at speed, likewise, there's also plenty of comfort and convenience to be had.
Although the same could be said about the smaller EQB with its seven-seater capabilities and 292hp/520Nm performance, its sporty nature stood out by a tickle with slightly better acceleration which was depicted from a quick drag race down a straight.
A trait that may be due to its lighter unladen weight of 2,175kg versus the EQC's 2,425kg.
Regardless of weight, both EVs displayed smooth and effortless takeoffs from a standstill and the use of their adaptive cruise control (during clear weather) with lane-keep assist seemed faultless.
The differences, other than price (on-the-road without insurance) with the EQB being the more affordable model at RM328,888 and the EQC at RM388,888, the EQB seemed to indicate a little more whine from its electric motors compared to the EQC's epic silence and ride comfort.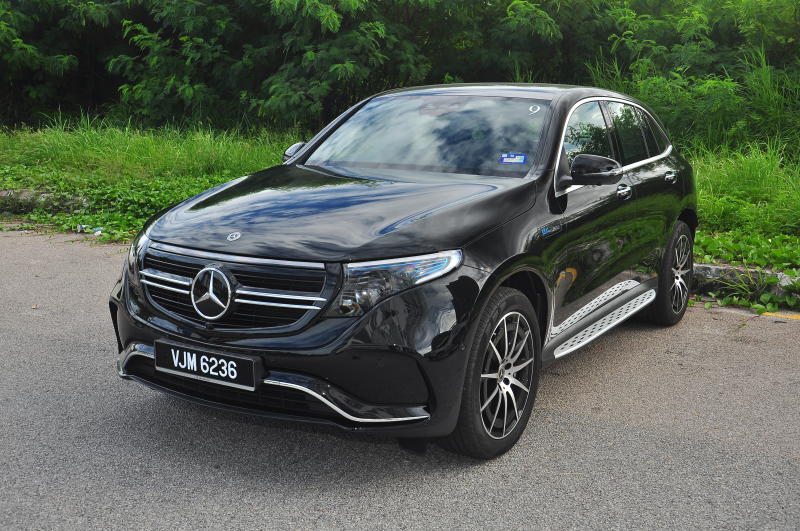 Although some may find the whine to be a slight compromise, others (much like this writer) welcome it in the sense that it does help to constantly remind its owner that this all-wheel-driven machine has been fully electrified.
Other differences included the EQB's manually adjustable steering (tilt and telescopic) and more accommodating front seats compared to the EQC's powered adjustability steering wheel while its seats were more 'fitting' up front.
Use of the 'Mercedes me' app will have owners filled with convenience for their preferred Mercedes-Benz EQ which will provide information including current charge level, time to full charge and navigation waypoints which can be sent from a smartphone directly to the vehicle.
The only caveat here is that the waypoint needs to be available within the vehicle's navigation system, but if not, there's always Android Auto or Apple CarPlay with access to Google Maps or Waze to find your way.
Having sampled the EQB and EQC, the initial impressions have been impressive, to say the least.
However, at this juncture in time, finding a charging facility when needed most can be a challenge.
With some being a 7kW AC charger, it could mean that owners may need to spend an extensive amount of time at a charging venue to get enough 'juice' just to make it back home or perhaps such facility may not even have a cable for an EV.
Thankfully, purchasing one of Mercedes-Benz Malaysia's EQ line-up of EVs will come provided with a 5m charging cable, just in case.
Whether it's the EQB or EQC, both cars came with satisfying sophistication, comfort, safety, practicality and performance.
The EQB's high levels of practicality are mixed in with its somewhat zippy nature and for some, this can make for a hard one to ignore.
But it's the outright grunt of the EQC coupled with extremely low levels of noise vibration and harshness (NVH) - even on 20-inch wheels, made a more lasting impression with nary a whine from its two electric motors even while fully depressing the throttle.
The EQC's suspension was found to lean a little more towards comfort than sportiness and is only slightly more compliant compared to the EQB's when soaking up uneven surfaces.
Sure there's still some noticeable wind noise, but that's just about it and for that, it makes the EQC the choice to pick between the two models which seemingly provides an S-Class-level in terms of NVH within the confines of a GLC.
- By JAY WONG