The stage was set to meet three petrol variants of the new Mercedes-Benz GLB in southern Spain's coastal city of Malaga - the birthplace of artist Pablo Picasso.
Described as a cross between the GLS and G Wagon, the eighth member of the Mercedes-Benz family possesses a level of versatility that generally stems from its short overhangs, off-road-oriented design and 4MATIC all-wheel-drive (AWD) system.
Adding to that is its compact proportions (4,634mm-long, 1,834mm-wide and 1,658mm-tall) which surprisingly provides this SUV with a seven-seater option thanks to its 2,829mm wheelbase - the longest in the Mercedes-Benz family.
Mercedes-Benz GLB 200
The three petrol variants begins with the GLB 200 which derives its power from the recently developed 1.33-litre (1,332cc) turbocharged M282 engine producing 163hp at 5,500rpm and 250Nm of torque from 1,600 to 4,200rpm for the front wheels.
Power is managed by a seven-speed Getrag dual-clutch which helps it sprint from 0 to 100kph in 9.1 seconds before reaching a top speed of 207kph.
While fitted with 19-inch wheels with 235-50 series tyres, the 200 is a basic runner that would rather spend the majority of its time around urban surroundings.
The comfort-oriented suspension simply soaks up road irregularities while the electric power steering remains light in operating and blunt in its response.
Such a combination seems hardpressed in providing quality smiles on tight winding miles.
When flooring the accelerator, noise from the turbo's spooling could be heard from within the luxury-styled cabin and was quickly washed away by the engine's screams.
Obviously, much of this particular GLB's insulative qualities have been removed - hence the uprated comfort levels from the suspension to counter the onset of higher NVH (noise, vibrations and harshness) levels.
Mercedes-Benz GLB 250
As for the mid-range GLB 250, it uses a more capable 2.0-litre (1,991cc) turbocharged M260 engine which puts out 224hp at 5,800rpm and 350Nm from 1,800 to 4,000rpm.
Power is managed by an eight-speed 8G-DCT dual-clutch transmission and this time it gets sent to an AWD system that can instantly redirect torque between the front and rear axles.
This can range from purely front-wheel drive to a 50:50 power distribution that's especially usefully for questionable surfaces such as dirt, snow or ice.
The stealthy transmission allows the GLB 250 to sprint from 0 to 100kph in 6.9 seconds before maxing out at 236kph.
In other driving modes, the transmission is stealthy in its ways, but swapping over to Sport mode does provide for some abruptness to be experienced.
In this sense, the overall experience for this particular compact SUV seems to have hit its mark with a more balanced offering of power and handling.
Attacking corners in this mid-ranger with its up-sized 20-inch wheels fitted with 235/45 series tyres felt significantly sportier and sharper in response when carving up tightly wound countryside roads along the Costa del Sol (The Sun Coast).
At this point, pitch and roll were noticeably less apparent when in Sport mode and the steering did increase in heft and responsiveness.
Considering the GLB's 1.4 kerb tonnage, there was also the element of nimbleness about it that made it feel happy enough to put the power down - unlike the GLB 200 which required some wringing to get it going.
Mercedes-AMG GLB 35
The "alpha" of the trio carries with it an AMG badge at the front of its chromed vertical slats set within an A-shaped grille.
Here, power from the M260 engine has been up-tuned to produce 306hp from 5,800 to 6,100rpm and 400Nm from 3,000 to 4,000rpm.
To further differentiate it from the other two variants is the GLB 35's blade-like front lower lip that's flanked by gaping intakes before adding rounded chrome exhaust tips, a rear diffuser and a roof spoiler.
Moving off, even while in Comfort Mode, the GLB 35's sporty ride kept chiming in as it picked up every last detail the city's roads had to offer - all thanks to the larger 21-inch wheels wrapped in lower-profile 255/35 series tyres all around.
Along smooth Spanish highways, this powerful GLB picks up speed with immediate haste which was of no surprise since it has the ability to launch from 0 to 100kph in 5.2 seconds.
Although this drive seemed more than effortless, wind noise became very noticeable when entering triple-digit speeds while cruising along at a standard altitude of 200mm off the ground.
Naturally, when switching from Comfort to Sport+ driving mode, the GLB's pitch and roll diminished and the engine now growls with intent as the sports exhaust system free's up an extra pipe for a bassy exhaust note to immediately fill the cabin.
Paddle-shifting through the gears, the transmission is more abrupt now and engages with purposeful surety as the scenic coastline that overlooks the Straits of Gibraltar zipped by.
Although the GLB 35's 4MATIC all-wheel-drive system assured of traction, its outright performance was hard to reign in with an almost nervous intent of understeer should anyone dare to even slightly exceed the laws of physics.
The front seats did have sporty bolsters around the waist and thighs as well as power-adjustable lumbar support to help dial in more comfort during "straight-line" journeys.
This meant that some body-shifting was required to counter the lateral forces on serpentine routes which took some attention away from properly driving this SUV over a 114km course to find rest and end the day in Marbella, Spain.
Although the GLB 250 lacked the GLB 35's outright power, the former felt more peaceful and stress-free to engage while the latter just seemed too harsh for everyday users.
Aside from road-going abilities, the GLB's ergonomics impressed with its wide-opening doors, low positioned seats and a great deal of headroom as well as rear-passenger knee room.
Practicality comes from a boot that's generously-sized at 560 litres and can be expanded to 1,755 litres with the second row 40:20:40 seats and third-row 50:50 seats folded down flush.
Passengers exceeding 168cm-tall will find it difficult to endure commutes in the third row.
Off-roading abilities - if that's ever going to happen in our neck of the woods, for the GLB will not disappoint with its 4MATIC AWD system and 200mm ride-height over questionable surfaces.
Except for the GLB 35 and its sporty body kit, the other variants are able to ascend and descend steep hills with its 18-degree approach and departure angles and a 35-degree tilt angle.
The GLB's options list includes hands-free powered boot, heads-up display, keyless entry with push-start button, vented front seats and the Mercedes-Benz User Experience (MBUX) with its "Hey Mercedes..." voice activation control to name a few.
For safety, there's the usual inclusion of airbags, anti-lock braking system and electronic stability controls among others.
There are also the optional driver assistance systems that include blind spot information system, Pre-Safe Plus, Evasive Steering Assistant, Active Brake Assist, Active Lane Keeping Assist, Active Speed Limit Assist, Route-based Speed Adjustment, Active Steering Assist and radar-based cruise control.
The 200 and/or  the 250 are expected to launch in Malaysia next year. But not the GLB 35.
The GLB - which sits between the GLA and GLC -  answers the call from those seeking a compact SUV within the three-pointed star's line-up.
So for those looking to commute predominantly around urban landscapes, the GLB 200 should do nicely, while the GLB 250 will be for those who seek more performance to be paired with its practicality.
Mercedes-AMG GLB 35 4MATIC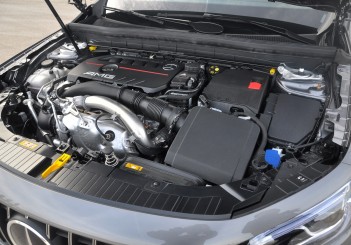 Mercedes-Benz GLB 250 4MATIC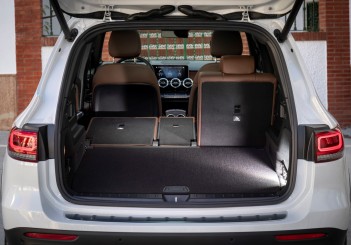 Mercedes-Benz GLB 200