WITH clear blue skies, we had the relentless sun beating upon our heads before setting off in the latest mid-sized Nissan X-Trail 5+2 seater sports utility vehicle, which looks ready to do battle with the likes of Mazda CX-5, Honda CR-V and the Mitsubishi ASX.
Our 16-car convoy departed Edaran Tan Chong Motor's Glenmarie centre for the once moss-filled beaches that gave the coastal town in the eastern state of Perak its name – Lumut, which is now home to our Royal Malaysian Navy and a gateway to the little island of Pangkor.
The northbound drive would take us through the Guthrie Corridor Expressway towards Rawang, before peeling off the beaten path, heading east towards the Malacca Straits and then north towards Sitiawan.
Externally, there's nothing except for a four-wheel drive (4WD) badge to set the range-topping 2.5L all-wheel drive apart from its 2.0L front-wheel drive sibling that's priced on-the-road-with-insurance at RM165,800 and RM142,800, respectively.
We're certainly "digging" the latest X-Trail's looks, which trades its block-like styling, chiselled edges and flat panels for some new creases and sensual curves – putting some "meat" on its predecessor's "bones", so to speak.
Admittedly, the new X-Trail is stylishly fashionable enough to attract the gentlewoman while providing her with plenty of room to litter her belongings around and with enough safety features to relatively protect in a sticky situation.
As for the gentleman, the X-Trail still manages to look aggressive and comes with performance and enough bells and whistles to keep satisfaction levels high.
It's a spacious affair inside the X-Trail. Both front and rear seats come with 10 cup holders, located throughout the vehicle; four for the doors, two at the centre console (with cooler vents), two for the rear armrest and two more for the third row passengers.
Although average-sized adults would find the third row seats a challenging fit, they do not eat into the boot's 510L of space (expandable to 1,520L) by folding away flush with the floorboard and can be called upon by tethers – tug and ye shall receive.
Even the tonneau cover, which adds a little more privacy to the nature of your cargo, is also hidden under a separate section within the floorboard.
The 2.5L oozes some luxury from the get-go with its leather clad interior and touches of faux-carbon fibre, keyless entry / push-start button and six-speaker sound system with an optional eight-inch touchscreen multimedia display (RM3,800). Otherwise, the standard head unit is five-inch.
Bluetooth connectivity, a reverse camera and an Around View Monitor (standard across both variants) – providing a 360-degree view – have been included and give a nice touch at this price point.
Not to say that the 2.0L variant fails in this respect. Even though it lacks the eight-way power adjustable with 2-way lumbar support for the seats, being upholstered in a supple fabric while managing to afford a good amount of comfort provides for some premium feel.
Travelling at highway speeds, the wing mirrors do create a considerable amount of air turbulence around it, causing the wind to buffet extensively against the front door's windows.
Heading higher into the speed range, we noted that there was a fair amount of shiver from the X-Trail's hood, which can be rather irritating and/or distracting.
Since looks can be deceiving, we were eager to see its behaviour when taken to the tarmac with its 17-inch alloy wheels equipped with 225/65 tyres.
While the X-Trail's engine drinks from a 60L fuel tank, the 2.0L mid-revving MR20DD engine with direct injection, provides 142bhp at 6,000rpm and 200Nm of torque at 4,400rpm.
In comparison, the 2.5L QR25DE-K2 with 4WD dishes out 26bhp and 33Nm more at 168bhp at 6,000rpm and 233Nm of torque at 4,000rpm.
Both engine variants are married to a continuously variable transmission (CVT) with seven virtual gears, and we surprisingly found that the natural whines of a CVT were kept well at bay from the cabin, up till the engine reaches around the 4,000rpm mark.
The first half of our journey allowed us some highway bonding time with the entry-level 5+2 seater and its 2.0L capabilities.
A reasonable amount of gusto comes from the 2.0L, considering its got 1,541kg to pull, but it'll need to rev high to put the power down.
The 2.5L may carry 71kg more at 1,612kg; throwing its weight around the B-roads gets some roll (attributable to the tyre's 65mm-tall sidewalls perhaps), but sticks to the intended line with very little fuss.
Even the rear feels planted and follows willingly.
The X-Trail's steering excels regardless of it being a 2.0L or 2.5L with a good amount of road-feel coming back to the driver that adds a reassuring nimbleness to it and heightens the joy of driving it.
Our initial impression of the X-Trail's independent suspension leaned on the firm side, but after experiencing the rougher "country" roads with active ride control (ARC) as standard, we later found them to possess a unique compliance that does well to insulate its occupants.
The ARC contains a few systems within and includes active engine brake to provide engine braking via the CVT when slowing down; active trace control to improve cornering stability; and active brake limited slip to apply the brakes on individual wheels when required.
Braking performance from its ventilated discs was found to be admirable in taking some abuse, but we thought that the pedal-feel was rather lacking with a spongy feel.
Regardless of variants, Nissan could have provided more than just two airbags for the X-Trail, but has thankfully included the usual anti-lock braking system with electronic brake-force distribution and brake assist; vehicle dynamic control with traction control; and hill start assist.
We managed to engage in some off-roading on a plantation trail with the 2.5L and its intelligent 4WD drivetrain, which provides advanced hill descent control as well as three drive modes of two-wheel drive (2WD), auto mode (change from 2WD to 4WD on the fly) and lock mode (permanent 4X4 mode).
The trail would call for some caution if faced by a novice, but to the more learned, it may seem like a relatively comfortable journey when compared to the perils offered by Mount Kinabalu – nonetheless the X-Trail dispatched it with little effort.
With such a leap into modernity with its new found spaciousness and passive safety systems, we wouldn't be surprised if the re-incarnated X-Trail became a hard one SUV to resist.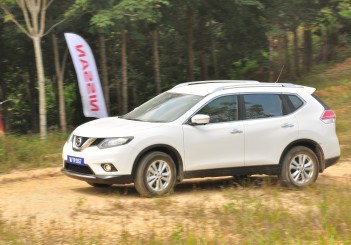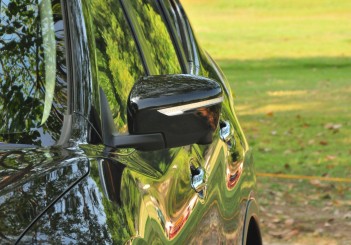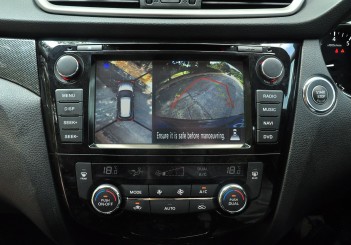 Nissan X-Trail 2.0