With a four-year warranty and a four-year free maintenance and service package (up to 100,000km whichever comes first), the Porsche Macan S will cost RM625,000 with standard options that's been graciously combined with a Premium Package worth RM26,739.
This means that the Macan S gets a Bose surround sound system, sun blinds at rear windows, auto-dimming mirrors, front and rear parking sensors with reverse camera, powered seats with memory function, Power Steering Plus, floor mats, and a Comfort lighting package.
From that price point, the amount can either remain or be taken to another level that's about RM110,327 higher if all other optional extras were to be added for a total price of RM735,327 - and yes this Macan S has been properly "Gucci-ed" out for this review.
At first prod, there's plenty of German grunt from this SUV and it'll proudly announce itself with a little more rumble than the 2.0-litre single-turbo four-cylinder Macan.
And while the entry-level 2.0-litre turbocharged Macan provides dollops of fun, the 3.0-litre single-turbo V6 Macan S will unequivocally throw in the "scare" factor for its passengers.
With 354hp from 5,500rpm to 6,500rpm and 480Nm of torque from 1,450 to 5,000rpm readily available, the Macan S can easily flex its "muscle" to "hustle" with a seemingly continuous want to be excessively abused and have all its performance wrung out of it.
Yes, without any doubt, it's a proper performance SUV that'll feel rigid and collected when carving up corners thanks to its all-wheel-drive system to give it plenty of perceivable grip levels.
Exterior
The Macan S has been endowed with a plethora of optional goodies including large 21-inch 911 Turbo Design wheels in staggered formation - fitted with 265/40 front and 295/35 rear performance Continental ContiSportContact 5P tyres.
These match up nicely with the gaping wheel arches to give off a definite presence of a muscular persona wearing nothing but a pair of white clip-on cuffs and collar that's topped off by a black bow tie. Oh yes, ladies...and men. Your Magic Mike is about to start his engine.
Taking on certain design cues of the venerable 911 sports car's, such as the Bi-xenon headlight design fitted with the 918's LED four-point daytime running lights and long sloping front end.
The front bumper practically possesses wide-open air rams for engine and brake cooling duties as well as a lower front stainless steel skid plate and roof rack as a nod to its off-roading qualities inherited from the larger Cayenne. Or rather the Volkswagen Toureg.
At the other end, the rear tells of a different story with its quad exhaust tailpipes, functional rear diffuser, wide musculature of its rear haunches and the latest 992's LED lightbar that unites the LED rear light clusters - all paying homage to its sportscar heritage.
Interior
Considering the price of the seats, it would have been preferential for them to be fully leather, but understandably this is ultimately for long-term durability
Thankfully, the use of Garnet Red isn't overwhelmingly bright on the eyes but has a very slight tinge of black in it to dial down the brightness level.
Being typically Porsche, it's hard to find fault with the cabin that carries the delectable scent of leather along with properly plush seats with that wrap-around feel from the 18-way powered seats (with memory function) and the combination of matt and gloss-black plastics.
On top of that, the buttons feel "uber" sturdy and highly tactile next to the glossy fingerprint magnet of the 10.9-inch full-HD touchscreen - really not for those who suffer from an obsessive-compulsive disorder.
The sports steering wheel is nice and girthy with the paddle shifters in easy reach - all for that sporty appeal.
Practicality
The Macan - like all other Porsches, is sporty first but after having said that, this mid-sized SUV is indeed practical with an accommodating interior - especially with its 500-litre boot that's expandable to 1,500 litres with the rear seats folded.
Other than its sporty accoutrements that include launch control, Sport Plus driving mode, suspension settings, paddle shifters and a stopwatch among others, this SUV is capable of taking on unpaved roads.
For starters, it's got a dedicated off-road mode that optimises the traction control, torque vectoring and stability management controls - all while raising the air-suspension level.
Not to mention, this Macan also has hill descent control as well as a 360-degree camera with front and rear dynamic guidelines that come through crispy clear on the glossy touchscreen.
The drive
Anyone considering anything from Porsche's line-up must always remember that these vehicles will always be sporty first and the Macan S is no exception.
Even in Normal (O) mode, it feels sharp in the hands and throttle-response will be smooth - thanks to some turbo lag.
Power delivery is effortless and is ever-present which thoroughly spoils the driver by accommodating to all whims and fancies of their right foot.
Rotating the dial to Sport (S) or Sport Plus (S+) mode will make the Macan S razor-sharp with even more considerable amounts of abruptness thrown into the mix.
The cornering experience is almost rail-like thanks to the properly rigid chassis that allows the wheels to be communicative regardless of whether it's a straight line or a snakey route.
Braking into corners brings about a strong sense of control from its stopping power to further bolster confidence levels.
The seven-speed dual-clutch transmission feels smooth and gentle but it will always want to upshift at every slight chance it gets in O mode.
In S or S+ mode, the shifts become quite abrupt and this is a common characteristic that Porsche provides for that track-like experience.
Verdict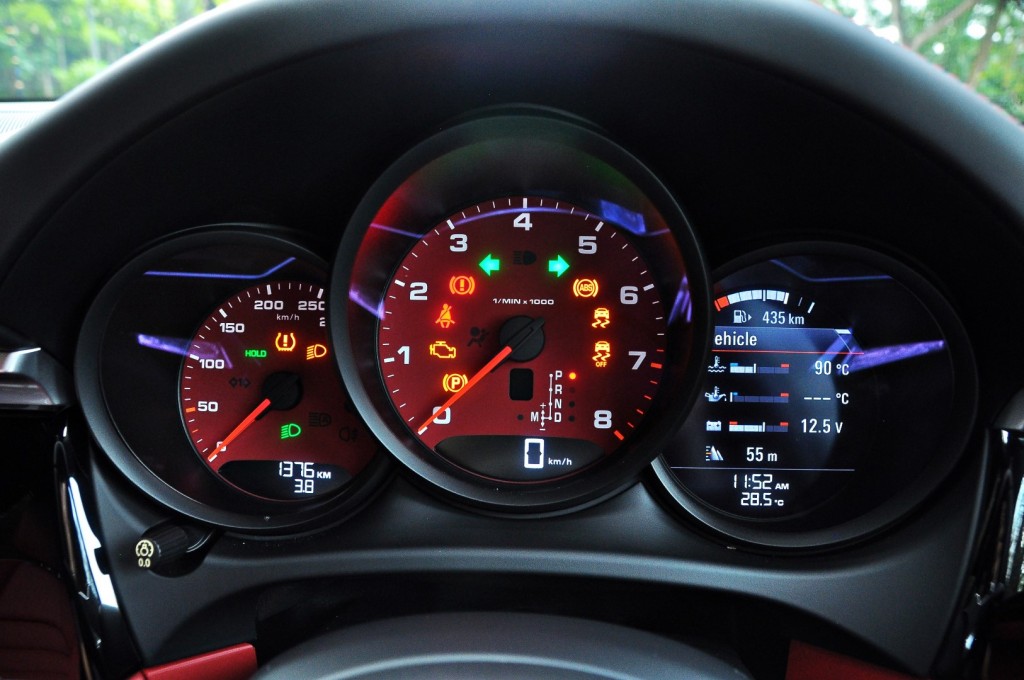 The Macan S is a powerful and sporty SUV and because of this, it's not everyone's "cup of tea" - even if it can be helmed by novice drivers.
It caters to those who can or is willing to appreciate this SUV's abilities which extends from the road to off-road and track.
The Macan S is one of the most engaging and thrilling SUVs available and if the wallet is deep enough then be prepared to own something that lacks a worthy opponent.
SPECIFICATIONSPorsche Macan S Engine:
2,995cc turbocharged V6
Maximum power: 
354hp from 5,400 to 6,400rpm
Maximum torque:
480Nm from 1,360 to 4,800rpm
Transmission:
Seven-speed (wet) Porsche Doppelkupplung (PDK) with Tiptronic and paddle shifters
Acceleration with Sport Chrono package (0-100kph):
5.10 seconds
Top speed:
254kph
Features:
Tyre pressure monitoring system, automatic LED headlights with four-spot LED daytime running lights, tri-zone climate controls, Connect Plus, Premium Package - Power steering Plus, mechanical roll-up sunblind for rear side windows, Automatic dimming mirrors, ParkAssist (front and rear) including reverse camera, comfort lighting package, Bose Surround sound system with Apple CarPlay (with Siri voice control), floor mats.
Price (on-the-road without insurance): 
RM625,000
Optional Extras worth RM110,327 (included):
Metallic Colour, air suspension with self-levelling function and ride-height adjustment including Porsche Act, 75-litre fuel tank, Sport Chrono package with driving mode switch, silver sports tailpipes, Porsche Torque Vectoring Plus, keyless-entry with turn-to-start,  surround view, front and rear stainless steel skid plates, Porsche Dynamic Light System Plus, aluminium roof rails, panoramic roof system, SportDesign exterior mirrors, 18-inch collapsible spare wheel, centre wheel caps with coloured Porsche crests, 21-inch 911 Turbo design wheels with 265/40 front and 295/35 rear Continental ContiSportContact 5P tyres, two-tone partial-leather seats, 18-way adaptive powered front seats with memory function, Garnet Red (instrument dials, compass instrument dial/Sport Chrono stopwatch instrument dial and seat belts), illuminated dark silver brushed aluminium door sill guards, embossed Porsche Crest on seat headrests, matching colour key FOB with leather key pouch, ioniser, storage package and smoking package.