While Porsche is synonymous with motorsports and high-performance turbocharged road cars, it has a history of dabbling in electric-powered cars in the early 20th century.
Unable to compete with petrol-powered cars due to their short range and modest performance, the electrified vehicle ideas of Porsche's founder, Ferdinand Porsche, never caught on then.
With advances made to battery and electric motor systems over the past 100 years, Porsche's electric car dream is now a reality.
Porsche's production all-electric vehicle, the Taycan, is now available in Malaysian in four guises - the basic Taycan rear-wheel drive, and the all-wheel drive 4S, Turbo and Turbo S variants.
Pronounced as "thai-kahn" which means a lively young horse in Turkish, the Taycan line-up promises a new era of electromobility with the motorsports excitement and pedigree of the Porsche brand.
Our recent test unit was a 4S variant in Frozen Blue Metallic and leather interior.
From the outside, the Porsche sports car design language is evident with a hunkered down appearance and low bonnet with muscular front wings that bear likeness to the 911 series.
The LED headlights each comes with quad rectangular LED daytime running lights for a distinctive appearance.
Despite being a long four-door car, the 4S still manages to get a roofline that slopes elegantly rearward for a coupe-like design.
Meanwhile, the rear comes with a long LED light strip that links the right and left tail lights for a wider and classy look.
The door handles of the 4S stay flush with the body panels to create a clean appearance similar to that in the current 911 sports car.
Approach the 4S with the key and the door handles will pop out and return to their recessed position once you have gotten inside the car and drive off.
Luggage space, with 84 litres at the front and 407 litres at the trunk, ensures the 4S is functional as a family vehicle.
Inside, the futuristic-looking instrument cluster is a 16.8-inch curved screen-type with a configurable electronic display that can also replicate a three-dial feel of classic Porsche sports cars.
The centre infotainment display is a 10.9-inch touchscreen-type that can also be accessed from a 8.4-inch touch panel with haptic feedback at the centre console.
A front passenger side infotainment display is also available as an extra cost option.
The drive modes of Range, Normal, Sport, Sport Plus and Individual can be controlled by a dial on the steering wheel or the infotainment screen.
Sitting position is a bit lower compared with regular large sedans for a sports car feel but overall head and leg room are enough for all inside.
To start the 4S, press the black button with the power symbol.
Unlike cars with conventional engines which would fire up with a cranking sound of a starter motor followed a brief exhaust rumble, the motors of the 4S remain silent throughout.
Engage the 4S into drive by pushing down the Zippo lighter-size drive selector at the left-side of the dashboard.
Incidentally, the current 911 also uses a similar-shaped drive selector but it's positioned at the centre console instead.
Featuring two drive motors, one each at the front and rear axles, the all-wheel drive 4S takes off smoothly and quietly except for a faint motor whirl.
At Sport Plus mode, a science fiction-like whine fills the interior for a more upbeat driving feel.
This electric "sport" sound is unlike the usual throaty exhaust note delivered by typical turbocharged Porsche models and fans may take some time to get used to it.
READ MORE: 
Porsche Taycan's trackside foray
Driving hard will increase the intensity of the tempo but the artificial tune can be switched off.
On the North-South Expressway heading towards Rawang, we could push the 4S over the legal speed limit effortlessly.
Stomp on the accelerator and the 4S reels out a continuous stream of acceleration without any respite to change gears like in conventional petrol-powered sports cars.
At high speeds, the adaptive air suspension provided a rock steady and even ride along with a high level of driving pleasure and confidence.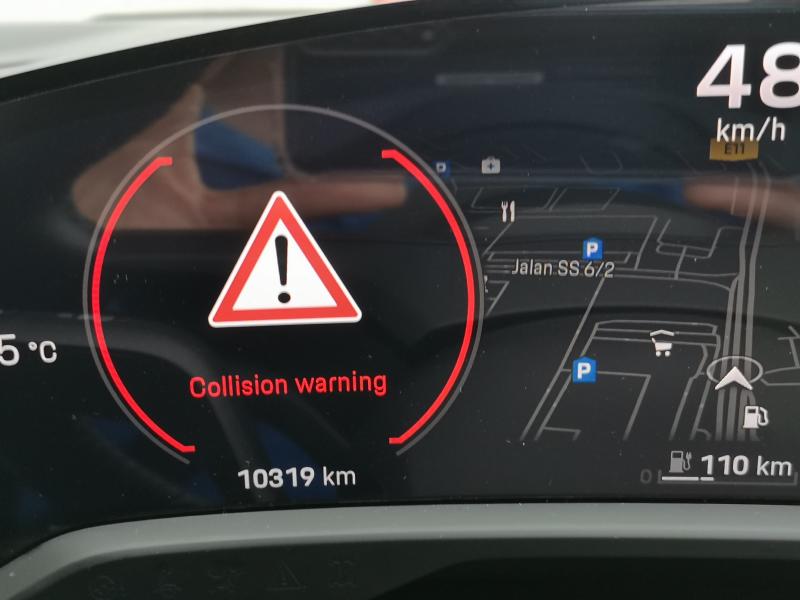 Its aerodynamically smooth body of 0.22cD also resulted in a quiet cabin at high speeds by reducing air turbulence.
Steering is sharp and precise with plenty of feel like in Porsche's other models.
The 4S comes with a standard 79.2kWh liquid-cooled lithium-ion Performance Battery that allows a driving range of 407km and an output of 530PS and 640Nm of torque.
The battery weighs some 630kg and has an eight-year warranty.
The 4S has a top speed of 250kph and a 0-100kph sprint is done in 4.0 seconds under launch control.
If the optional Performance Battery Plus with 93.4kWh is used, output and range are increased to 571PS and 463km respectively.
The Taycan line-up is the first production electric sports vehicle to use an 800-volt system instead of a 400-volt system for faster recharging.
The 4S also comes with two charging ports, one each at the front wings for AC and DC.
High performance DC chargers can top up the battery from 5% to 80% in around half an hour while the AC-type may take up to eight hours.
Despite a claimed practical range of 407km, it is affected by driving style, traffic conditions and the usage of air-conditioner among others.
To allay range anxiety, Porsche Asia-Pacific had recently teamed up with Shell to roll out high performance DC chargers capable of delivering 180kW at six of its stations along the North-South Expressway in stages by next year.
Offered with a four-year maintenance and warranty programme, the 4S' price of RM699,986 (on-the-road without insurance and without SST) is still a princely sum and will put it only within the reach of the well-heeled.
SPECIFICATIONSPorsche Taycan 4SMotors:
Permanent-magnet synchronous, front single-speed, rear with two-speed transmission
Maximum power:
435PS
Overboost power:
530PS
System torque
: 640Nm
Battery capacity:
79.2 kWh
Acceleration (0-100kph):
4.0 seconds (with Launch Control)
Top speed:
250kph
Range:
407km
Luggage compartment:
84 litres (front), 407 litres (rear)
Features:
Airbags, ParkAssist including Reversing Camera, Power Steering Plus, Adaptive Air Suspension including PASM, 19-Inch Taycan S Aero Wheels, Auto deploying Door Handles, LED Headlights including in Porsche Dynamic Light System Plus (PDLS Plus), Comfort Seats in Front (8-way, electric), Lane Keeping Assist, Cruise Control including adaptive Speed Limiter, ParkAssist (front and rear), Keyless Drive, Porsche Connect with Apple Car Play, Sound Package Plus with 10 speakers and a total output of 150 watts
Price:
RM699,986 (on-the-road without insurance and without SST)