The Proton X90 should be another hit for the national automaker, if its price tags can strike a chord with those who want a large, powerful and premium three-row SUV (sports utility vehicle) loaded with nice features.
Bookings have opened, and the SUV is due to be officially launched very soon.
The motoring media had a taste of the refined qualities and handling characteristics of the X90 recently on a brief drive from Shah Alam to Genting Highlands.
For perspective, the X90's three-row SUV rivals are the Mazda CX-8, Volkswagen Tiguan Allspace, Nissan X-Trail and Peugeot 5008.
Like the Proton X50 B-segment (flagship variant) and X70 C-segment SUVs, the X90 has a 1.5-litre three-cylinder DOHC turbocharged mill, with direct fuel injection, which produces 177PS at 5,500rpm and 255Nm at 1,500 to 4,000rpm.
Power is routed to the front wheels via a seven-speed dual-clutch automatic gearbox.
Based on the Geely Haoyue, the X90 is also Proton's first mild-hybrid electric vehicle (MHEV) with a 48volt electric motor synergy (EMS) system.
A five-year warranty is offered on the 48V lithium-ion battery.
The 48V EMS technology delivers an additional push of 13PS and 45Nm of torque for a total system output of 190PS and 300Nm.
Proton claims fuel efficiency is also improved by up to 15%.
It's also worth noting that, unlike other markets where the Haoyue gets a rear torsion beam suspension, the X90 has a rear multi-link set-up tuned on Malaysian roads.
Proton highlighted that after extensive testing, the more costly and complex multi-link suspension was chosen as this provides better driveability and value.
There are four X90 variants, starting from the base Standard, followed by the Executive, Premium and Flagship.
The Flagship is a six-seater with captain seats and pilot headrests for the second row, while other variants are seven-seaters.
Only the top two variants get items such as the Advanced Driver Assistance System, 19-inch alloy wheels, Nappa leather seats, a front passenger powered seat, wireless charger for mobile phones and Auto Park Assist.
Our test drive unit for the trip to Genting Highlands, was the seven-seater Premium variant, and we found sufficient leg and elbow room in the third row.
The third row does not feel cramped, and headroom is more than enough for 1.7-metre people.
We like the comfort of having ceiling-mounted air-conditioning vents for both rear rows, as well as the convenience of two USB charging ports (seven in the car) for each rear row.
These include a USB-C port for the second row.
This meant all four of us (three writers and a Proton executive) had no issue keeping our mobile devices charged.
The interior looks classy with high-quality plastics, smooth chrome surfaces and dark leather upholstery.
The centre console's storage box is deep and provides generous storage space, and there are numerous cup holders and bins on all doors.
Dominated by a large 12.3-inch touchscreen infotainment unit, the dashboard has a clean and uncluttered design, with switches to control the air-conditioning.
While the audio system delivers crisp and high-quality sound quality, there are no knobs for the front passenger to fiddle with audio volume - this has to be done via the touchscreen menu or voice command system.
On the centre console, there's a gear knob and also, a rotary dial to change drive modes (Eco, Comfort, Sport) as well as buttons for features like the 360-degree camera and hill descent control.
The engineers did a good job in the noise, vibration and harshness (NVH) department, and during the drive, we enjoyed a smooth ride and a hushed, comfortable cabin environment for interesting conversations.
Equipped with Continental EcoContact 6 tyres sized 235/50 R19, the X90 Premium variant handled well for such a large SUV, and the steering felt well-tuned, accurate and responsive.
We found adequate power on tap when we wanted to accelerate fast, and on highway bends, the SUV felt direct and stable.
Acceleration is smooth and low-end torque is sufficient although there was a very brief pause before power kicked in when we stepped hard on the accelerator pedal for faster sprints or uphill climbs.
The comfort-oriented suspension did well in soaking up road imperfections.
Brake bite and feel are good and we found the X90's stopping power reassuring.
We were somewhat amused with the aggressive nature of the active steering intervention's Centering Control function which insisted on keeping the SUV in the centre of the lane, but this can be adjusted easily via the touchscreen menu - just tap on Lane Keep Assist and select either Warning Only, Departure Prevention or Centering Control.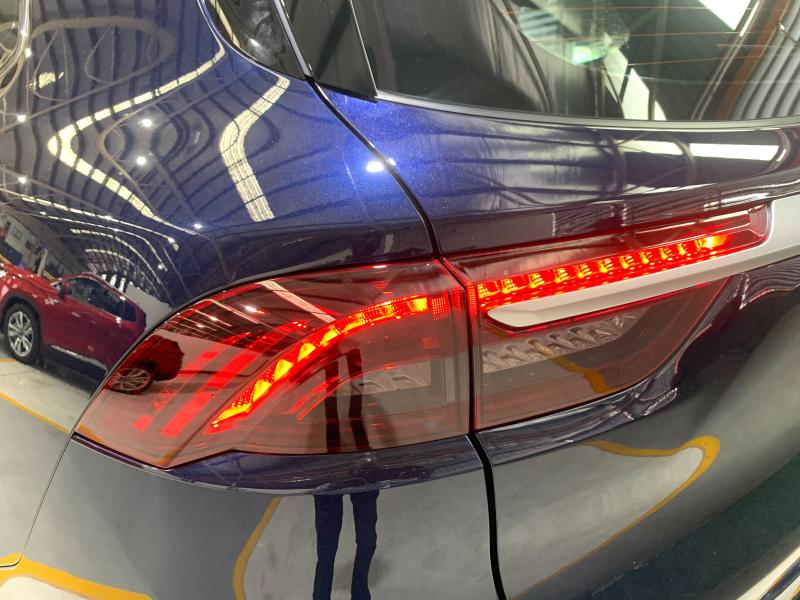 Each writer took turns driving the X90, and the first driver change was done after the Gombak toll plaza.
On the twists and turns of the uphill climb, the X90 is agile enough for its size and did not feel too ungainly.
Based on the brief drive, the X90 delivers a refined and premium motoring experience and should be high on the shortlist of three-row SUV buyers.
SPECIFICATIONSProton X90Standard (Base specification)
> 1.5 TGDi engine with Mild-Hybrid
> 7-speed Dual Clutch Transmission
> Full LED Headlamps
> 18-inch Alloy Wheels
> Fabric Seats
> 12.3-inch Infotainment Head Unit
> Reverse Camera
> Rear Collision Warning (New)
> Rear Cross Traffic Alert (New)
> Colour Options: Snow White, Armor Silver, Jet Grey
Executive (Upgrades from Standard)
> Tyre Pressure Monitoring System
> Power Tailgate
> Leatherette Seats
> Driver Power Seats
> Front Ventilated Seats
> 360 Camera with 3D Display
> Additional Colour Options: Cinnamon Brown, Red Ruby
Premium (Upgrades from Executive)
> Traffic Sign Information (New)
> Advanced Driver Assistance System
> 19-inch Alloy Wheels
> Nappa Leather Seats
> Front Passenger Power Seat
> Wireless Charger
> Auto Park Assist
> Additional Colour Options: Marine Blue
Flagship (Upgrades from Premium)
> Panoramic Sunroof
> Front Passenger Power Seat with 'Boss' Switch
> Second Row Captain Seats