The i30 will always have a special position in Hyundai Motor Co's remarkable success story in recent years.
This award-winning C-segment family car was the Korean automaker's first "i" model and had its world premiere at the Geneva Motor Show in 2007.
The "i" badge stands for Hyundai's brand promise of innovation, inspiration and intelligence.
It was also the first Hyundai to achieve the maximum five-star score in the rigorous Euro NCAP (European New Car Assessment Programme) crash test.
Designed to meet the demands of European consumers, the latest-generation i30 features Hyundai's signature fluidic sculpture design and an athletic look that exudes a bold stance.
According to Hyundai, it is the Korean automaker's best selling model in Europe and globally, it has hit sales of more than 1.5 million units.
Thus, we were not surprised to find that it handles well and has a firmer, sportier-tuned suspension compared with the softly-sprung or "floaty" ride of many Japanese passenger cars in this region.
This five-door hatchback has a MacPherson strut front and rear torsion beam set-up, and we found a nice blend of sportiness and comfort concerning its ride quality.
Fitted with Michelin Pilot Sport 3 performance tyres sized 225/45 ZR17, the i30 stayed well-planted when we took road corners in a spirited manner.
There were no unpleasant body rolls, and the i30 handled impressively on twisty stretches.
The 1.8-litre engine is powerful, and the i30 has a perky feel to it during hard acceleration.
Power delivery was constantly smooth and steady with the six-speed auto tranmission.
We like the sporty ambience of the cabin, which has comfortable fabric seats.
Like other premium Hyundai cars, the i30's cabin was quite a cocooned environment where NVH (noise, vibration and harshness) is concerned.
Our only niggle was the presence of the traditional handbrake, which we feel is not in harmony with premium positioning of the i30.
A space-saving electric button handbrake would be more suitable here.
We also found generous head, shoulder and leg room - as the i30 boasts of having best-in-class cabin space.
Regarding the motor-driven power steering, it is precise and light in Normal mode - one of three operating modes available via a button-activated Flex Steer system.
Other steering modes are Comfort which offers a "lighter" steering wheel that is suitable for city driving and parking, and Sport which reduces electrical assistance and provides a "heavier" steering wheel.
While varying the level of steering support via a switch or button sounds like a great idea, we found ourselves keeping the steering in Normal mode most of the time.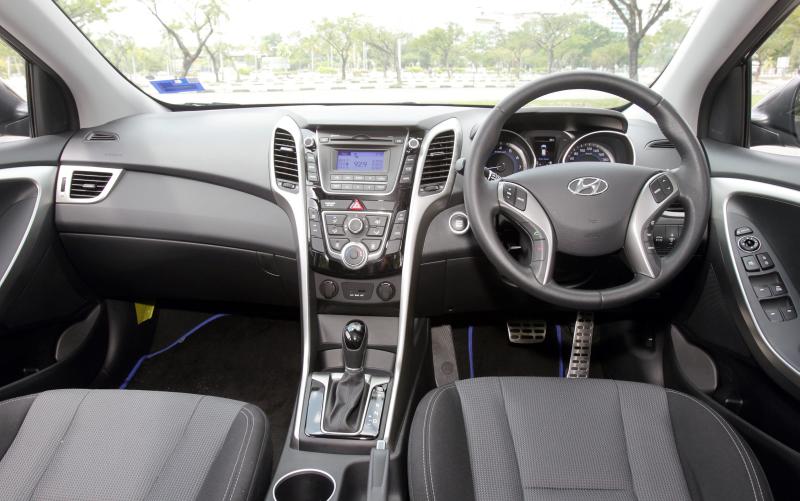 We hardly used the Sport steering mode, and only occasionally, switched to the Comfort mode when parking in tight spots.
Meanwhile, the i30 has a high level of safety and comfort kit that befits its premium price tag.
There is a panoramic sunroof for those who prefer more natural light in the cabin, six airbags, vehicle stability management (VSM), a msart key system with start-stop button, and motorsports-like metal brake and accelerator pedals.
We also appreciated the novelty of the i30's Smart Welcome system, especially at night - as one walks towards the car, the smart key is detected and the wing mirrors unfold, and puddle lamps illuminate the door areas.
We found a fair bit of storage spaces and cup holders, as well as bins on all four doors.
To sum it up, there is a lot to like about the i30, particularly its solid European design and engaging drive quality.
This i30 Sport variant comes standard with a bodykit, which provides sportier looks.
An Executive variant without the bodykit is also available, and cheaper by around RM5,000.
To sweeten the deal for buyers, Hyundai-Sime Darby Motors provides a five-year or 300,000km warranty (whichever comes first) and free 24-hours, seven days a week Roadside Assist.
Hyundai i30 SportEngine:
Nu 1,797cc MPI (multi-point fuel injected), dual CVVT (continuous variable valve timing)
Maximum power:
150ps at 6,500rpm
Maximum torque:
178Nm at 4,700rpm
Transmission:
6-speed automatic
Features:
Six airbags, anti-lock brake system (ABS), brake assist, electronic stability programme (ESP), vehicle stability management (VSM), panoramic sunroof, all-round disc brakes
Price:
RM132,888 on-the-road with insurance (five-year or 300,000km warranty - whichever is earlier)